Italy Crowdfunding Conference

Thursday, January 24, 2013 at 8:30 AM

-

Friday, January 25, 2013 at 6:00 PM (CET)
Who's Going

Loading your connections...
3 of your friends are going.
Share it to get more people on board!
Share

Sara Haughty
San Francisco, California

Luke Picard
London, United Kingdom

Rick Vespucio
Florence, Italy
Event Details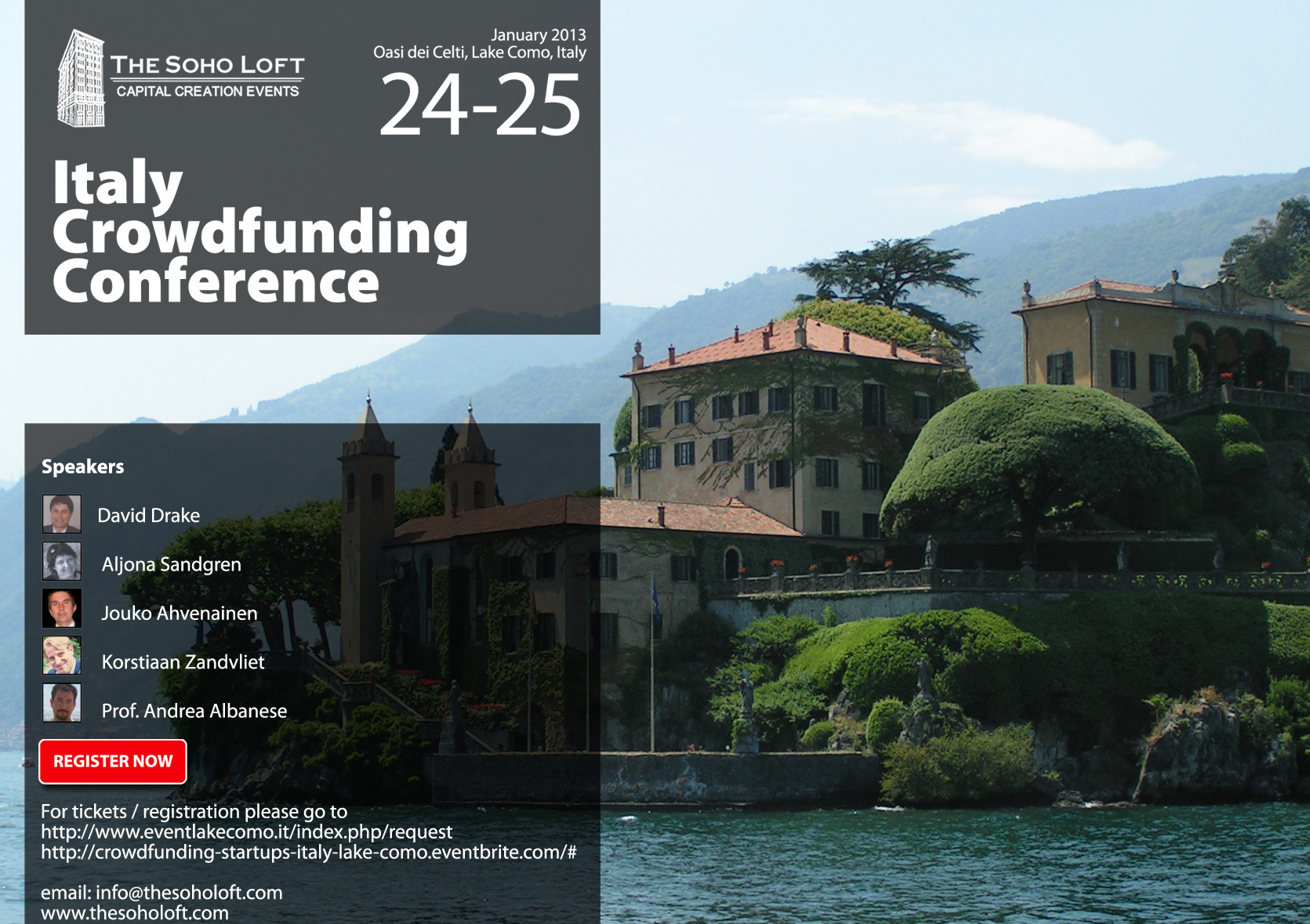 Italy Crowfunding Conference
Day 1 - January 24 (Thursday)
8:30 Registration
9:30 Welcome/Introduction
9:40 Keynote speech on Innovation Economy
10:30 Coffee Break
10:45 Crowdfunding as a financing alternative (Financial Innovation)
Mr David Drake, Founder and Chairman,
LDJ Capital and The Soho Loft Capital Creation Events, New York City, NY, USA
12:00 Lunch
13:30 Green Enterprising and Sustainable Innovation
Mrs. Aljona Sandgren, Researcher/Project Coordinator,
Stockholm University/ Åbo Akademi University, Business School
14: 30 Social Media & Web Marketing
Andrea Albanese, Advisor,
Sales & Post Sales, Web Business Intelligence & Real-time Customer Behavior
SNID Master SDA BOCCONI University
Day 2 – January 25, 2013 (Friday)
Drake's Den Workshops
08:30 - Coffee
8:45-10:00 – Jouku Ahvenainen, GrowVC
10:05 -10:30 - Coffee Break
10:10 - Korstiaan Zandvliet, Symbid
10:40-12:00 – Pitch Projects
12:00-12:45 - Pause
13:00 -15:00 – Lunch at Oasi dei Celti Ristorante
15:00-17:30 - Pitch Consultation/Workshop
18:00 – Aperitif and Cocktails
17:05-18:00 - Sponsors
For tickets / registration please go to http://www.eventlakecomo.it/index.php/request
SPEAKERS
David Drake
 David Drake is the founder of The Soho Loft Capital Creation Event Series ("TSL") covering the Private Company Marketplace and Capital Formation. Mr. Drake is also the Chairman of LDJ Capital in New York City and a thought leader on the JOBS Act (Jumpstart Our Business Start-Ups Act) including Reg A+, Reg D 506, Crowd Funding Capital and Onramp IPO. He is a founding executive board member of the Crowdfund Intermediary Regulatory Advocates (CFIRA) as well as the founder of the leading global trade association Crowdfunding Professional Association (CfPA). He was also a member of the U.S. Commerce Department's delegation to Brussels and Rome where he met with European Ministers and national legislators at the Transatlantic Economic Council forum last July 2012.
His investment in The Soho Loft Capital Creation Events educates start-ups and Small and Medium-sized Enterprises in the areas of capital formation, capital access, crowd funding, angel capital including, but not limited to expertise on eb5 green card programs, micro-finance, venture capital and private equity. His proclivity towards impact investments interleaves directly with the Private Company Marketplace and his TMT investment strategies and family office clients at his holding company LDJ Capital. His network extends across all continents and allows access to financing in the Private Company Marketplace from hedge funds, high net-worth investors, Sovereign Wealth Funds, private equity firms, family offices to institutional pension funds and fund of funds.
This geographical capital market access is in, but not limited to, US markets and London with exceptional relationships and focus supported by regular road-shows to Amsterdam, Abu Dhabi, Dubai, Bahrain, Zurich, Geneva, Frankfurt, Hamburg and Hong Kong. LDJ Capital is headquartered in New York, with partner offices in Zurich, Stockholm, London, Abu Dhabi and Singapore.
As mentioned, Mr. Drake is the founder and was an Executive Committee board member at CfPA – a national and global trade association with the leading global crowd funding platforms as members. He is also a founding board member of the CFIRA, the leadership group heading up US crowd funding for equity developments. The nascent crowd funding phenomena is the largest new financial instrument SMEs and start-ups have ever seen. Mr. Drake was involved lobbying Senators and Congressmen for The JOBS Act which President Obama signed into law April 5, 2012. The Securities and Exchange Commission and FINRA works with Mr. Drake through CFIRA to identify best practices in the Crowd Funding industry.
He is also an expert contributing writer to the following leading global industry websites such as: www.equities.com, www.crowdsourcing.org, www.cfira.org, www.globeforum.com, www.europeanissuers.com, www.lofti.com and www.sme-world.com, to name a few.
For charity, Mr. Drake hosted the Harvard Club and Boston Symphony performances at his home and sat on the advisory board of Best Buddies Charity for autistic kids. Mr. Drake has been behind raising money for charities through his participation in producing the Carnegie Hall concert series.
Mr. Drake speaks six languages and holds Bachelor's Degrees in both Chemistry and Marketing from the American University in Washington, D.C. He has an MBA in Finance and an MA in International Law and Economics from George Washington University where he was awarded the Wallenberg Scholarship for academic merit.
Aljona Sandgren
 "To have innovative ideas is not enough; one needs to bring innovations to society. Entrepreneurs are the necessary link in bringing new ideas to the market and society."
Mrs. Aljona Sandgren studied and worked at universities in Moldova, the UK and Sweden, received her first degree from Moldova State University, and the second MSc in Comparative and International Education (Educational Leadership and Management Programme) from Stockholm University, Sweden, also completed a number of postgraduate courses in entrepreneurship, business history, leadership and social responsibility. Her PhD research on Entrepreneurialism in University in Different Cultural Contexts at the School of Business, Åbo Akademi University, Finland, is interdisciplinary. Mrs Sandgren has a long experience of coordinating international projects, financed by the EU, Swedish and Nordic grants. Her research and professional interests include social, green and academic entrepreneurship, university innovation and university history, leadership and organizational culture, issues of sustainability and individual and collective responsibility.

Mrs Sandgren's recent project is about green enterprising. It is a long-term international network project, focused on theory and practice of environmental entrepreneurship with emphasis on university innovation, environmental solutions emanating from science and technology or novel thinking, within industry, the service sector or relating to life style changes. The project network currently includes participants from Sweden, Finland, Russia, Latvia, Moldova with links to France (RRI-Research Network on Innovation) and Italy (via Italian –Russian Centre for Ecological Research and Education).
Jouko Ahvenainen
Jouko Ahvenainen is serial-entrepreneur and private investor, and co-founder of Grow VC, the first global peer-to-peer micro-funding service for startups. Jouko is also a partner and board member in other finance or investments companies, like Springboard Venture Private (India) and Replicon (Finland). He also co-founded data analytics businesses (e.g. Xtract). Before his serial entrepreneur career Jouko held senior positions at diverse technology firms including Cap Gemini Ernst & Young, Powerwave Technologies Inc., Nokia, and Sonera. In all roles he has been a key driver to create new business. He is one of the pioneers in social media marketing, and personally had significant role to develop and sell the first social marketing intelligence solutions for mobile and media companies. He has also traditional marketing experience, starting from some well known political campaigns in mid 90′s. Jouko has vast experience of international business in Asia, Europe, and North America; he has lived and worked in Finland, Malaysia, UK, and the US, and run business in Hong Kong.
Jouko has worked in teams to close several VC deals (from 150k USD to 15M USD), and also closed many large customer deals and been responsible for 40M USD annual revenue. He started his first own software business when he was 16-year-old. Jouko also is also a Certified Adviser in NasdaqOMX First North list at Helsinki and Stockholm stock exchanges. Jouko is on the boards of various start-up companies, and is a co-founder or seed investor in six companies.
Jouko is a regular speaker in many marketing, start-up funding, mobile and web conferences including SXSW, Mobile World Congress, CTIA, Next Conference, Echelon and Singapore Infocomm conferences around Europe, Asia, and the US. He is also a co-author in Social Media Marketing book.
Jouko holds an MBA from Helsinki School of Economics / McCombs School of Business, at the University of Texas, Austin and a M.Sc.(Tech.) from Helsinki University of Technology.

 Korstiaan Zandvliet
Korstiaan Zandvliet, Co-founder and Managing Director at Symbid, is set to make great strides in crowd fund investing. Symbid is a radical new innovation which enables (nascent) entrepreneurs to overcome financing problems for their start-up or small business. Symbid focuses on entrepreneurial finance needs up to € 2.5 million by utilizing the concept of Crowdfunding in a radically new way. In contrast to currently available Crowdfunding sites, Symbid developed a financial and legal framework which allows Crowdfunders to actually become a shareholder of the offered Crowdfunding propositions.

Prof. Andrea Albanese
- Degree in Economics and Business  (international orientation) ,
engages in the Social Networking & Web Marketing Process Advisor,
specializing in the following areas: Sales & Post Sales Process Optimization, Web Business Intelligence & Real Time Customer behavior.
- Lecturer SNID (Social Network Influence Design) Master  Poli.Design  Milan Polytechnic www.snid.eu, author of the       'Social Media Use Effectiveness Assessment';
- Collaborator Business Intelligence Observatory SDA Bocconi  www.sdabocconi.it,  author of the SDA Bocconi 'Customer Experience & Social Network';  collaborating research 'e-Discovery:  New Form of Intelligence in the Social Web'
- Community Manager 'Social Media Marketing Italy'  (the most numerous and active Italian Community on issues Social Media and Web Marketing, more than 6,400 users).
- Community Manager 'Social Media Marketing Italian' (second Italian Community on issues Social Media and Web Marketing, more than 1,900 users).
- The Project Manager and Community Manager for Web Marketing Manager Srl
- Work with different positions in several companies and start-ups in the area: CRM, Social Networks, Web Marketing and Web Intelligence.
- He was head of the Competence Center CRM Altran Italy, has been working with IBM, Borland, ESA Software, Dialogue Group, Strategy and Information Technology, Solving International Group France, Monticello International ltd, SuperOffice ASA, Renco AK Kazakhstan, Siseco, Expopage (Fiera Milano).
About The Soho Loft (www.thesoholoft.com)
The Soho Loft Capital Creation Events ("TSL") is a corporate strategy  and advisory services company specializing in financial innovation and economic sustainability. Through its global events and media platform it advances diligent mainstream and alternative investing for start-up entrepreneurs and small and medium-sized enterprises. TSL provides visionary leadership and relevant education in the areas of capital formation, crowdfunding, angel networking, non-conventional funding, eb5 green card programs, micro-finance, venture capital, private equity and hedge funds.
TSL is a subsidiary of LDJ Capital based in New York USA. Its founder and Chairman, David Drake, is a founding member of Crowdfund Intermediary Regulatory Advocates (CFIRA) and of Crowdfunding Professional Association (CFPA). He played a key role in the passing of the JOBS Act (Jumpstart Our Business Startups Act) in the United States. His advocacy for financial innovation has taken him to the global stage when he joined the U.S Commerce Department's delegation to Brussels and Rome at the Transatlantic Economic Forum for SME Policy last July 2012 where he met with European ministers and national legislators. He is an international speaker and prolific writer on these topics.
Overall, TSL's mission is to bring global awareness and develop infrastructure to facilitate innovative capital formation and access and spur job creation. As such, The Soho Loft operates as the leading global corporate strategy adviser on financial and economic policy.
When & Where

Oasi dei Celti, Lake Como, Italy




Thursday, January 24, 2013 at 8:30 AM

-

Friday, January 25, 2013 at 6:00 PM (CET)
Add to my calendar
Organizer
The Soho Loft Media Group
THE SOHO LOFT Media Group (www.thesoholoft.com)
The Soho Loft Media Group is a global financial media company with 3 divisions:
THE SOHO LOFT CONFERENCES organizes up to 200+ investor-focused global summits, talks and events annually.
TIMES IMPACT PUBLICATIONS produces relevant content on investing and entrepreneurship that are published and syndicated in  100+ leading online publications and growing.
VICTORIA GLOBAL Corporate Communications specializes in client Investor Relations, Public Relations, Branding and Social Media Marketing.
The Soho Loft Media Group is your global partner for your investment and business startup and growth strategies.
For additional information, please visit us at www.thesoholoft.com 
or email Donna@LDJCapital.com