Italic Award Gala - IACCSE 30th Anniversary Celebration
Italic Award Gala - IACCSE 30th Anniversary Celebration
About this event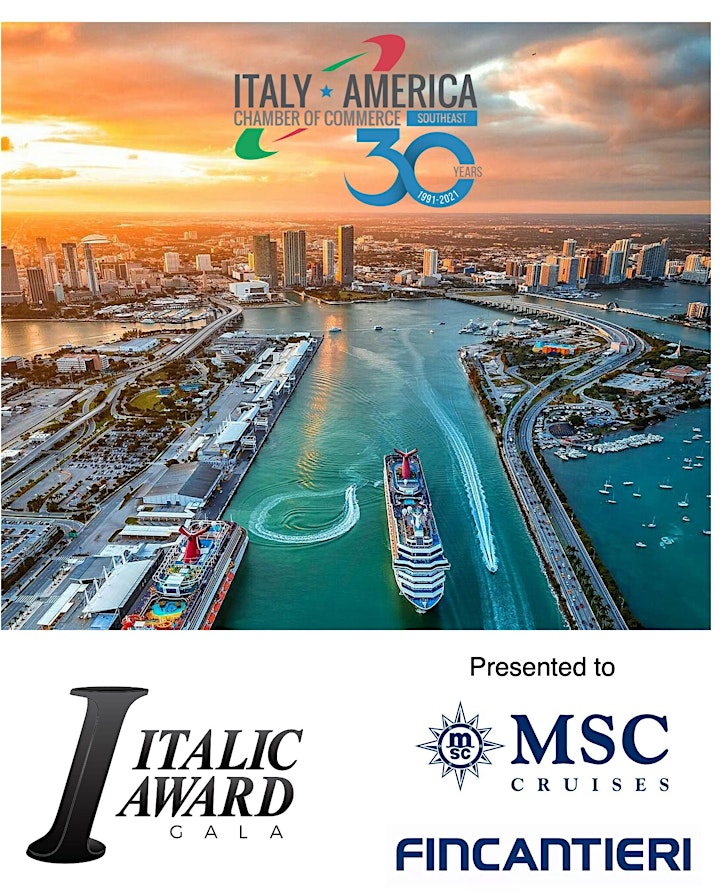 Italic Award Gala
IACCSE 30th Anniversary Celebration
On December 1, 2021, we will be together anew to acknowledge once more the great friendship between the US and Italy and to celebrate a milestone for all of us as a committed business community: the 30th Anniversary of the Italy-America Chamber of Commerce Southeast.
Join us as we recognize, with the prestigious Italic Award, two "Made in Italy" Ambassadors, along with our longstanding members and all the people who contributed, during these thirty years, to our mission of strengthening trade and business relationships between Italy and the United States.
Program
6.30pm – 8.00pm "The Extraordinary Italian Taste" Welcome Cocktail
8.00pm – 11.00pm Gala Dinner & Award Ceremony
Black Tie Attire

The Italic Award Gala Night at a glance
The 2021 Italic Award will be the third edition of the successful event organized by the IACCSE to celebrate its community and the friendship between the US and Italy.
300 guests among entrepreneurs and international executives
Keynote speakers
Italic Award presented to two business leaders
Pillar Award recognizing longstanding members of the Chamber
The Extraordinary Italian Taste F&B Stations during the welcome cocktail
Exceptional 4 course-menu dinner
Live Music
Menu and event details will be communicated shortly. You may have any food allergies or dietary requirements, we will take care to provide a great alternative to the menu dishes.
Location: Port Miami – Cruise Terminal D
The IACCSE is honored to have the partnership and support of the Port Miami, not only because the Port is one of the main economic engines of the city, but also because Italy is the main European trading partner of the Port.
During the Gala night, a specific focus will be given to the maritime and cruise industry sector in which Italy has an international leadership role.
2021 Italic Awards Recipients
The Italy-America Chamber of Commerce Southeast is pleased to announce that the two recipients of the Italic Award (created by Italian designer Dodo Arslan) are:
Mr. Richard Sasso, Chairman of MSC Cruises USA
Mr. Daniele Fanara, Senior Vice President Services and Newshipbuilding of Fincantieri
Italic Award 2018 Recap Video

Organizer of Italic Award Gala - IACCSE 30th Anniversary Celebration
The IACC is a non-profit organization whose mission is to fostering trade between Italy and the USA.
Since its inception in 1991, the Chamber has been expanding continuously, in proportion to the growth of the Italian business community in the Southeast. Currently, the Chamber boasts more than 250 corporate members. Our organization is part of the Assocamerestero network, an international association of 80 Italian chambers from 54 countries.