Description
Valentina Cogoni grew up in Sardinia, and came to the US as a 22-year-old to work, first as a babysitter and eventually she went to nursing school and now works as a registered nurse at Kaiser Permanente.

Enza Sebastiani left her beloved city of Rome for Los Angeles to pursue her dreams as an independent filmmaker.
Rita Corona grew up in Naples, married an American and continued to build her life in Northern California after the marriage ended.

These are three women from different parts of Italy whose life paths brought them to the US and eventually, the Bay Area. A common thread in their stories is one of grit and determination in building a life for themselves in a new country and culture, even when things didn't turn out the way they had planned. Tapestry Suppers is thrilled to feature their stories and treasured family recipes for our next event and we hope you will join us by purchasing a ticket.
Read more about Valentina's, Enza's and Rita's story on Beyond the Plate.
---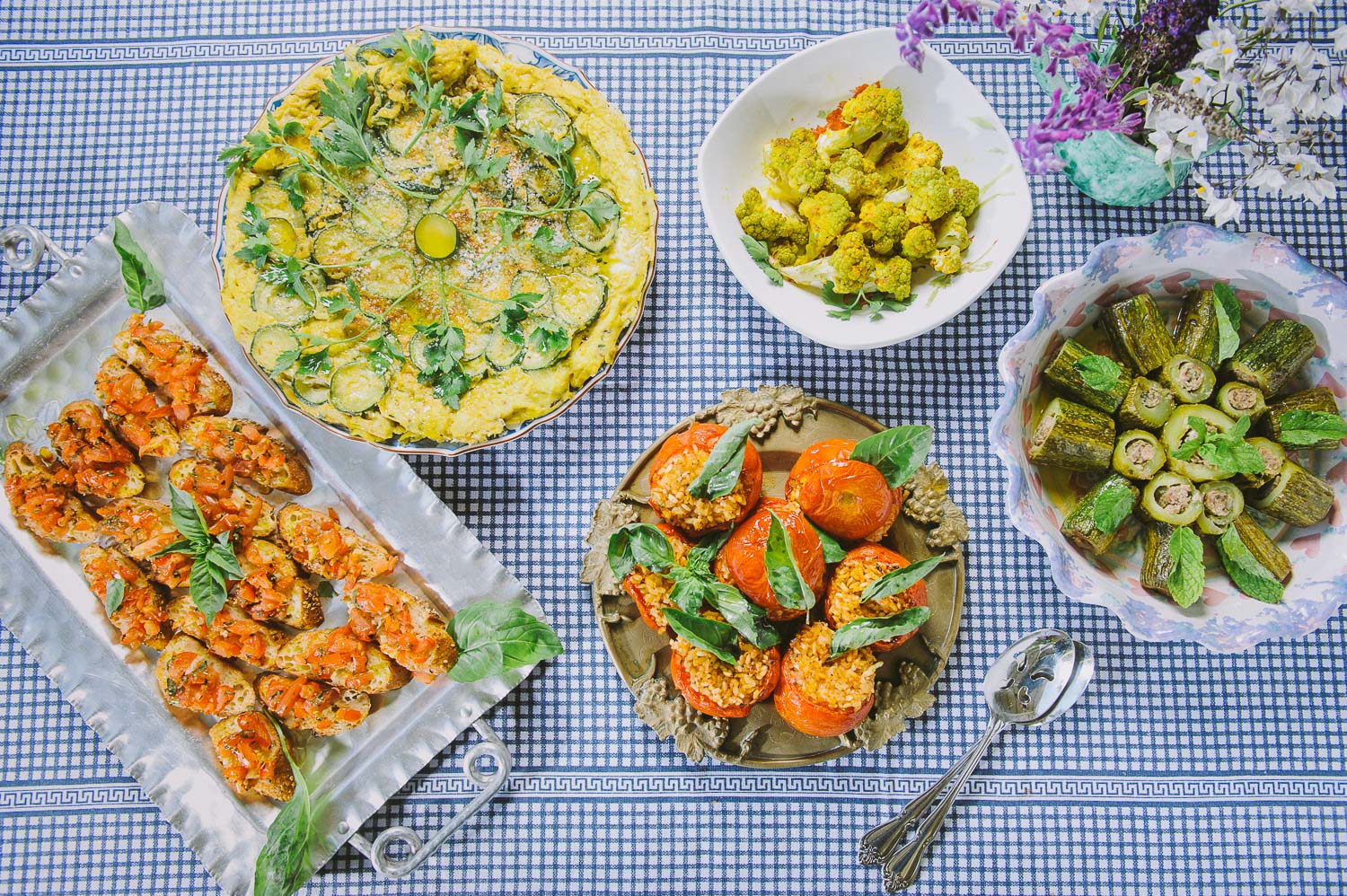 THE MENU*
Antipasti:
Olive Mix
Mixed Bruschetta Plate (W)
Antipasto Misto (Cold Cuts and Italian Cheeses) (D)
Grilled Vegetable Platter
Insalata di Polpo (Octopus Salad)

Contorni:
Roasted Seasonal Brassicas
Pomodori Ripieni con Riso (Rice-stuffed tomatoes) (NS)

Primi:
Pasta e Fagioli (Pasta with Borlotti Beans) (W)
Farro alla Toscana (Tuscan-style Farro) (W)
Secondi:
Zucchini Frittata (D)
Zucchini Ripieni (Tuscan-style stuffed zucchini with sausage)
Dessert:
Granita di caffe con panna (Espresso Granita with whipped cream) (D)
Amaretti
*Allergen indicators: D = dairy, W = wheat, N = nuts, NS = nightshades.
---
MERCY CORPS

This meal benefits Mercy Corps, an organization that Enza has supported for many years. Mercy Corps is dedicated to supporting global communities around the world impacted by conflict, disaster, political upheaval or economic collapse. From the Syrian refugee crisis to helping small farmers in Indonesia, Zimbabwe and Uganda increase their productivity, their goals are to help local communities recover from crises through economic resilience and good governance. Read more about their work here: https://www.mercycorps.org/about-us/our-work

FAQs
Is my ticket transferable?
Yes. If you are unable to attend an event you are welcome to pass this along to a friend who can take your place. Please send a note to hello@tapestrysuppers.org informing us of this change.
What's the refund policy?
For cancellations up to a week (7 days) prior to event date: 100% refund minus $3 cancellation fee.
For cancellations up to 3 days prior to event date: 50% refund minus cancellation fee.
No refunds for cancellations made less than 3 days prior to the event.
How can I contact the organizer with any questions?
Send an email to: hello@tapestrysuppers.org.