Italian Genealogy: Tracing your Immigrants in the US and in Italy
A two-part series about tracing your Italian Genealogy in United States and Italian records
About this event
Italian Genealogy: Tracing your Immigrants in the US and in Italy
VIDEO RECORDING
A Two-Part Series
 Presented by 
Alec Ferretti
You can purchase viewing privileges (available 3 days after the event & available until December 22th)
Session 1: Italian Genealogy 101: Tracing Your Ancestry Back to Italy
Learn the types of American records that will help identify your Italian ancestors' towns of origin. This talk will summarize all the record sets that are useful to tracing 20th century immigrants to the United States back to their home country. It will explain how to use census records to trace an immigrant back in time to find their naturalization and/or arrival records. In cases where these records prove elusive, other strategies will be discussed to locate a hometown. In some instances, more unorthodox records will yield the answer, while sometimes it will be necessary to look more broadly and study an immigrant's community or surname to pinpoint his/her birthplace.
Session 2: Italian Genealogy 102: Researching Italian Records
Learn about Italian civil, parochial, military, and land records, which can be used to trace your family back through time. The lecture will include an overview of Italian geographical and political divisions that will help you determine where records are located, what records exist for certain timeframes, what is digitized, and how to access what is not. The primary focus of the talk will be civil registration, which began in Italy in the early 19th century, and which has been digitized to some extent for most provinces. Military and land records are rarely digitized but can be accessed via the State Archives - often via correspondence. Some attention will be given to church records, which are usually only accessible by visiting the parish in person but allow an ardent researcher to trace a lineage back to the 1500s.
This event was recorded live. Register now to view video recordings of the event.
See you online!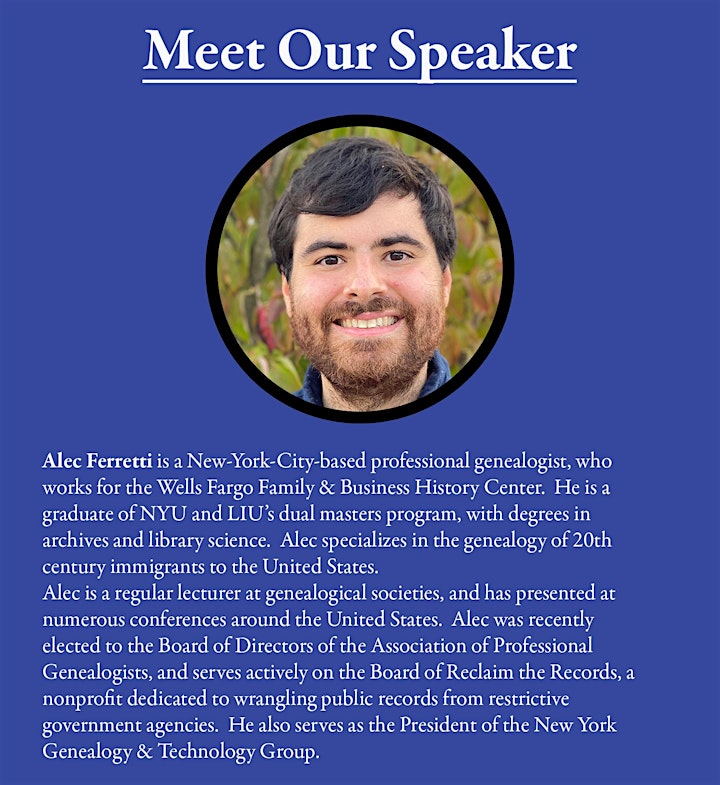 REGISTRATION INFORMATION:
Pre-registration is required. Class size is limited so register early to confirm your spot.
CGS members enjoy reduced admission or viewing, $10.00*.
 Non-member admission or viewing fee is $15.00*
Pricing to view the Zoom recording is the same as live participation.
You can purchase a $45 one-year CGS Basic membership when you check out. To sign up for other membership options go to our web page: CGS Membership application
 PAYMENT OPTIONS:
Credit card payments will be processed by Eventbrite.
Date and time
Location
Refund policy
Organizer of Italian Genealogy: Tracing your Immigrants in the US and in Italy
The CGS Library will continue to follow Alameda County COVID protocols, open only by individual appointment.
________________________________________
 Connecting people to their diverse family heritage

Whether you have Gold Rush ancestors or have no family connection to California, you will find extensive support for your genealogy research at the California Genealogical Society (CGS) in Oakland. The society offers research services, online indexes and databases, and a research library housing over 38,000 reference materials from California, the United States, and around the world. CGS is a 501(c)(3) nonprofit corporation. The library is conveniently located in Uptown Oakland, one block north of the Paramount Theatre, at 2201 Broadway, Suite LL2. We are three blocks from the 19th Street BART Station.
Phone: (510) 663-1358 
Non-Discrimination Statement
The goal of the California Genealogical Society is to connect people to their family heritage and to promote a spirit of diversity and inclusivity for our members and patrons. The California Genealogical Society does not tolerate discrimination in any form. 
Courtesy Request
In order to maintain a welcoming and healthy environment, please refrain from using scented products at CGS events or in the library.
Photography Notice
California Genealogical Society (CGS) may take photographs, audio recordings, and video footage in our library, classrooms or events for historical records or publicity purposes.  If you do not want to be photographed or filmed, it is the individual's responsibility to 'opt out' by notifying the event leader or photographer at the event.