Description
Looking for Pop-Up Dinners in San Diego?
Enjoy a unique, delicious and authentic Italian pop-up dinner prepared by our chef from Tuscany and a wine pairing of Crisp White and Full Bodied Fruit California Red wines to compliment each dish, provided by Koi Zen Cellars, with the option of additional wine glass and bottle purchases.
Through this unique experience that will take place at Koi Zen Cellars in Carmel Mountain, Giacomo will be able to transport you into his country. Food provided in this Italian pop-up is truly authentic and wine pairing has been carefully selected to enjoy true flavors of both, wine and food.
Koi Zen has been voted as San Diego's BEST Local Winery in 2017 & 2018 by UT Readers Poll.
Giacomo grew up in Tuscany, helping his parents with the restaurants that they owned since he was little. He now wants to share his passion for his culture and food with people around the world.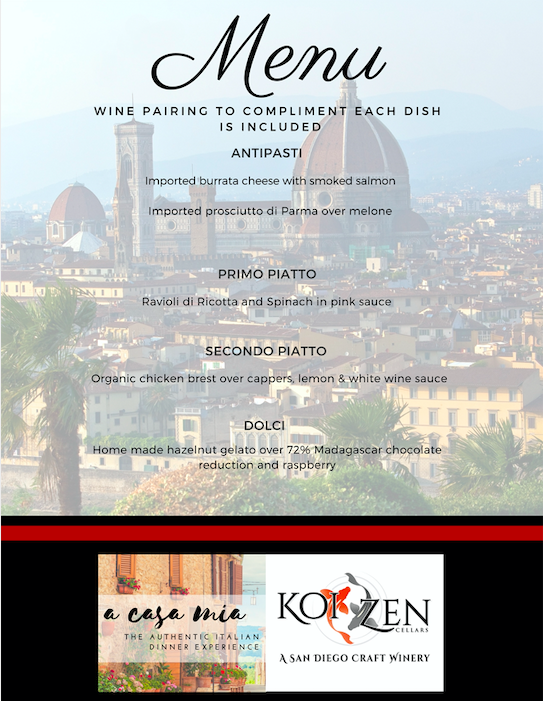 This is a small group and there is a very limited number of tickets. Please reserve your spot! Tickets must be purchased in advance.
Tickets: $65 per person.
Tickets are sold in advance and seating is very limited, so please make your reservations early.
5 Course Menu
Meet people who appreciate fine Italian food and culture.
Feel free to invite friends and family members.
Don't forget to inform us about any food allergies that you may have.
Must be 21 or older!!
Giacomo is also available for corporate events, private parties, and other special occasions. Please contact us at ACasaMiaSD@gmail.com for details.

Buon Appetito!
We look forward to having you for this very special evening.
Join our meetup group to learn about future events: https://www.meetup.com/Italian-Pop-Up/