Italian Community of St Louis: Carnevale Veneziano 2019
Description
You are cordially invited to the Italian Community of St Louis' second annual CARNEVALE VENEZIANO. Together with the St Louis - Bologna Sister Cities Organization, our clubs Italiano Per Piacere and Giovani Italiani Saint Louis, as well as support from the World Trade Center - St Louis, the World Affairs Council of St Louis, and from numerous generous sponsors including ARTECO GLOBAL, ITALGRANI, and VOLPI FOODS, we are are proud to present a spectacular one-of-a-kind Venetian Masquerade Gala. Our theme this year is "Bringing Carnevale to Soulard" as we host our unique event at the eclectic Mad Art Gallery in one of St Louis' trendiest neighborhoods where our city's version of Mardi Gras calls home. Venetian style masquerade masks are strongly encouraged. This will be a family-friendly enviornment and children under the age of 5 are welcome free of charge.

An exquisite dinner served buffet-style will be prepared by culinary artist Ron Buechele followed by music and entertainment by our very own DJ Antonio Leone who comes from Foggia in Puglia. Professional dancer Daniela Martin will grace us with a tango and flamenco performance. Wine and beer are included in the purchase of an adult ticket and an open bar will be provided. Prizes will be given for the best mask. Get your tickets now as we fully expect a sold-out event!
A special thanks to our sponsors and supporters and for all donations received from the following businesses, organizations, and individuals:
VOLPI FOODS
ARTECO GLOBAL
ITALGRANI USA
ITALIAUSA.COM
ST LOUIS MOSAIC PROJECT
WORLD TRADE CENTER - ST LOUIS
WORLD AFFAIRS COUNCIL of ST LOUIS
HIGHER EDUCATION CHANEL TV (HEC-TV)
SOULARD NEIGHBORHOOD ASSOCIATION
SAINT LOUIS UNIVERSITY ITALIAN CLUB
ISTITUTO ITALIANO DI CULTURA - CHICAGO
ST LOUIS ECONOMIC DEVELOPMENT PARTNERSHIP
WASHINGTON UNIVERSITY ITALIAN STUDIES PROGRAM

Honorable Fucsia Nissoli, Parliamento Italiano
Honorable Giuseppe Finocchiaro, Consolate of Italy in Chicago
Honorable Giuseppe Colagiovanni, Vice-Consolate of Italy in St Louis
Honorable Lyda Krewson, Mayor of St Louis
Alderman Joe Vaccaro
Cav. Franco Giannotti, Founder of Italiano per Piacere
Mr. Dennis Riggs, President of HEC-TV
Tim Nowak, President of the World Trade Center-St Louis
Stella Sheehan, Deputy Director of the World Trade Center-St Louis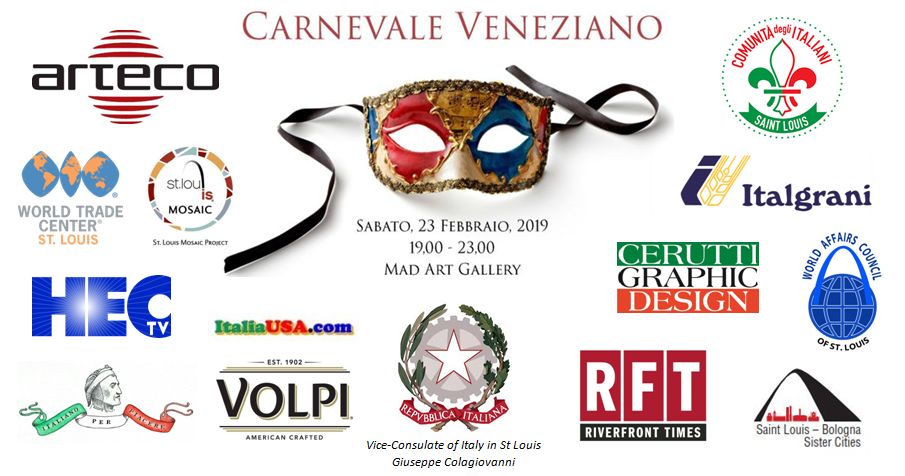 For further information, please contact Michael Cross at mikecross.stl@gmail.com or Jessica Hayes at jesshaase@sbcglobal.net
N.B: Please be aware that there are no refunds for this event. Thank you.