Description
The Italian Championship of Pasta will take place for the first time in New York, from March 7th to September 12th. ITALIAN'S FOOD CHAMPIONSHIPS and SPEAKITALY NYC are glad to invite you to celebrate one of the most important ingredients in the Italian cuisine and partecipate in deciding Il Campione Della Pasta! Food connoisseur Riccardo Costa is enthusiastically part of the team and will be gifting at every match his Vecchia Cucina: Antique original family recipes from my grandma's secret kitchen book to a lucky one!

8 teams will represent different regions of Italy each challenging with two of their best and authentic regional pasta recipes. The contests will take place at the restaurants and dates shown below:
BREAD (Liguria):40 Kenmare St, New York, NY 10012
CACIO E PEPE (Lazio):182 2nd Ave, New York, NY 10003

CACIO E VINO (Sicilia):80 2nd Ave, New York, NY 10003
CIRCO (Toscana):120 W 55th St, New York, NY 10019
I TRULLI (Puglia):122 E 27th St, New York, NY 10016
OSTERIA SAN CARLO (Piemonte):90 Thompson St, New York, NY 10012
SAN MATTEO (Campania):1559 2nd Avenue@East 81st street
TARALLUCCI E VINO (Emilia Romagna):44 E 28th St, New York, NY 10010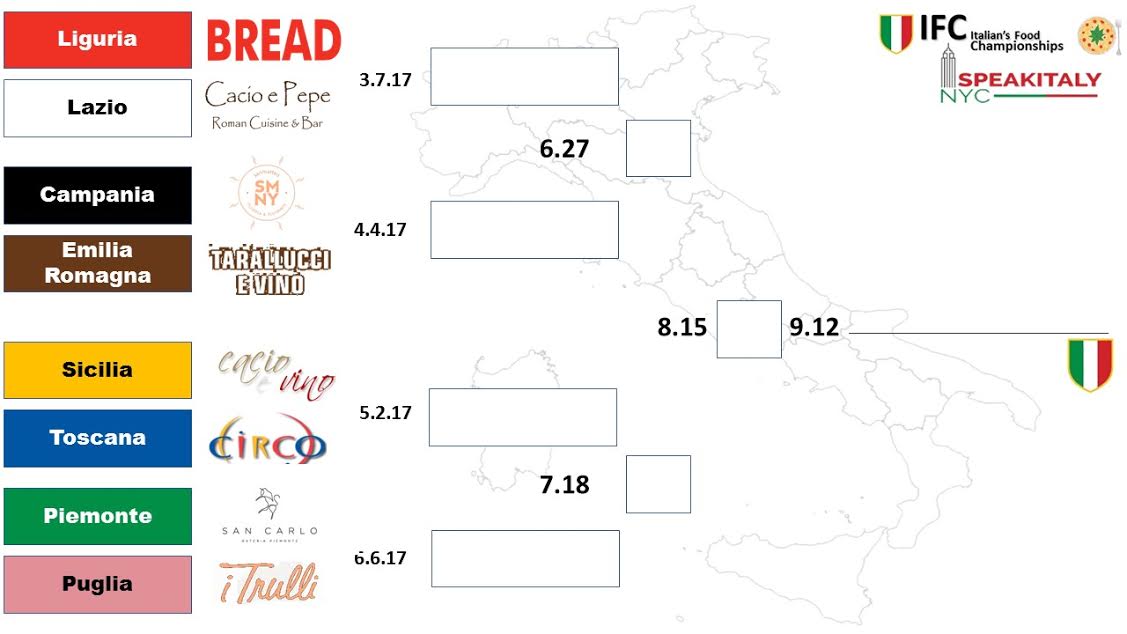 You must come to enjoy the FANTASTICA cuisine and to have fun the Italian way by enjoyment of food, wine and conviviality! The winning restaurant will have a championship trophy but the real winner will be YOU. There will be a raffle the night of the final and one, ONLY ONE, will win a 5 DAY THREE STAR HOTEL STAY in RIMINI FOR TWO to be taken at pleasure at any time during the year.You of course know, and if not not before, now you do, that Rimini is the city of Federico Fellini. In addition, to assure that you fully enjoy that stay, the winning ticket includes a 3 hour crash course at Speakitaly NYC!
The ticket includes tip and taxes.
The MENU is:2 pasta tastings, 1 dessert + caffè and 1 glass of wine/water or soda
March 7th, 2017 (LIGURIA WON WITH LASAGNE AL PESTO)
LIGURIA Homemade pesto lasagna and Penne with basil and seafood sauce
LAZIO Tonnarelli pasta cacio e pepe and Paccheri with duck in orange sauce
April 4th, 2017
EMILIA ROMAGNA Homemade three meat stuffed tortellini in chicken broth and Homemade pappardelle al ragù bolognese

CAMPANIA Fusilli with slow cooked veal and onions and Tubetti pasta with beans and mussels
May 2nd, 2017
TOSCANA Ravioli di mamma Egi (ricotta and spinach ravioli, butter and sage) Pappardelle with rabbit alla cacciatora
SICILIA Busiate with Sicialian Pesto and Sicilian Fettuccine alla norma
June 6th, 2017
PIEMONTE Tajarin fromTorino al tartufo d'alba and Agnolotti del Plin al sugo d'arrosto
PUGLIA Orecchiette in a rabbit ragù and Ceci e Tria (Fresh and fried pasta, chickpeas, tomato)
HOW DOES THE TICKET SYSTEM WORK? Buy the ticket for the match you like and two days before the event you will receive a notice revealing which of the two locations you have been selected. You will be given a slip to vote on which of the two tastings you loved more. The pasta that receives the most votes between all four proposed pastas ( 2 from each region) will be the winning dish of the evening and also the one that will advance in the tournament.