Description
The next stop on the IT4Causes Event Series, the "Red White & Brew" Happy Hour, explores RVA's burgeoning microbrew scene with a trip to Triple Crossing Brewery in Fulton. Join us for drinks, food, and networking with your favorite nonprofit-that-provides-IT-for-other-nonprofits! We'll have a sample of some of Triple Crossing's finest beers, plus pizzas made on site, and a magic performance. We hope to see you there!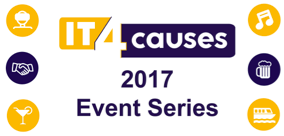 Don't forget about the option to subscribe to the rest of the series! The remaining three events are now included in the subscription for the reduced rate of $60. Make sure to get them before the July 12th event to ensure access to the rest of this exciting series! (Ticket revenue will be used to help provide great IT services for local nonprofits.)
Please note, sponsorships are still available for this event as well as our September Rooftop event at 804RVA! Get your organization's brand associated with an innovative nonprofit that's all about helping many different causes, and get access to hundreds of IT professionals and nonprofit leaders through our advertising and with a table/talk time at the events.

Event Series Sponsor:
Impact Makers

"Awesome People" Sponsor:
Berkana Enterprise Consulting

Vaco Technology