It Works Skinny Massage Training (CE)

Monday, February 20, 2012 from 9:30 AM to 4:30 PM (EST)
Event Details
It Works Global!
Skinny Massage Therapy
ATTENTION... Asheville, WNC, TN, GA & SC area Massage Therapists
Come learn a technique that will not only increase your client base, revenue and profit, but also create an
exciting buzz for your business.
Linda C Wilson, NCBTBM CE Provider, Massage Instructor
Lisa J Wood, Organizer
(828) 273-9939
Lisa.wood@charter.net
SKINNY MASSAGE
Please note that the Massage Therapy Program is a one-time program offered on February 20, 2012 in Asheville, NC.  Exact location will be determined based on number of therapists attending.  All attendees will be notified of the class location prior to event date. 
Course Cost:   $99
CE:                      6 hours
Products required for class:
Skinny Massage Formula, call or email for details

(828) 277-8584  lisa.wood@charter.net

One massage table for every two Massage Therapists

DATE / LOCATION:
Monday                   February 20, 2012                   9:30 a.m. – 4:30 p.m.
                                  Asheville, NC                         Lunch break from 12-1 p.m.
---
Linda C Wilson, NCBTBM CE Provider, Massage Instructor:
Linda's training includes Master Training for Lypossage, Endermology, working with various spas, and product training with various types of cellulite reduction and contouring gels to assist the elimination or reduction of cellulite appearance.  She owned a massage therapy school in Texas for 23 years as well and offered both basic and advanced trainings.   Her knowledge and humor make for a very fun and informative class.
"Cellulite is not a fat problem, it's a skin problem. It has nothing to do with what you weigh, or how much weight you lose."  Howard Murad, MD, author of "The Cellulite Solution"
The concept behind "The Skinny Massage" is that by massaging the cellulite affected areas of the body in a certain way, the circulation is improved and the cellulite gets softened and released over time out of the body. Using products to cause microcirculation, tonification, and moisturization also help to improve enhanced results.
There are two types of sessions you can choose from to apply the product.
·         The Simple Skinny Massage" technique. A 30 minute session for clients have no or very little appearance of cellulite and have a firm appearance to tighten, tonify, and moisturize the skin. 
·         "The Skinny Massage" is a 30 minute session for clients who have a visible appearance of cellulite, and need strokes to soften connective tissues that have become fibrous and is difficult to move. Target areas include: the upper arms, upper thighs, abdomen, back, and then back of upper legs and buttocks region. This session is completed with application of "The Skinny Massage" formula.
---
Learn how to customize your Body Treatments with "Your Spa" Add-On Services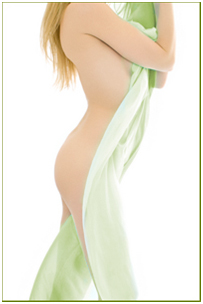 All services are available for only $25 extra per treatment area per area.        
Feeling loose? "Your Spa" offers Skinny Massage to help tighten, tonify, and smooth out problematic areas of the body within a thirty minute session. Book just one appointment to feel a difference or make several to make a difference in the anti-aging journey.    
Want to Detox? We now offer Detox Target Applicators that focus on your choice of the abdomen, back, arms, or legs. This detoxification process is designed to have you experience possible inch loss in the first 45 minutes and can be applied while you are receiving another "Your Spa" service!         
Coming for a massage anyway? Add on a Face Freshener Applicator to your massage and improve your appearance. This will tighten and smooth facial skin and contours the chin. Leave your massage session not only feeling Your Spa"- ahhed, but also with a younger-looking you.       
Red Carpet Body is a service for anyone wishing to tighten, tone, and refresh areas such as the face, chin, arms, abdomen, back, buttocks, or thighs. This treatment is designed to detoxify the body and usually results in inch loss in the areas applied.  This is a 30 day program (8 sessions) for anyone wanting to prepare for a wedding, vacation, or just that Red Carpet body available from "Your Spa".           
Target specific detoxification and Facial Freshner applicators: help to tighten, tonify, refresh the area it is applied, and reduce the appearance of aging skin in only 45 minutes.            
Only $25 per application per area
Red Carpet Body: Customized 30 day program (8 sessions) to detoxify, tighten, tonify, and body contour inch loss to prepare for weddings or other special events.       
Only $25 per application per area
---
REGISTRATION

Please make every effort to register AT LEAST one to two weeks in advance of the workshop. We encourage two weeks notice to give the instructor adequate time to prepare workshop materials. If you wish to register for the workshop less than one week in advance, please call Lisa J Wood at 828-273-9939 to confirm if the workshop is running or cancelled. We reserve the right to cancel the workshop one week prior to its start date if enrollment has not reached the required minimum. Registrants will be notified if a workshop is cancelled.
Attendee List
Sort by:

Date

|

First Name

|

Last Name
No one has registered for this event yet.
When & Where

Class Location to be Announced

Asheville, NC


Monday, February 20, 2012 from 9:30 AM to 4:30 PM (EST)
Add to my calendar
Organizer
Independent Representative of It Works! Global. 
NATIONALLY ACCLAIMED


IT WORKS! IS ONE OF THE FASTEST GROWING COMPANIES

 

IN THE UNITED STATES.

In 2011, It Works! was ranked on Inc.  Magazine's prestigious Inc. 500/5000 list
as one of the 50 fastest-growing companies in its category.
EXCLUSIVE PRODUCTS
YOU WON'T FIND PRODUCTS LIKE THESE ANYWHERE ELSE.

It Works! offers the world's first naturally based body contouring line that delivers maximum results in minimal time. You simply won't find anything like it in the world today.
FEATURED IN HOLLYWOOD
THE ULTIMATE BODY APPLICATOR HAS BEEN FEATURED AT EXCLUSIVE CELEBRITY EVENTS.

The It Works! Ultimate Body Applicator has been featured in the Emmy® and Oscar® Awards celebrity gift suites, as well as promoted by celebrity makeup artists on movie sets.