It Was A Good Day Party in the Heart of Trinity Groves Dallas featuring your favorite Hip Hop, R&B, Afrobeats and New Hits.
About this Event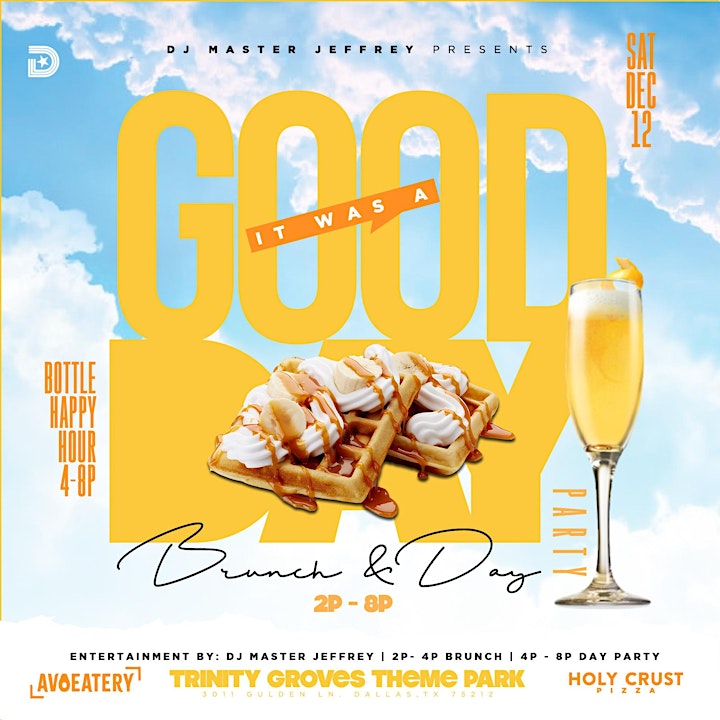 Without a doubt we know today's urban professionalast loves three things: Brunch, Mimosas and Hot Music! So we invite you to come out to AvoEatery and Holy Crust Pizza in Trinity Groves Dallas on Saturday, December 12th from 2PM to 8PM where we're serving a new refreshing vibe called IT WAS A GOOD DAY: DAY PARTY! Between AvoEatery & Holy Crust Pizza, located in Trinity Groves Dallas (Downtown Dallas), both features a delicious and reasonably priced brunch and food menu.
Order a brunch entree along with $3 Margaritas (Avo) or $3 Mimosas (HolyCrust), you'll have the option to alternate between both restaurants. Sit inside and listen to the sounds of Dallas HOTTEST DJ's or sit outside and enjoy the sights and sounds of Trinity Groves / Downtown Dallas.
This event hosted by Jeffrey Management Group, which draws a crowd of HBCUs and PWI's who look forward to unwinding after a strenuous work week. Join us and turn all the way up with some brunch, mimosas, margaritas, and good music. You won't be disappointed!
Day Party: The Event begins at 2P Dallas DJ Master Jeffrey, will be bringing you the hottest sounds of winter from Rap, R&B, Top 40, to AfroBeats! We'll wrap up around 8P just in time for you to rest up and get ready for Successful Sunday at Harlowe MXM in the Heart of Deep Ellum Dallas w/ DJ Master Jeffrey.
**Seating during brunch is first come first served. RSVP does not guarantee seating**
**Please use #IWGDBRUNCH for hashtags**
** Please follow @DJMASTERJEFFREY **
Bottle Prices
$200
Ciroc
Hennesy
Moet Rose
Jameson
Patron
Don Julio
Jack Daniels
Crown
$150
Vueve Clicquot