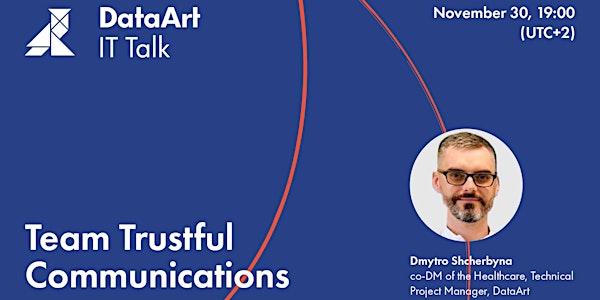 IT talk "Team Trustful Communications"
DataArt invites everyone who is interested in the topic to the IT talk "Team Trustful Communications"
About this event
DataArt invites everyone who is interested in the topic to the IT talk "Team Trustful Communications", which will be held by Dmytro Shcherbyna, co-DM of the Healthcare domain, Technical Project Manager at DataArt.
It can be pretty challenging to keep distributed teams motivated in modern reality. People work without seeing each other, hanging out, and meeting in person. Can we do something about that? It's harder to plan offline teambuilding events but there are some ways to improve team collaboration, motivation, and trust. Why don't we talk about that?
At the meeting, we'll talk about:
• What a high performing team is.
• Patrick Lencioni: The Five Dysfunctions of a Team.
• How to improve trust within teams. Vulnerability-based trust.
• Fear of conflicts.
• Ways to overcome team dysfunctions. Speaker: Dmytro Shcherbyna, co-DM with an account of 270 people, Technical Project Manager at DataArt. 12 years in IT, 8 in DataArt - path from dev, TL, PM, to DM
https://www.linkedin.com/in/dmitriy-shcherbina-35850b2a/
Mentor, public speaker, lector, trainer of facilitation and soft skill courses. Mobile and Agile community leader.
Date/time: November 30, 19:00 (Kyiv time)
Duration: ~1 hour.
Language of the meeting: English.
Target audience: Team leads, PMs, Scrum Masters.
⚠️ All registered participants will receive a link to the IT talk the day before the meeting.
If you have any questions write to: pr-kh@dataart.com