Description
It takes a village: Annual Charlotte Iftar Banquet in Aid of Orphans

Join us for Penny Appeal USA's Annual Iftar on Sat, May 25 at the Hilton Charlotte University in Charlotte where we will be joined by Ustadha Ieasha Prime , Abu Anas Hisham Mahmoud, and Dr. Altaf Husain.

Our Annual program will start promptly at 6:00, so make sure to come in time to hear Ustadha Iaesha Prime and Ustadh Hisham Mahmoud's powerful insights regarding Ramadan, this holy month. Child Services are provided.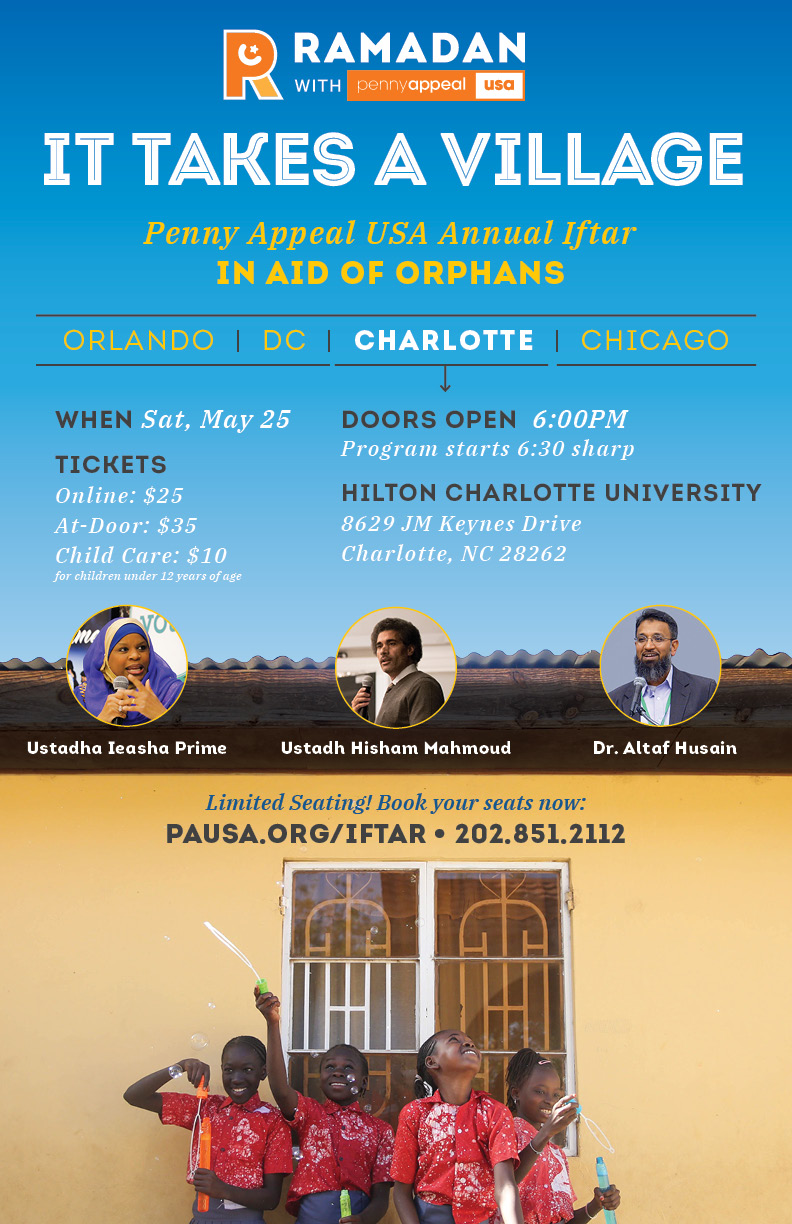 In Aid of Orphans:
The Prophet (saw) was reported to have said:
"The one who cares for an orphan and myself will be together in Paradise like this," and he held his two fingers together to illustrate.
All event proceeds will go towards supporting our OrphanKind program. We're building communities centered around nurturing orphaned children. For more information about our OrphanKind program, visit pennyappealusa.org/orphankind.
Additional Event Info:
When:

Sat, May 25
Doors Open 6:00 | Event starts 6:30


Speakers:
Ustadha Ieasha Prime , Abu Anas Hisham Mahmoud
Motivational Speaker: Dr. Altaf Husain


Location:

Hilton Charlotte University



8629 JM Keynes Drive
Charlotte, NC 28262


Ticket Prices:

General/Online: $25
Late/At-Door: $35
Table of 10 (ticket price: $20): $200
Child Care: $10
To volunteer, sign up at http://bit.ly/pennyiftar2019
*must be at least 17 years old*