IT Security Strategy for your business

Wednesday, February 18, 2015 from 11:30 AM to 1:00 PM (EST)
Event Details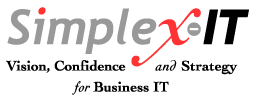 IT Security for your business.  It's a serious topic.  But you're covered, right?  I mean, you've got your anti-virus.  Your firewall is…well, it's doing what firewalls do.  And you have to enter a password to get into your computer (the proof of which is on your post-it note cleverly concealed on the side of your monitor).
So you're covered…right?
Let's see.  What are you doing about:
Protecting your backups?
Testing your backups?
Password requirements?
BYOD (Bring Your Own Device) policies?
Wi-Fi security?
Encryption for devices that leave the building, like laptops and tablets?
Users who might share credentials with the best of intentions?
Users who like to click on links in emails an on web pages?
Users who like to install stuff on their systems because there was a message on their computer telling them to?
Procedures to protect data from recently terminated employees?
Malware on Mobile devices?
There are a lot of questions here.  Join Bob Coppedge and the rest of Simplex-IT, and we'll talk about strategies.  Not all companies require every level of security and protection, but management needs to make that judgment call with eyes wide open.
As a bonus, we will be awarding a door prize of Office 2013 to a lucky attendees. Free food AND free software – how awesome is that!
We remind you, though, seating is limited. To reserve yours, click here, email Events@Simplex-IT.com or call 234.380.1277. Come join the fun!
---
At Simplex-IT, we specialize in sharing our knowledge with several free webinar and Lunchinar events each month on topics such as Microsoft Office, Project Management and Data Practices.  Contact us at Info@Simplex-IT.com, Twitter (Simplex_IT), LinkedIn (http://www.linkedin.com/company/simplex-it) or FaceBook: (http://www.facebook.com/simplex.it)
When & Where

Stow Hampton Inn
4331 Lakepointe Corporate Dr
Stow, OH 44224


Wednesday, February 18, 2015 from 11:30 AM to 1:00 PM (EST)
Add to my calendar
Organizer
Simplex-IT is: 
-IT solutions-
The experience of our Certified Network Engineers and Technicians, combined with our strategic partnerships, allows us the ability to competently evaluate all of your organization's IT needs. Our solutions are designed to reduce your costs, increase your revenue and mitigate your business risks through their productivity and efficiency enhancing benefits.
-Business Solutions/Managed Services-
Simplex-IT delivers proactive maintenance services through our flat-rate IT Support Service. Designed to reduce your costs, increase your profits and mitigate your business risks, we partner with you as your Virtual CIO and IT Department, allowing you to focus on running your business, not your technology.
-Disaster Recovery-
There is no reason a temporary setback should turn into a permanent failure - if you protect your organization before disaster strikes. The first step is to create a Disaster Recovery, or Business Continuity Plan. We can help you get started right away. We will put together a comprehensive plan for your entire organization
IT Security Strategy for your business