IT Root Cause Analysis and Problem Management

Wednesday, January 15, 2014 from 12:00 PM to 2:00 PM
Event Details
About the Program
"Error Unknown" to "Cause Identified" - How to use a simple technique to go from Confusion to Total Understanding in 15 minutes.
The following example was taken from an extract from a Google Error Code fix: "One of the most dangerous errors, "error 3194", is not due to the reason there is no solution to counter it, but due to the fact there are many possible solutions to this error; you have to apply combinations of these solutions in order to fix it."
This is the "typical" situation Problem Managers are facing when experiencing a problem that is vague, seemingly complex and not understood. Matt Fourie of KEPNERandFOURIE™ will demonstrate various examples of how to overcome this situation and will then continue to deal with real live situations from the audience. He will explain how the right question to the right information source will help the incident investigator to get to the "core" of the incident quickly and accurately. However, it is important that the investigators know what they are looking for, which is the underlying secret to success in 15 minutes. Matt will deal with all these and more in his presentation showing you how to work through an incident systematically and successfully, first time every time.
About the Speaker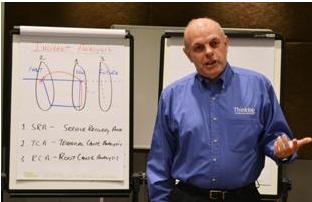 Dr. Fourie is the CEO of KEPNERandFOURIE. KandF Thinking Technologies traces its origins back to 1997. It was then that Dr.Chuck Kepner and Dr. Matt Fourie collaborated on the design and delivery of problem solving and decision making techniques to some of the leading companies in the world. Companies that required - better, faster, and more flexible techniques to improve performance.
Mat-thys Fourie has a wide range of international experience in the fields of problem solving and decision making, root cause analysis, project management and innovation. He has consulted worldwide and is a renowned public speaker on the above topics. His clients include BMW, VW, The Gillette Company, Frito Lay, Cadbury Schweppes, Northrop Grumman (Newport News), SAIC, Centers for Medicare and Medicaid Services. He is co-author of Innovation: The FreeZone Thinking Experience and co-author of the recently released publication, "Solve IT: Investigate the Cause of IT Incidents and Find Rapid Solutions.
Agenda
12:00 Noon to 12:30 PM - Lunch and Networking
12:30 PM to 1:50 PM – Program
1:50 PM to 2:00 PM - Survey, Prize Drawing
2:00 PM - Meeting Ends
When & Where

AFT (American Federation of Teachers) - AFL-CIO
555 New Jersey Ave N.W.
Washington, DC 20001


Wednesday, January 15, 2014 from 12:00 PM to 2:00 PM
Add to my calendar
IT Root Cause Analysis and Problem Management