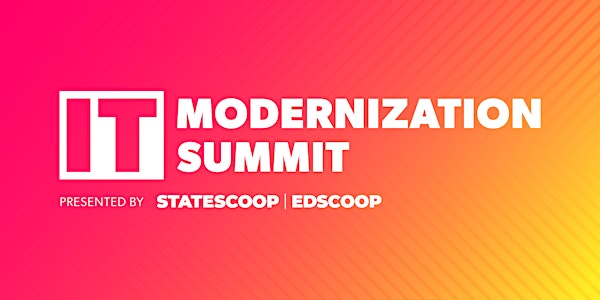 IT Modernization Summit
IT Modernization Summit presented by StateScoop and EdScoop
About this event
Amid an ever-changing technology landscape, digital transformation is more essential now than ever for state and local governments, as well as higher education institutions. As technology decision makers emerge from the crisis presented by the pandemic and into an era fueled by rapid modernization and digital expansion, leaders are ready to embrace change.
With increasing demands from citizens for a better digital experience, government agencies and universities are modernizing and transforming at the same time, all while trying to keep up with — and embrace — emerging technologies like artificial intelligence.
This virtual event will bring together technology leaders from across higher education, as well as state and local governments to explore the ongoing challenges they face while embracing digital transformation. Leaders will gather to discuss improving digital services, modernizing technology, embracing change and developing a workforce to support future-ready growth.
Check out our website for the latest speaker and agenda updates!