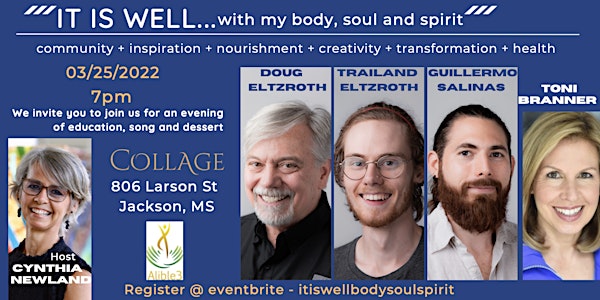 It Is Well...with my body, soul and spirit
An evening of inspiring music, delicious culinary arts, and practical wellness education to enrich the spirit, soul, and body to live well.
When and where
Location
Collage 806 Larson Street Jackson, MS 39202
About this event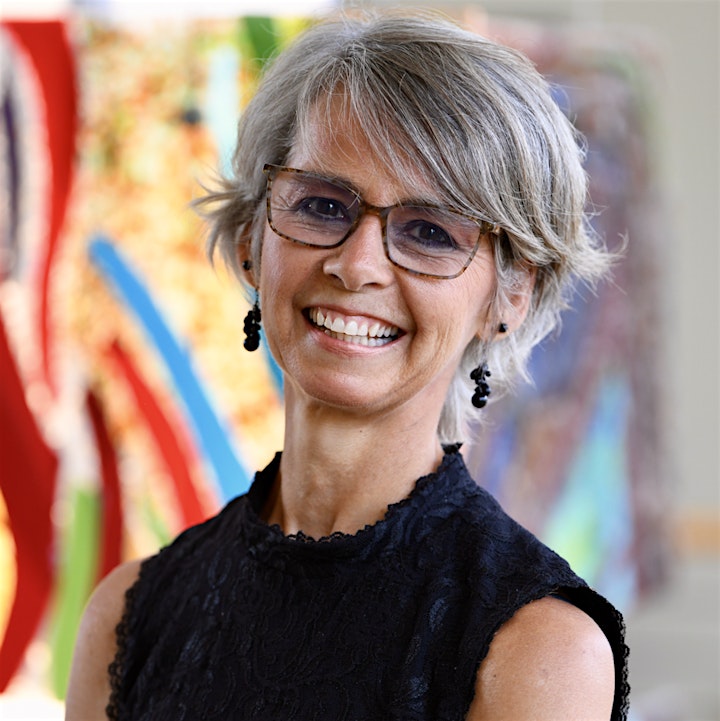 Host: Cynthia A. Newland, MFA, is a licensed Health Minister, artist, educator, speaker, and certified Life Coach and Wellness Consultant. She is the founder of Alible3 – Nourishing the Body, Soul, and Spirit, providing educational resources and equipping tools for holistic health. With her work in the area of wellness, she partners with the Health Made Simple community. Cynthia is the founding Director of Feet Speak Dance, created with the aim of presenting and sharing dance with a variety of audiences, inspiring souls, and offering hope, joy, and the love of God through the art form of dance.
For three decades, she has traveled nationally and internationally as a performer and as a teacher conducting creative faith-based workshops. Cynthia is the host of "Learn to Listen", and the visionary for other virtual conversations and meeting places for artists and creatives to gather for inspiration and celebration of wellness, the arts, and faith.
In her work as a professor in the university setting, she has received recognition as a recipient of the Higher Education Awards from the Mississippi Alliance for Arts Education including the Lifetime Achievement Award and the Humanities Teacher Award by the Mississippi Humanities Council. With honor, Cynthia serves on the Advisory Panel for YPAD supporting the work in advocacy for youth in dance and is the Health and Wellness Director for the National Liturgical Dance Network, as well as serving other organizations.
She is the wife of Douglas Eltzroth of over 30 years, mother of three adult married children, and grandmother of six grandchildren.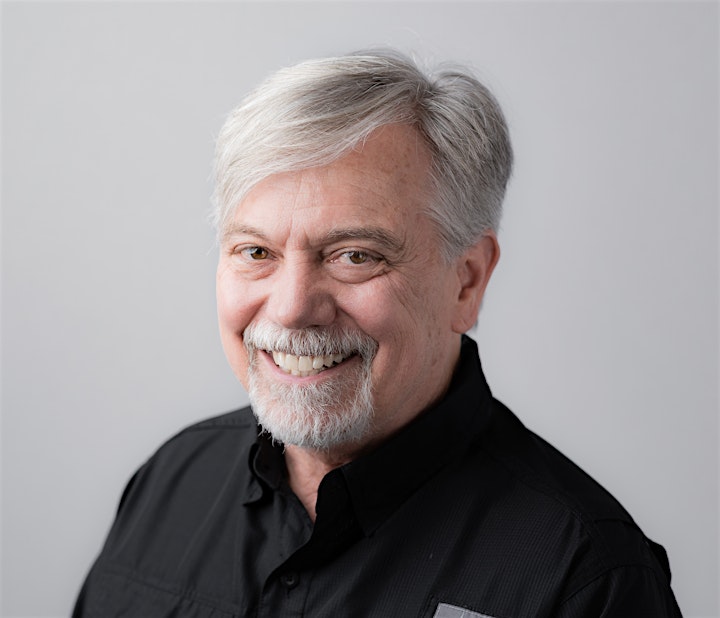 Music: Doug Eltzroth is a pastor, facilitator, writer, musician, storyteller, and entrepreneur. As the director of Collage since 1980's, Doug's guidance has recently reformed to create avenues/opportunities for other artists to use the recently acquired building to serve as an incubator for fledgling makers, artists and creatives alongside mature artists. Doug is known internationally as a designer and leader of Christians assembled together: worship gatherings, retreats, conferences, concerts. His music is recorded by artists from various nations and sung weekly by the church at large. Doug has written over 1,200 songs, published more than 70 in the marketplace, and is responsible for more than a dozen custom recordings. He is married to Cynthia Newland, together they have three adult children who are married and raising their own families – all living and working in Jackson, MS.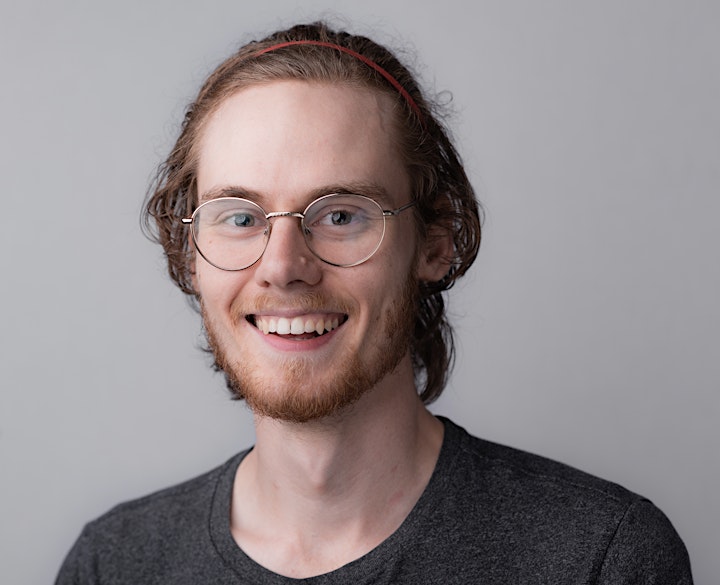 Music: Trailand Eltzroth is a musician, indie singer-songwriter, and composer based out of Jackson, MS. His debut EP Yesterday's Normal was released in early 2021, a solo project influenced by artists such as Andrew Peterson, Henry Jamison, and Sufjan Stevens. Trailand experimented with combining his voice and acoustic guitar with recorded sounds and intimate lyrics about his faith. Trailand received his BFA in Music Composition from Belhaven University and his Masters in Music Composition from the Royal Welsh College of Music and Drama. He has worked as a freelance composer and musician and as an adjunct faculty member at the music department of Belhaven University in Jackson, MS, where he lives with his wife and daughter.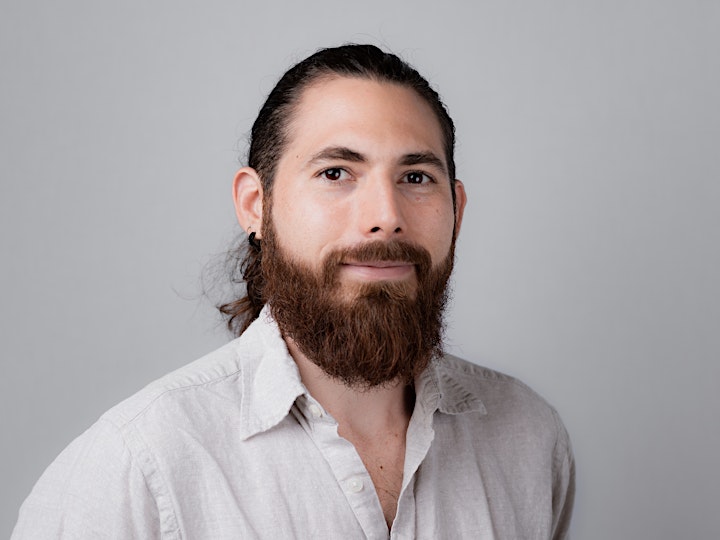 Guillermo Salinas was born in Brownsville, Texas and as a child moved to Zihuatanejo, Mexico with his family. He holds a B.F.A. in art from Belhaven University. Prior to his formal art education his love to create took him to study at the Culinary Art Institute in Fresno, CA where he graduated with a specialty in Baking and Pastry. For Guillermo, making is a means to interpret the world around him as well as a process to discover nuances in everyday life. Guillermo loves the process of creating and his body of work includes drawing, sculpture, and photography. He currently lives in Jackson, MS with his wife, Emma, and is working as the director of operations for College and the General Manager of Northshore Specialty Coffee. Also, his desire to continue pastry and art are being utilized through freelance work.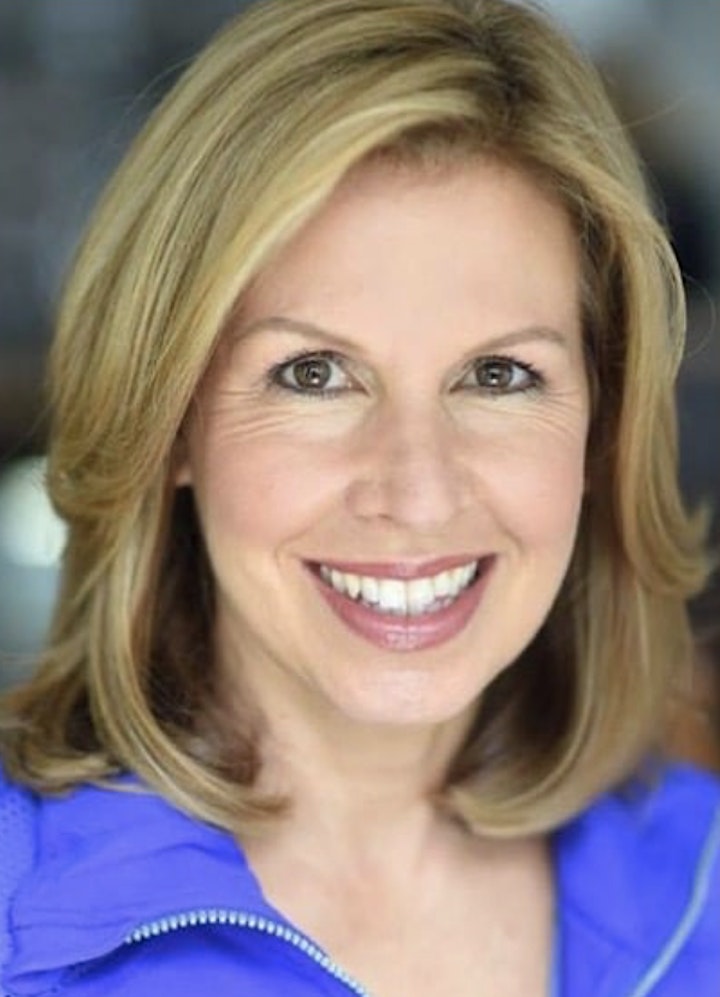 Guest Speaker: Toni Branner, known as "The Crazy Plant Lady" is an Exercise Physiologist, Wellness Consultant, and Professional Motivational Speaker for 32 Years.
She is an author of numerous books, "Around the Block with the Crazy Plant Lady", "Around the Table with the Crazy Plant Lady", "The Safe Exercise Handbook", 5th Edition, "The Care & Feeding of an Athlete" (NAPPA Gold Winner), "The Care & Feeding of a Dancer", "The Care & Feeding of a Soccer Player", and "Wilby's Fitness Book".
Toni is the Founder of Health Made Simple, LLC: A network of doctors, dietitians, personal trainers, health experts, business experts, and laypeople who work together to educate our communities on healthy eating and the prevention of disease. Health Made Simple provides health-related seminars, workshops, cooking classes, and grocery store tours for children, adults & seniors.