During the IT-DAY IT-Career fair 45+ companies will bring IT to Aalborg students and we have 3 exciting keynotes you can attend!
About this event
The IT-DAY 2021 Online fair is ranging from 10:00 to 15:00 . During the fair there will be three presentations of 25 minutes within IT topics, held by The LEGO® Group, Accenture and TDC. Hence the 4 types of free tickets. At this online event, you can find job, internships, projects or just inspiration by visting the companies online.
You need a free ticket to enter the IT-fair, and if you'd like to watch on or more of the keynotes, you need those specific free tickets as well. You can participate for as long as you want, check the tickets to see the specific keynote times.
Moreover, as an extension to The LEGO® Group keynote, 30 companies will give a 1 minute pitch, as to why you should visit their booths. They will talk about their work, jobs, student jobs, project collaborations, culture, and newest technologies; They practically have free reign - Sounds exciting right?
So who are these 40+ participating companies - you might ask?
𝐴𝑐𝑐𝑒𝑛𝑡𝑢𝑟𝑒, 𝐵𝑎𝑛𝑘𝑑𝑎𝑡𝑎, 𝐵𝑒𝑠𝑡𝑠𝑒𝑙𝑙𝑒𝑟, 𝐵𝑜𝑠𝑡𝑜𝑛 𝐶𝑜𝑛𝑠𝑢𝑙𝑡𝑖𝑛𝑔 𝐺𝑟𝑜𝑢𝑝, 𝐵𝐶𝐺 𝑃𝑙𝑎𝑡𝑖𝑛𝑖𝑜𝑛, 𝐵𝑢𝑛𝑘𝑒𝑟 𝐻𝑜𝑙𝑑𝑖𝑛𝑔, 𝐵𝑢𝑠𝑖𝑛𝑒𝑠𝑠𝑁𝑜𝑤, 𝐶𝐺𝐼, 𝐶𝑖𝑠𝑐𝑜, 𝘋𝘦𝘱𝘢𝘳𝘵𝘮𝘦𝘯𝘵 𝘰𝘧 𝐶𝑜𝑚𝑝𝑢𝑡𝑒𝑟 𝑆𝑐𝑖𝑒𝑛𝑐𝑒 (𝐴𝐴𝑈), 𝐷𝑎𝑛𝑠𝑘𝑒 𝐶𝑜𝑚𝑚𝑜𝑑𝑖𝑡𝑖𝑒𝑠, 𝐷𝑒𝑙𝑒𝑔𝑎𝑡𝑒, 𝐸𝑏𝑎𝑦, 𝐸𝑝𝑖𝑐𝑜, 𝐹𝑜𝑟𝑠𝑣𝑎𝑟𝑒𝑡, 𝐾𝑀𝐷, 𝐿𝐸𝐺𝑂 𝑆𝑦𝑠𝑡𝑒𝑚𝑠, 𝐿𝑖𝑛𝑑 𝐶𝑎𝑝𝑖𝑡𝑎𝑙, 𝐿𝑦𝑛𝑔𝑠𝑜𝑒 𝑆𝑦𝑠𝑡𝑒𝑚𝑠, 𝑀𝑎𝑝𝑠𝑃𝑒𝑜𝑝𝑙𝑒, 𝑀𝑗ø𝑙𝑛𝑒𝑟 𝐼𝑛𝑓𝑜𝑟𝑚𝑎𝑡𝑖𝑐𝑠, 𝑁𝑒𝑡𝑐𝑜𝑚𝑝𝑎𝑛𝑦, 𝑁𝑜𝑟𝑟𝑖𝑞, 𝑁𝑜𝑣𝑜 𝑁𝑜𝑟𝑑𝑖𝑠𝑘, 𝑁𝑢𝑢𝑑𝑎𝑦, 𝑁𝑦𝑘𝑟𝑒𝑑𝑖𝑡, 𝑆𝐴𝑆, 𝑆𝑘𝑎𝑡𝑡𝑒𝑓𝑜𝑟𝑣𝑎𝑙𝑡𝑛𝑖𝑛𝑔𝑒𝑛 (𝑈𝑑𝑣𝑖𝑘𝑙𝑖𝑛𝑔 𝑜𝑔 𝑓𝑜𝑟𝑒𝑛𝑘𝑙𝑖𝑛𝑔𝑠𝑠𝑡𝑦𝑟𝑒𝑙𝑠𝑒𝑛), 𝑆𝑆𝐼 𝑆𝑐ℎ𝑎̈𝑓𝑒𝑟, 𝑇𝑒𝑙𝑒𝑛𝑜𝑟, 𝑈𝑏𝑒𝑟, 𝐼𝐷𝐴, 𝐴𝑟𝑙𝑎, 𝑃𝑟𝑜𝑗𝑒𝑐𝑡 44, 𝑇𝐷𝐶, 𝑇𝑟𝑎𝑐𝑘𝑢𝑛𝑖𝑡, 𝐾𝑟𝑎𝑓𝑡𝑣𝑎𝑒𝑟𝑘 𝐴/𝑆, 𝑆𝑦𝑠𝑡𝑒𝑚𝑎𝑡𝑖𝑐, 𝐼𝑇 𝑀𝑖𝑛𝑑𝑠, 𝐷𝑎𝑛𝑠𝑘𝑒 𝑠𝑝𝑖𝑙, 𝑆𝑎𝑙𝑙𝑖𝑛𝑔 𝐺𝑟𝑜𝑢𝑝, 𝐶𝐴 & 𝑚𝑜𝑟𝑒
The presentations will be thoughtfully placed throughout the day, so that students can attend the keynotes as well as talk with the companies in their booths about projects, jobs, tech and career.
Schedule:
10:00 - 10:30 - IT-DAY 2020 officially & Hyper presentations of 30 companies
11:15- 11:45 - Keynote: LEGO - Explore IT in LEGO
13.015- 13:45 - Keynote: Accenture - Artificial Intelligence
14:30- 15:00 - Keynote: TDC NET - Cyber Security
The three keynotes:
The keynotes are further described on their individual Facebook events:
1) LEGO Keynote - Explore IT in LEGO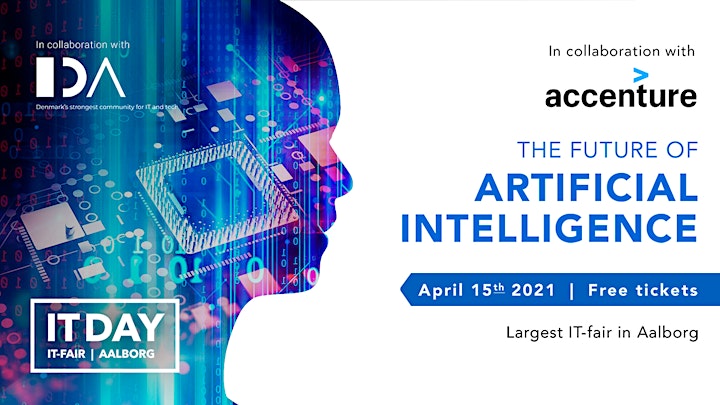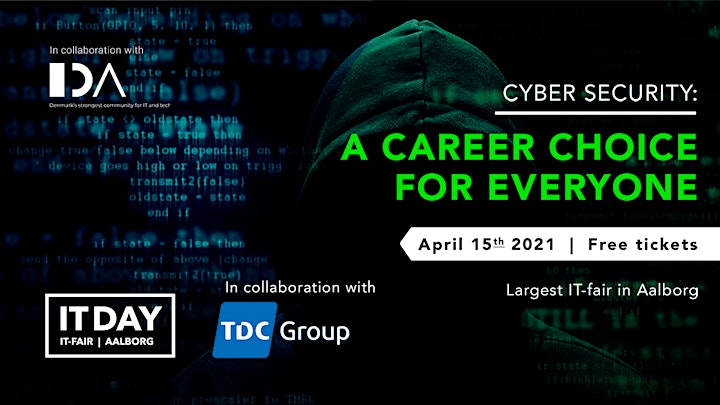 Organizer of IT-DAY | AALBORG 2022
IT-DAY has been created by IT-Management students of Aalborg University, whom saw the need for an IT-Fair in Aalborg. 
Our Vision:
We want to help building the bridge between students and industry, and ultimately to help making Aalborg the IT-Capital of Europe enabling more companies to set up offices in the city. 
We want to connect the institutions of Aalborg to a higher degree enabling a more meaningful interaction between the students of AAU, UCN, the international students, the unemployed graduates, unions and student organizations - as well as any other individual who is excited by IT.