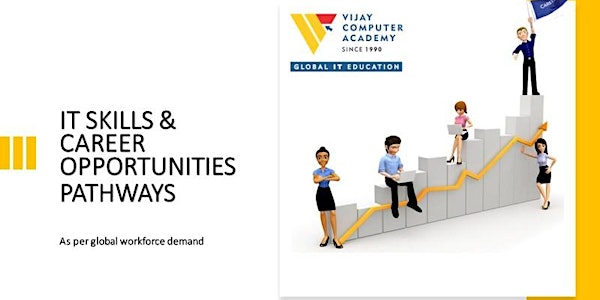 Multiple dates
IT CAREER PATHWAYS IN DEMAND AND HIGH PAYING IT NEW COLLAR JOBS
Virtual Career Connect. Get information about current local and global workforce demands , career opportunities and career pathways
By VIJAY COMPUTER ACADEMY (VCA)
Date and time
May 2, 2020 · 10am - March 24 · 5:30pm PDT
About this event
📢 SHOWCASING OPPORTUNITIES TO FUTURE IT TALENT 📢
Innovation Requires a Different Way of Learning and Working
This pandemic has shined a light on some areas for technical growth. Whether it's student, parents, administrators, educators, professionals , business owners , or group participants – learning digital skills is essential.
Technology is a part of our daily life and IT is the fastest growing , high growth & highest paying industry.
Five years from now...
1.4 million Jobs will be open in US in computing related fields 29% of these jobs will be filled by US graduates Out of which only 3% will be filled by women.....
Skills gap & talent shortage and gender gap in ICT are two biggest problems in today's digital economy.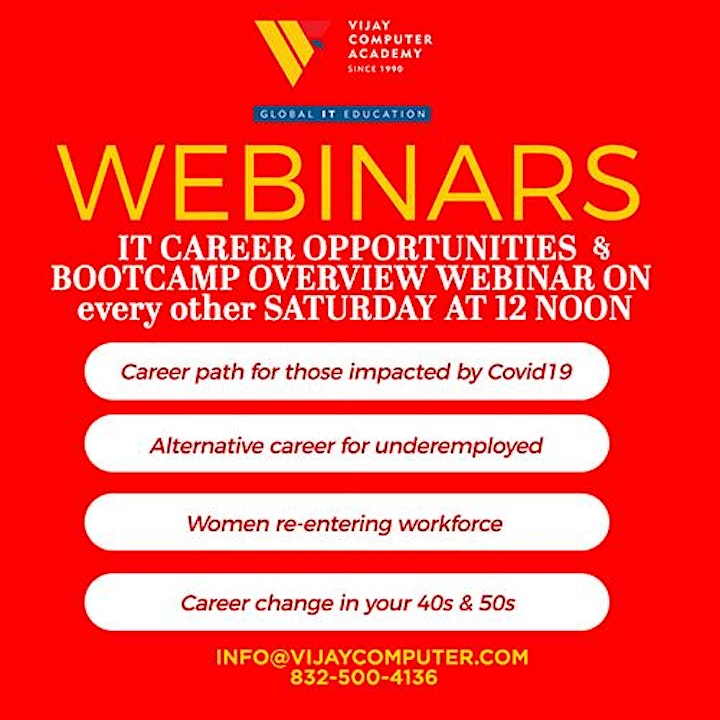 Did you know Information Technology is the fasting growing and one of the highest paying industries in the job market?
So ........Are you ready for the future of work?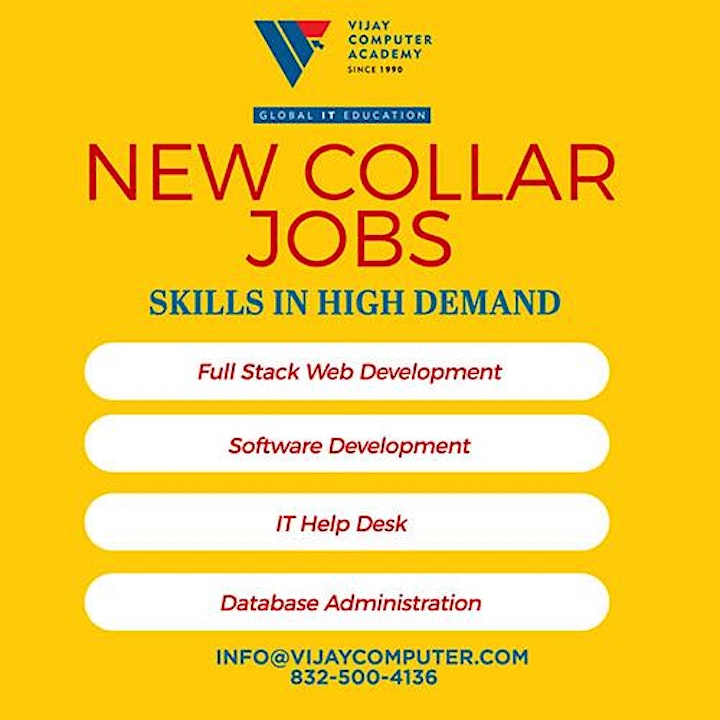 Let Vijay Computer Academy guide and help you get ready!
Since its inception, VCA has been working on closing the skills gap and gender gap in ICT with its world-class IT education and training programs.
The key focus of VCA has been to nurture the pipeline of computing professionals and help to prepare future generations for the ever-changing and dynamic world of computing and information technology.
This info session represents the most trending pathways in technology, which aims to help jobseekers with no technical background to develop digital skills and access a wide range of opportunities in the sector.
VCA can help anyone advance or start their ICT career.
• College students
• No college diploma , High school drop outs
• IT professionals looking to upgrade skills or earn an IT certification or badge
• Professionals looking to diversify into IT
• Stay-at-home moms
• Women looking to re-enter the workforce after extended leave
•Unemployed
Plus more!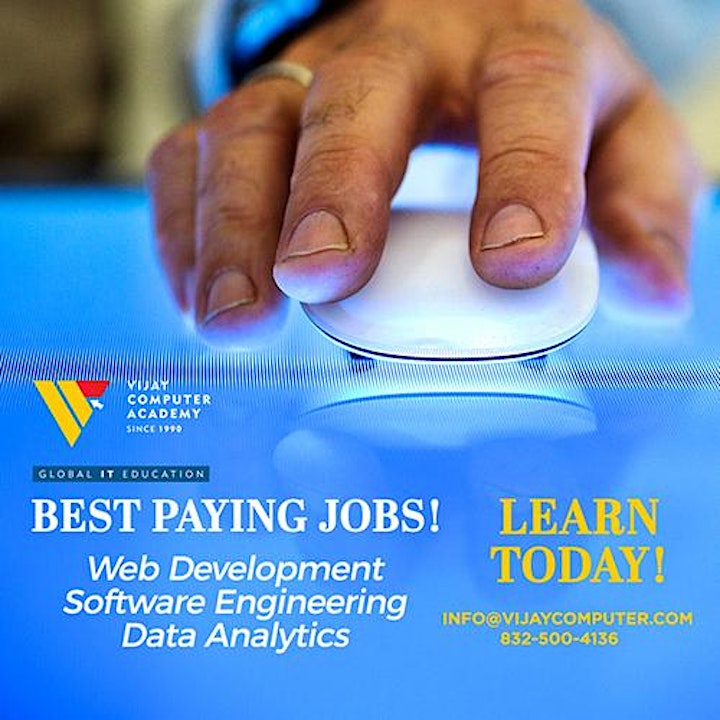 VCA proudly present FREE IT CAREER WEBINAR to give the first-hand information on potential local and global IT career opportunities with essentials IT skills and certifications pathways.
VCA founder Ms. Shefali will be presenting this seminar herself. Shefali has more than 36000 hours career advising experience.
Transforming & empowering lives through world-class IT education & training to build a better tomorrow!
Curious about a high paying career in tech but don't know where to start?
Vijay Computer Academy is here to help.
Schedule your discovery call TODAY to learn more about TECH opportunities!
For any further details , reach out to us :
Whatsapp No : 832-469-1314 ,
Email : info@vijaycomputeracademy.com
About the organizer
 VIJAY COMPUTER ACADEMY (VCA) is a global IT institute dedicated to providing world-class IT education and training to individuals (from ages 9 to 90), small and medium scale businesses, corporations, nonprofits, government agencies, financial institutions and higher education institutes.
At VCA, we believe that education is powerful, and we are willing to offer it to anyone who wants it. So we work with zero bureaucracy. No degrees needed, no background, or no IT experience is required; just a willingness to learn and get a place in the high paying job market in short time. All is open to any ages, any genders, in your own time and pacing.
Our mission is to tackle global sustainable development goals 4, 5, and 8 – quality education, gender equality, and decent work and economic growth. For nearly 3 decades, we have been on a social mission to bridge skills and gender divide through our quality, but affordable, IT programs.
Our 31 years old IT academy offers career and workforce development, customized IT training to businesses to reskill and upskill their employees and corporate and community empowerment through IT certification and certificate courses. 
Contact us at +1-832-469-1314 or email at info@vijaycomputeracademy.com to learn about our IT programs and services offered online with live instructors.