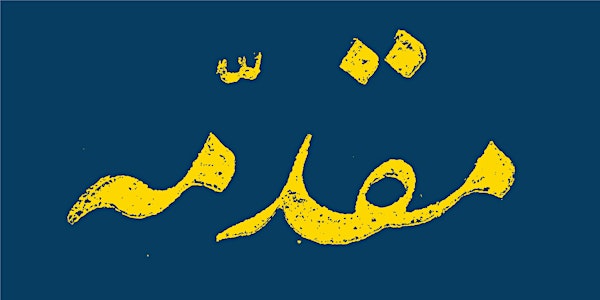 ISType 2022 — Mukaddeme — Arabic Typography Conference
Scholars and practitioners from all over the world discuss diverse Arabic types cast in Europe as well as in the Muslim world.
When and where
Location
Sakıp Sabancı Müzesi Sakıp Sabancı Müzesi İstanbul, Emirgan 34467 Turkey
About this event
Mukaddeme in Arabic and Ottoman Turkish, means introduction. This one-day conference introduces the new book Arabic Typography: History and Practice. Hosted at the Sakıp Sabancı Museum and facilitated by the Sabancı University, this event reflects the volume's approach, bringing together historical research and contemporary design. Speakers include leading authorities in Arabic typography and calligraphy and the book's authors, weaving together perspectives from design, research, and interdisciplinary practices.
*The event will be held in English. Turkish simultaneous translation will be provided.
Talks
November 5, 2022
09:00 — 10:00 Morning Coffee
10:00 Welcome Remarks: Meltem Müftüler Baç, The Dean of Sabancı University Faculty of Arts and Social Sciences
10:10 Welcome Remarks: Nazan Ölçer, Director, Sakıp Sabancı Museum
10:20 Gerry Leonidas, Arabic Typography: a paradigm for research-informed practice
10:50 Titus Nemeth, Building bridges: the case for a book that straddles two worlds
11:30 — 12:00 Coffee Break
12:00 Orlin Sabev, The Ottoman transition from scribal to print culture: the layout of the Müteferrika prints
12:30 Emanuela Conidi, Arabic types from Europe before the 20th century
13.00 Onur Yazıcıgil, The Ottoman printers' 8 pt Naskh typeface and its Turkish type maker Mehmed Emin Efendi
13:30 — 14:30 Lunch Break
14:30 Borna Izadpanah, Naskh types from Europe, Ottoman Empire, and Russia in nineteenth-century Iran and their legacy
15:00 Özlem Özkal, A curious case of Ottoman Typography: detached Arabic Letters
15:30 — 16:00 Coffee Break
16:00 Thomas Milo, Script grammar: a linguistic approach to digitising Islamic script
16:30 Ayşe Aldemir, Members of the Ottoman dynasty who were calligraphers