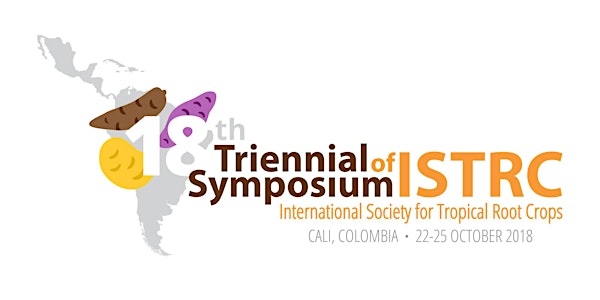 ISTRC 18th Triennial Symposium
When and where
Location
International Center for Tropical Agriculture Km 17 Autopista Cali - Palmira Colombia Palmira, Valle del Cauca 763537 Colombia
Description
IMPORTANT ON Visa arrangements:
CIAT will support this process. Please avoid to undertake this process by yourself. You need to receive support from CIAT. In order to do so please contact Nhora Bonilla at N.Bonilla@cgiar.org providing a copy of your passport.

Visa process will take 15 working days which means three weeks. CIAT will only support those that have already paid their registration fees. So please make sure that you process your registration fees payment well in advance August 30th which is the deadline for registration and payment.
Please check in the following link whether you need visa to enter to the Colombian territory:
http://www.cancilleria.gov.co/en/procedures_services/visa/requirements

Accommodation:

Please call to the following contacts, send them an email or reserve your accommodation and airport - hotel - airport transportation online using the link provided. These hotels have special fares for you:
INTERCONTINENTAL - CALI
Contact: Monica Maria Gallego Agudelo
E-mail: monicam.gallego@hotelesestelar.com
Address: Colombia # 2-72, Cali, Valle del Cauca
Phone: (2) 8823225 - 57 317-4292635
For online reservations:
Web 3.0 URL: http://bookings.ihotelier.com/bookings.jsp?groupID=2126870&hotelID=75635
Booking Engine 4.0 URL: https://reservations.travelclick.com/75635?groupID=2126870

HOTEL IBIS GRANDA
Contact: Andrea Zuñiga Baralt
andrea.zuniga@accor.com
HA0T1-SL@accor.com
Cel. +57 3183757898
Address: Av. 8 Norte No. 21N-40
For online reservations: www.ibis.com


HOTEL SPIWAK
Contact: Marcela Vasquez
Phone: +57 2 3959999 ext. 2352
Cel.+57 3176490864
PBX: +57 2 4851296
E-mail: gcuentacali2@spiwak.com
www.spiwak.com
For online reservations:
https://reservations.verticalbooking.com/reservations/pacchetti.html?id_albergo=18951&dc=1007&lingua_int=esp&id_stile=14152&id_prodotto_sel=19&generic_codice=ISTRC
Local transportation

Hotels in Cali will provide pick up airport services for you. Therefore, when doing your reservation, please make sure to ask for this service too.

In case you miss your hotel's transportation, you are encourage to use taxis that depart from the airport. These taxis are totally safe and its cost will be around COP$70.000 and COP$90.000 (USD25). We strongly recommend you have Colombian pesos in case you need to use them.

Transportation during the event days
Bus service will be provided during the event days from the three hotels in Cali. Buses will load from 6:30 am to 6:45 am in order to take participants to CIAT. Please gather at the hotel reception at 6:30 am in order to avoid being left behind. In the evening, buses will depart from CIAT's Arches immediately after closing formal meetings, and after evening entertainment on a route serving the three hotels.
For those living in Colombia and using their own vehicles please provide plates in advance in order to CIAT Security authorize your entrance.
Exploring Cali
Cali, founded in 1536, can be explored on foot: walk under the shade of trees along the riverbank, admire the architecture of churches and other national monuments, and visit the city's many museums. In Cali, travelers can enjoy music festivals, learn about sugarcane farming, and take in the mountainous landscapes.
Follow this link for information on the city and touristic opportunities.
Click here for more information on Cali.
Please note that the ISTRC's organizing committee is not managing nor organizing any tourist attractions for participants. A dinner and a welcome cocktail will be offer in CIAT HQ during the event days. If interested in touristic attractions or Cali' shows, we invite participants to make arrangements by themselves.

Health
Yellow Fever Vaccination
We have been informed by CIAT that staff coming from the following countries will be required to present their yellow vaccination and immunization record upon entry to Colombia to ensure that they have been vaccinated for yellow fever:
*** Democratic Republic of Congo, Angola, Uganda, Brazil and Peru ***
If you are traveling from any of these countries, please make sure to have record of your yellow fever vaccination with you in advance of your travel.
According to CIAT's policy you must have a health and life insurance during the period of the meeting. CIAT will not assume any legal or financial responsibility related with health problems or accidents.

Meike Andersson

CIAT - Harvest Plus

Crop Development Specialist, Harvest Plus

Jorge Andrade

International Potato Center, CIP

Epidemiologist of Biotic Constraint and Potato Seed Specialist, Crop and Systems Sciences Division

Hernán Ceballos

International Center for Tropical Agriculture, CIAT

Cassava Breeder

Dominique Dufour

CIRAD

RTB Focal Point / RTBfoods project leader

Chidiozie Egesi

National Root Crops Research Institute, NRCRI




Daniel Jiminez

International Center for Tropical Agriculture, CIAT

AGRONOMIST, Dapa

Brian King

International Center for Tropical Agriculture, CIAT

Leader, Cgiar Big Data In Agriculture Coordination Platform, DAPA, CIAT

Lava Kumar

International Institute of Tropical Agriculture, IITA

Head, Germplasm Health Unit / Virologist

James Legg

International Institute for Tropical Agriculture, IITA




Jan Low

International Potato Center, CIP

Principal Scientist and Project Leader, SSA Research, Kenya

Lateef Sanni

Federal University of Agriculture Abeokuta

Professor

Marc Schut

International Institute of Tropical Agriculture, IITA

Social Scientist, IITA

Eugene Terry

ATECHO and Associates