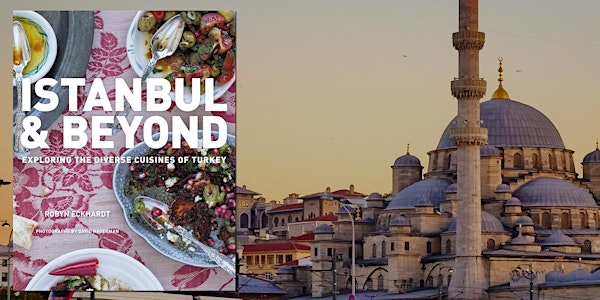 "Istanbul & Beyond" Dinner at The Fourth Estate Restaurant
When and where
Location
The Fourth Estate Restaurant at The National Press Club 529 14th St NW 13th Floor Washington, DC 20045
Description
On Wednesday, November 1, 2017, International food writer Robyn Eckhardt will be featured at a Fourth Estate cookbook and wine dinner with the book's photographer, David Hagerman celebrating Istanbul & Beyond which explores the diverse cuisines of Turkey. Eckhardt has said, "Turkey touches four bodies of water and share borders with Bulgaria, Greece, Syria, Iraq, Iran, Azerbaijan, Armenia and Georgia…this results in not a nation united by one cuisine, but an array of culinary regions that make it one of the most gastronomically complex countries anywhere." Recipes from the book will be served paired with complimentary wines. The menu and wine pairings will be published when available.
Eckhardt' s work has appeared in the New York Times, The Wall Street Journal and Food & Wine. She is the author of the blog Eating Asia, selected as a top food blog by both Saveur and The London Times. David Hagerman, Eckhardt's husband, has photographed food and exotic locales for Travel + Leisure, Saveur and The New York Times. The couple live in Italy.
MENU
Hors d'oeuvres
Ari Nin Midye Dolmasi - Ari's Rice-stuffed mussels [cold with lemon wedges]
Katikli ekmek - Soft chile cheese flatbreads [served warm]
Ҫiǧ köfte - Spicy bulgur köfte [bulgur paste wrapped in lettuce leaves] with Tomato pomegranate relish
Salҫali kabak dolmasi - Zucchini dolma with 333 garlicky yogurt and tomato sauce on rounds of 177 Fingerprint flatbread [or crackers]
Specialty cocktail: Ryhan Şerbeti - Purple basil cooler [with vodka on ice]
1st Course: Soup
Bamya ҫorbasi - Lemony okra & tomato soup with over garlic rubbed toast
2nd course: Fish
Balik köftesi - Skillet-fried herbed mackerel cakes with Hot pink quick pickled cabbage and garlicky yogurt over chopped lettuce, arugula and grated carrot
Intermezzo
Locally-made apple sorbet
Entrée
Soǧan Gallesi - Buttery lamb & onion stew with Spanakli pilav: spinach and green rice pilaf
Dessert
Portakalli kurabiye - Fragrant orange cookies
Incir uyutmasi - Creamy fig pudding
Dessert drink: Tarҫin ҫayi - Warming Cinnamon tea [served warm with rum]
Each ticket includes a signed copy of the cookbook; "couples discount" ticket holders will receive one book to share.
There is a NPC member discount of 15% available for this dinner – please click here to login on the club's site to access the discount.
Please address questions or any dietary restrictions to the Fourth Estate, 202.662.7638.