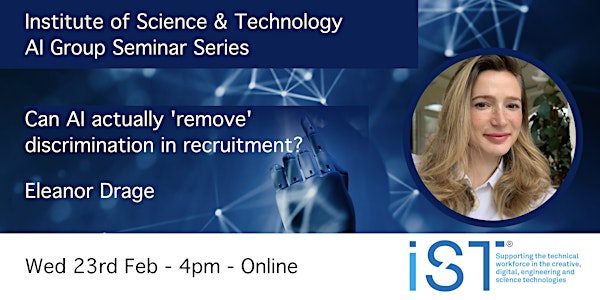 IST AI Seminar - Can AI actually 'remove' discrimination in recruitment?
Dr Eleanor Drage is giving a seminar on whether AI can ever "remove" discrimination in recruitment.
About this event
The Institute of Science and Technology's AI group are excited to announce the fifth event in our seminar series: Can AI actually 'remove' discrimination in recruitment? by Eleanor Drage
AI is currently extensively deployed in recruitment technologies with little regulation or guidelines either from within corporations or from external regulatory bodies. We're seeing a huge demand among HR practitioners for software that reduces agency spend and cuts down the pool of applicants that merit personal attention. However, recruitment stakeholders often have a limited understanding of how these tools work. In this paper, I look at how gender studies and critical race theory can interrogate some of the claims made by Recruitment AI companies about how their tools help mitigate bias. I discuss the limitations of how anti-bias measures in AI for hiring treat categorisations like race and gender as well as personality categories used in Big 5 psychological assessments. I use work from gender studies and critical race theory to demonstrate why practitioners should be attentive to how difference is produced rather than making futile attempts to remove it altogether.
Eleanor Drage is a Christina Gaw Post-doctoral Research Associate working on the Gender and Technology research project at the University of Cambridge Centre for Gender Studies and in association with the Leverhulme Centre for the Future of Intelligence (CFI). The project's collaboration with industry partners provides the AI sector with practical tools for creating more equitable AI informed by intersectional feminist knowledge. She is the co-founder of The Good Robot podcast, which asks, what is good technology? Eleanor started her career in financial technology before co-founding an e-commerce company selling Spanish ham. She's a Research Associate at Darwin College, Cambridge and Cambridge Digital Humanities (CDH).
Attendees will be sent details of the Zoom link via email a couple of days before the event.
If you need any additional info about this event/group please contact office@istonline.org.uk