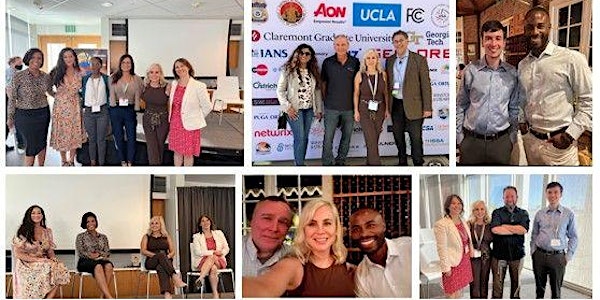 ISSA, OWASP & Women's Society of Cyberjutsu Holiday Party
The Los Angeles Chapters of OWASP, ISSA & the Women's Society of Cyberjutsu will celebrate the culmination of an event-filled 2022 together
When and where
Location
Culver City Elks Lodge 11160 Washington Pl Culver City, CA 90232
About this event
Come and network with your friends, make new friends, hear this amazing speaker, and celebrate the end of a tumultuous but exciting year. A buffet dinner will be served, and drinks will be available. Many raffle prizes will be given away!
Speaker: Dr. Bilyana Lilly, PhD, CISSP
Director, Security Intelligence & Geostrategy| Krebs Stamos Group
Title: What do Russia's cyberattacks and disinformation campaigns against Ukraine tell us about Russian cyber and disinformation operations against the U.S.?
Abstract: As U.S.-Russian relations have deteriorated since Russia's invasion of Ukraine, Moscow has repeatedly threatened to retaliate against Washington for its support for Kyiv. Russia, however, is unlikely to fight the U.S. with planes, tanks, or missiles. Instead, Moscow will aim to strike the U.S. at the heart of its democratic values with trolls and hackers, targeting critical vulnerabilities in IT networks and attempting to manipulate the minds of U.S. citizens as part of its distinct approach to information warfare. This talk will draw lessons from Russia's cyber and disinformation tactics against Ukrainian targets and will outline the types of potential cyber and disinformation operations that the U.S. can anticipate against U.S.-based organizations.
Speaker Bio:
Dr. Bilyana Lilly is a leader on cybersecurity and information warfare with over fifteen years of managerial, technical and research experience. Dr. Lilly helps boards and senior executives to make strategic decisions while accounting for evolving cyber and geopolitical risk. She is a mentor, best-selling author, and speaker at DefCon, CyCon, the Executive Women's Forum and Warsaw Security Forum. She has a PhD and three master's degrees, including a degree from Oxford University (distinction). She has been denounced by Russia's Ministry of Foreign Affairs.
Because ISSA Los Angeles makes commitments to our facilities well in advance of each event, we regret that we cannot offer any refunds or credits for any of our events. If you cannot attend an event you can send someone in your place as long as they have your written permission.            
CPEs: There will be 2 CPE credits for the meeting.
Disclaimer: ISSA-LA reserves the right to alter or delete items from the program in the event of unforeseen circumstances. Material has been prepared for the professional development of ISSA-LA members and others in the IT audit, control, security, and governance community. Neither the presenters nor ISSA-LA can warrant that the use of material presented will be adequate to discharge the legal or professional liability of the members in the conduct of their practices.
All materials used in the preparation and delivery of presentations on behalf of ISSA-LA are original materials created by the speakers, or otherwise are materials which the speakers have all rights and authority to use and/or reproduce in connection with such presentation and to grant the rights to ISSA-LA as set forth in speaker agreement. Subject to the rights granted in the speaker agreement, all applicable copyrights, trade secrets, and other intellectual property rights in the materials are and remain with the speakers.  Please note: unauthorized recording, in any form, of presentations and workshops is prohibited.
Permission to be Photographed: By attending this event, the registrant grants permission to be photographed during the event. The resultant photographs may be used by ISSA-LA for future promotion of ISSA-LA's educational events on ISSA-LA's web site and/or in printed promotional materials, and by attending this event, the registrant consents to any such use. The registrant understands any use of the photographs will be without remuneration. The registrant also waives any right to inspect or approve the aforementioned use of any photographs now or in the future.