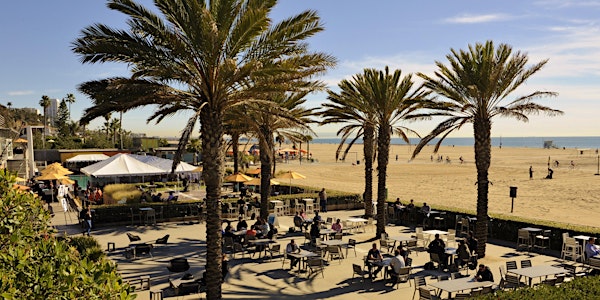 ISSA-LA Security Summit XII 2022 & Women in Security Forum
Summit XII is Back at the Beach in Santa Monica! Summit XII sessions
When and where
Location
Annenberg Beach House 415 Pacific Coast Hwy Santa Monica, CA 90402
About this event
Welcome to the registration site for:
Summit XII sessions and training
Women in Security Forum
Your General Admission ticket gives you access to all the Summit talks and the Women in Security Forum on September 22nd. Training classes on September 20th and 21st are a separate admission. 
If you attend only one conference this year, make it Summit XII — ISSA-LA's Twelfth Annual Information Security Summit — the premier Information Systems Security Event in Southern California. The Summit is known for its groundbreaking keynotes and speakers, and this year will be no exception. 
There are several events in Southern California, but none like ours. The Summit will have two all-day forums, great tracks for you to choose from, as well as two full days of training before the great talks. 
This is the best opportunity in SoCal to:
- Learn about the latest Information Security trends and solutions
- Listen to world-class speakers, including several keynotes from other conferences
- Get group discounts with 3 or more attendees
- Earn CPEs
- Network on the beach
Our Keynote Speakers are Deviant Ollam, Dr. Adriana Sanford, and J. Cleve Adams
Don't wait to register for what is going to be the biggest and most important gathering of information security professionals in Southern California this year.
Special Training Packages: Deeply discounted training prices include free admission to the Summit. Take advantage of this huge discount when you REGISTER for one of our one or two-day Training Classes on September 20th and/or 21st.  Admission to the Summit on September 22nd is included!
Group Discount for Training Package with the Summit: please email admin@issa-la.org for a 10% discount registration code for 3 or more.
Group Discounts for the Summit (not applicable for early-bird pricing): please email admin@issa-la.org for a discount registration code.
- 3 people 15% discount
- 5 people 20% discount
- 7 or more 25% discount
CPE Credits:
- 8 for attending each full Summit day on September 22nd
- 8 for attending the full Training day on September 20th
- 8 for attending the full Training day on September 21st
- Be sure and include your CISSP # when you register
Policies & Disclaimers:
Refund Policy: Because ISSA Los Angeles (ISSA-LA) makes commitments to our facilities well in advance of each event, we regret that we cannot offer any refunds or credits for any of our events. If you cannot attend an event, you can send someone in your place as long as they have your written permission.
Disclaimer: 
ISSA-LA reserves the right to alter or delete items from the program in the event of unforeseen circumstances. Material has been prepared for the professional development of ISSA-LA members and others in the IT audit, control, security, and governance community. Neither the presenters nor ISSA-LA can warrant that the use of material presented will be adequate to discharge the legal or professional liability of the members in the conduct of their practices. All materials used in the preparation and delivery of presentations on behalf of ISSA-LA are original materials created by the speakers, or otherwise are materials which the speakers have all rights and authority to use and/or reproduce in connection with such presentation and to grant the rights to ISSA-LA as set forth in speaker agreement. Subject to the rights granted in the speaker agreement, all applicable copyrights, trade secrets, and other intellectual property rights in the materials are and remain with the speakers.  Please note unauthorized recording, in any form, of presentations and workshops is prohibited.
Permission to be Photographed and/or videotaped: By attending this event, the registrant grants permission to be photographed or possibly videotaped during the event. The resultant photographs and videos may be used by ISSA-LA for future promotion of ISSA-LA's educational events on ISSA-LA's web site and/or in printed promotional materials, and by attending this event, the registrant consents to any such use. The registrant understands any use of the photographs and videos will be without remuneration. The registrant also waives any right to inspect or approve the aforementioned use of any photographs or videos now or in the future.
Permission to share Contact Information: By registering for this event, the registrant grants ISSA-LA permission to share the provided contact information with sponsors of the event. Contact information includes full name, email address, company name, job title, and mailing address. Phone numbers are kept private.