Israel's Special Gifts to the World (with lunch)
Description
Sun Oct 22, 2017

FAACT Event at Suffolk Y JCC
ISRAEL'S SPECIAL GIFTS to the WORLD (with lunch)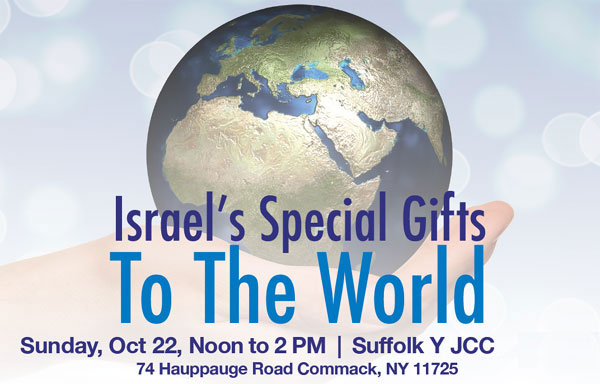 FREE Event for 9th-12th Grade Teens (and their parents)

FAACT partners are SWU, SYJCC, JCRC-LI and UJA

12:00 PM to 2:00 PM Sun Oct 22 at Suffolk Y JCC

ISRAEL'S SPECIAL GIFTS to the WORLD
. . . . . (Interactive Discussion) (60-minutes) ***

Prepare for On-Campus Conversations About Israel with Facts

Pizza, Bisli, Soda, Israel Travel Opportunities
. . . . . (with scholarships) (60-minutes)
Meet other Jewish Teens

Israeli Giveaways and Prizes (SWU I-Heart-Israel SWAG)

For more information, contact David Pinkowitz
. . . . . at 631-491-5343 or faact4@gmail.com
*** Presentation by Paul Friedman, Tri-State Area High School
Coordinator for StandWithUs.
ISRAEL'S SPECIAL GIFTS TO THE WORLD
highlights the amazing contributions that Israel has made to the world. Israel is a very small Middle Eastern country that has delivered major improvements in humanitarian aid, human rights, diversity, medicine, agriculture, water management, cyber-security, anti-terrorism, electronics and defense. It has been involved in local conflicts, but it has also greatly enriched the lives of its citizens and people all over the world.
FUTURE FAACT EVENTS:
Dec 10, 2017 -- The U.S.-Israel Relationship: Lifelong Partners in Democracy
Feb 11, 2018 -- Anti-Semitism v Legitimate Criticism of Israel: Know the Facts and How to Respond
Apr 15, 2018 -- BDS and Anti-Israel Activity on Campus: A Primer for Students and Parents