Description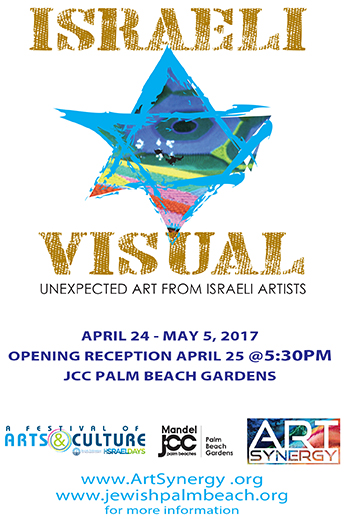 Art Synergy, (www.artsynergy.org) in partnership with the Jewish Federation, has curated a special exhibition featuring Israeli artists living in south Florida. The exhibit "Israel Visual, showcases four talented and diverse artists, working in varied media, from fiber art to digitally enhanced paintings.
Rolando Chang Barrero and Ilene Gruber Adams were contacted to help put together the exhibit that that will be on display at the Bente & Daniel S. Lyons Art Gallery at the Mandel JCC – Palm Beach Gardens, beginning Monday, April 24, through Friday, May 5.
Guests will have an opportunity to immerse themselves in a culturally enriching exhibition featuring works created by four local Israeli artists. The opening reception is Tuesday, April 25, at 6:00 pm and is open to the public.
The artist all have a connection to Israel, and many are grown children of Holocaust survivors. The artists are Leora Stewart Klaymer, Judy "Yudit" Eisingber, Linda Behar in collaboration with Raheleh T. Filsoofi and the late Dina Knapp.
Dina Knapp, is known for making wearable art an art form. Her history and memory series compress history and culture through a layering of objects and images incorporating nostalgic postcards, painting, crochet, vintage fabrics, found objects and tourist souvenirs. Born in Cyprus and raised in Israel and New York City by Holocaust survivors, died this past October, at 69, of cancer.
Linda Behar's current work explores a new approach to feminist concepts that are being explored by many artists: the idea of separating personal identity from the body, and digitally objectifying the female figure. Her work combines laser cutting with traditional printmaking techniques, specifically woodblock printing. Her work here, Peace Labyrinth, endeavors to promote peace and tolerance through the discovery of what we hold in common. The artists, Linda Behar, who is of Jewish heritage and Raheleh T. Filsoofi, who is of Iranian heritage, intend to bring diverse communities together in conversation and to send a message of tolerance and acceptance throughout the world.
Judy Eisinger, a graphic designer and painter exhibiting colorful paintings created using both tradition painting methods and digital art. Born in Budapest, Hungary, and escaping that communist country in 1956, Judy moved to Cleveland, Ohio, where she began painting at an early age and, at 13, took first place for the design of the City Holiday Card.
Judy studied fine art at the Cleveland Institute of Art and the Cooper School of Art, which led to a four-year scholarship to Kent State University. After graduating with honors, Judy began her painting career by showing her colorful paintings at the Shaker Heights Artist's Cooperative Gallery. Her work soon became sought after and now hangs in private collections throughout the United States, Europe, and Israel.
She and her family moved to Israel where Judy designed greeting cards for LION Printing in Tel Aviv.
She has illustrated a children's book, taught graphic design as an Adjunct Professor at Palm Beach Community College and is the owner and creative lead of Yudit Design (yudit.com)
Leora Stewart Klaymer, born in Jerusalem, has taught in Philadelphia, New York and right here in South Florida. She is a fiber artist and her work has been shown extensively worldwide." My Fiber constructions are based on my observations of Nature and are a metaphor for the cycles of growth in life and in the natural world - landscapes, seascapes, cell structures, organic forms built with different fibers, along with beads, feathers, coral shards using a variety of textile techniques to create these three-dimensional abstracted, structures" .Leora explains.
Raheleh T. Filsoofi (collaborator):
Raheleh Filsoofi is a multi-disciplinary artist. Through her work she synthesizes issues regarding society and the human condition from a personal and social perspective. She utilizes ancient and contemporary art media – ceramics, poetry, ambient sound and video – to make fundamental statements about perception and memory through a holistic sensory experience. Clay, the ancient medium of her Persian ancestry, is a source of pride and an outlet for metaphorical expression and visual poetry. Her initial academic training came in Iran, where she also completed several public and private commissions. She moved to the United States in 2003 and worked with several renowned American Ceramic artists on public art projects in Coral Springs and Miami, and she completed a number of important commissions, including in 2010 a work for the Crocker Mansion in Mahwah, New Jersey. She is an active participant in juried art exhibitions both in Iran and the United States, including the recent International Fair Festival in Tehran (2015), a solo exhibition at The Cultural Council of Palm Beach in Lake Worth, Florida (2016), and 'Artistically Speaking,' a group exhibition of South Florida female artists at the Cornell Museum in Delray Beach, Florida (2016). She has received several awards including a Dave Bown project award in 2017. Raheleh Filsoofi lives and works between Tehran, Iran, Boca Raton, Florida, U.S.A. and Edinburg, Texas, U.S.A. where she is Assistant Professor of Ceramics in the School of Art at the University of Texas Rio Grande Valley. She holds an M.F.A. in Fine Arts from Florida Atlantic University in Boca Raton, Florida and her B.F.A. in Ceramics from Al-zahra University in Tehran, Iran.