Israel VIP- All White Shavuot Party!

Thursday, May 31, 2012 at 8:00 PM

-

Friday, June 1, 2012 at 2:00 AM (EDT)
Event Details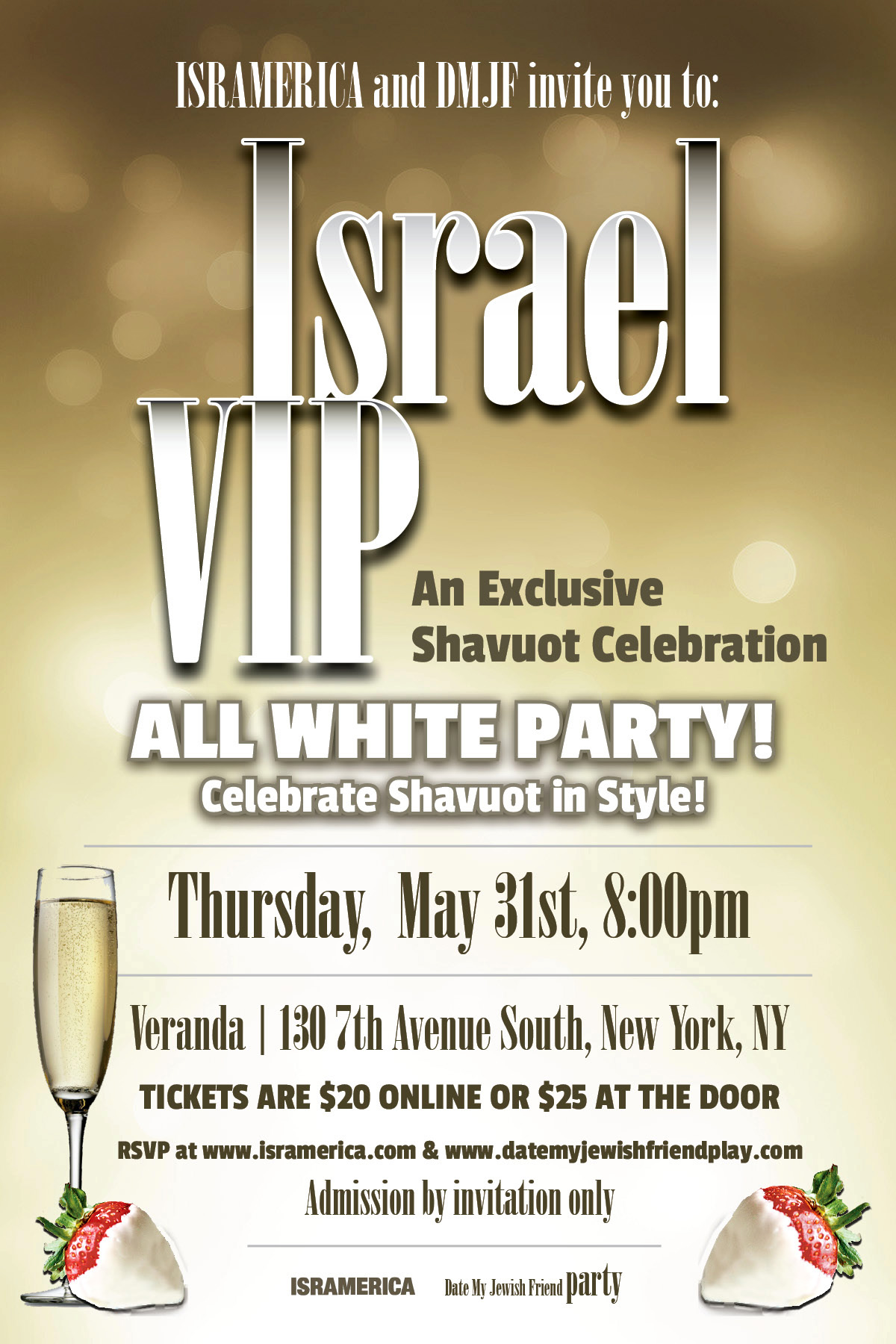 Join us for our latest installation of ISRAEL VIP- An ALL WHITE PARTY for Shavuot! An Exclusive Shavout Celebration!
Hosted at Vernada; a beautiful, stylish venue in Greenwich Village.
Israel VIP is expected to draw over 300 exclusive guests comprised of Young Jewish Professionals and Israeli Artists in all genres and mediums.

ALL WHITE PARTY! White Attire, White Israeli Wines, White Chocolates, White cupcakes, White Russians at an amazing white night!

Come, enjoy, mix, mingle and celebrate Shavuot in STYLE!
Thur., May 31st, 8:00pm
Veranda, 130 7th Ave South
New York, NY 

Drink specials 8pm-9pm: $5 beers. $6 wine, $7 White Russians: , $8 arak mojito, $8 well drinks. $20 all you can drink open bar 8-9pm or 9-10pm

Tickets are $20 online or $25 at the door
Enjoy drinks specials from 8-9pm

Admission by invitation only

ISRAEL VIP
מסיבת שבועות אקסלוסיבית

!מסיבה לבנה
!מתלבשים בלבן, יין לבן, שוקולד לבן, לילה לבן
חמישי, 31 במאי, 20:00

VERANDA, 130 7th AVE, New York, NY

כרטיסים ב$20 באינטרנט, $25 בדלת

יש להרשם באתר לפני ההגעה


www.ISRAMERICA.com




www.DATEMYJEWISHFRIENDPLAY.com
When & Where

Veranda
130 7th Ave S
New York, NY 10014


Thursday, May 31, 2012 at 8:00 PM

-

Friday, June 1, 2012 at 2:00 AM (EDT)
Add to my calendar
Organizer
Hosted by Isramerica and DMJFP

ISRAMERICA is a non- profit organization comprised of emerging Israeli and Jewish-American artists, working together to create meaningful art inspired by the duality of leading a Jewish/Israeli/American lifestyle as a young artist in New York.

Integrating the works of a group of fiercely talented young artists, ISRAMERICA brings you an all star line-up of Israeli and Jewish-American performers, many of which have been featured on Broadway and off, various TV shows on Comedy Central, MTV and HBO as well as premiere music and comedy venues all over New York.


The company, founded by artistic director, Sivan Hadari in March 2009, integrates the works of a group of fiercely talented actors, dancers, singers, comedians, playwrights, directors, filmmakers and visual artists, all drawing inspiration from their Jewish and/or Israeli background.

Our goal is to produce a safe environment where artists can create a fusion of American and Israeli artistic expression as one.
Date My Jewish Friend
Date My Jewish Friend harnesses the power of the original social network – real friends – to bring together young Jewish professionals ages 21 to 40. We think that no matter how fly you are, you could always use a wingman to give you that extra lift. Now in its second year, the organization strives to create comfortable and enriching environments for singles to meet, alleviating the pressures and pitfalls of the bar scene, while nurturing interest in and support for the arts and local businesses.
The Impact
In a culture where a new dating website is created every week, we are moving further and further away from interacting in the real world and developing deep interpersonal relationships. We have no problem with online relationship sites, but there is simply no substitute for getting out there and making new friends, making real connections … making eye contact. And we admit it: We've got an ulterior motive. In today's dismal economic climate,the arts are greatly struggling to stay afloat. There is so much culture to explore and discover every day in New York City, and what better way to take it all in than with a new special-someone on your arm? You might call it killing two birds with one stone. We call it kismet. 
Rules and Regulations:
Bring a printout of the confirmation email or show it on your phone at the door the day of the event.
There is a no refund policy.
We are not responsible for lost or stolen personal property.
Admission 21+ only
The event producers have the right to refuse entry to any guests.
Israel VIP- All White Shavuot Party!