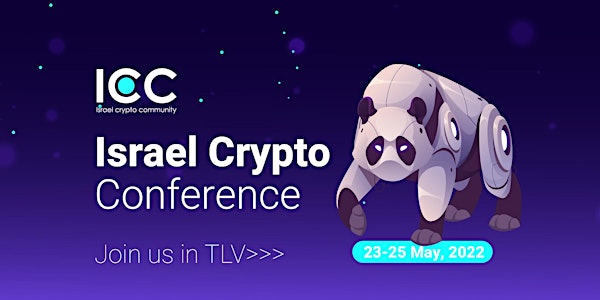 Israel Crypto Conference
Israel Crypto Conference
When and where
Location
בית ציוני אמריקה - ZOA House TLV 1 Daniel Frisch Street Tel Aviv-Yafo, Tel Aviv District Israel
About this event
May 23rd is a virtule day - you can log in from every place in the world - it is not in the venue
May 24-25 is in the venue ZOA TLV
--------------------------------------------------------------------------------------------------------
Tickets options update :The only tickets that are available are:
One ticket for 3 days - hall access on the second floor
This ticket includes:
May 23rd virtual day online networking plus video content
May 24th and May 25th physical days at ZOA TLV
This ticket doesn't include entrance to the main hall
To see the main hall panels and presentations we will have a live video feed from the 200- seat auditorium on the second floor.
And this ticket: One ticket for day - May 25th @ ZOA TLV all-access
( plus a ticket for May 23rd virtual day)
The rest of the tickets are sold-out
-----------------------------------------------------------------------------
After the sold-out conference in December 2021, the Israel Crypto Conference will be held on May 23rd, 24th, and 25th!
The event will begin virtually on May 23rd. We will meet with international partners that will join us to network and view video content.
On May 24th and 25th, we will host a physical event in Tel Aviv that will be live-streamed around the world!
Who will be there? Everyone from young startups to established companies in the Crypto community.
Attend the Israel Crypto Conference — Tel Aviv Edition with over 700 leaders in the industry talking about new and innovative solutions.
We will have two channels in the conference, one for panels and presentations in the lovely theater in Tel Aviv and the second one for workshop channel for builders and developers.
The conference will have two simultaneous avenues for you to choose from: one held in the lovely theater in Tel Aviv (which theater) for panels and presentations, and a separate workshop for builders and developers.
Contact us to join us as a speaker or sponsor.
Tickets are NON-refundable
The event will adhere to Covid-19 guidelines — Green Passes or negative antigen tests are required for entrance. Tickets are non-refundable.
By buying or getting tickets you subscribe to our newsletter you agree to receive emails and newsletters from us.