Description
The Fifth Annual David Wolf Memorial Lecture includes a VIP Reception with Dr. Hazony followed by an interactive briefing. Wine and hors d'oeuvres will be served at the reception. Dietary Laws observed. Sponsorship levels include the reception, reserved seating at the briefing, listing in the evening's program and other benefits. Reception begins at 6 PM, Briefing at 7:15 PM. Please see "Tickets" for details on Sponsorships, Reception & Briefing, and Briefing only admission.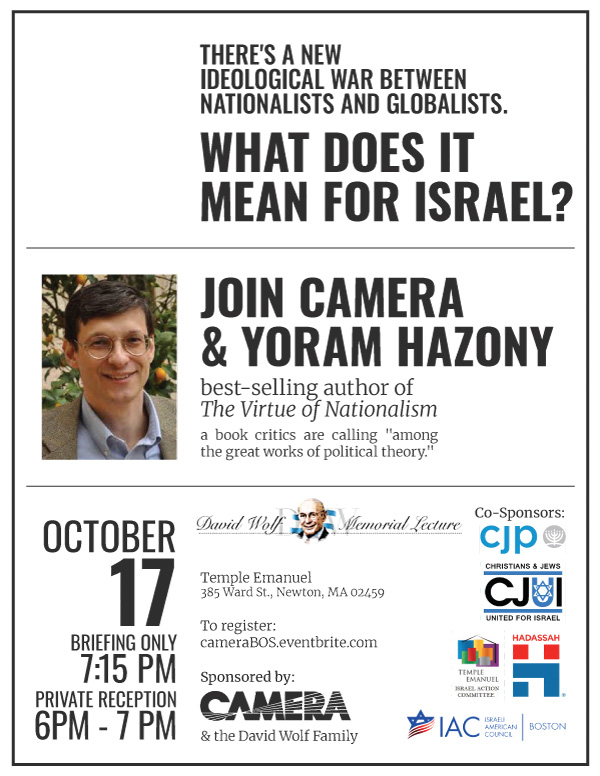 CAMERA is pleased to host again "The David Wolf Memorial Lecture", which has become an important annual gathering of the pro-Israel community. David was a member of CAMERA's National Board of Directors, its General Counsel and a staunch supporter of Israel and countless Jewish causes. We are grateful to David's family for complimentary admission to this briefing.
Nationalism is one of the biggest issues of our age. In his new book The Virtue of Nationalism, Israeli philosopher Yoram Hazony makes the positive case for nationalism in an eye-opening rethinking of the modern political experience. Dr. Hazony, president of the Herzl Institute and founder and past president of the Shalem Center in Jerusalem, will discuss these ideas and their relevance to CAMERA's work over two fascinating evenings in New York and Boston.