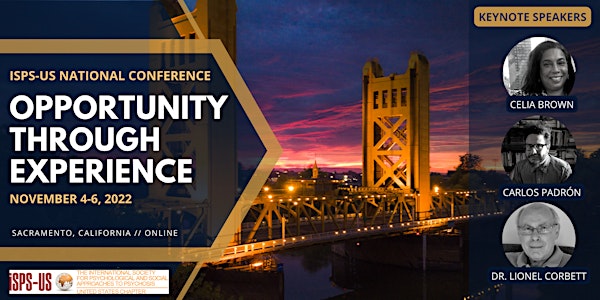 ISPS-US 2022 Conference: Opportunity Through Experience
"Opportunity Through Experience: Psychosis, Extreme States, and Possibilities for Transformation." In Sacramento CA, and hybrid online.
When and where
Location
Embassy Suites by Hilton Sacramento Riverfront Promenade 100 Capitol Mall Sacramento, CA 95814
Refund Policy
Contact the organizer to request a refund.
Eventbrite's fee is nonrefundable.
About this event
ISPS-US 2022 Hybrid Conference
November 4-6, 2022
Full hybrid experience: Join us in Sacramento, CA, or online with live streaming! See the full schedule here.
Can't attend live? Sessions will be recorded and hosted on our online platform for you to enjoy for up to a month after the event!
Up to 15.25 CE education credits available for attending live in-person or virtual sessions. Approved by: ACCME, ANCC, APA and ASWB.
About the Conference
Experience is an essential element of being human. Softly and subtly, or harshly, even relentlessly, it envelops and often enlivens us. Our reactions to experience reflect and create our emotional fingerprints, both defining and expressing who we are. Yet too often, these reactions to experience are pathologized, diagnosed and labeled rather than respected, especially if they are transpersonal, numinous, extreme, or exceptional. Experience can be filled with pleasure, ease and excitement, or it can bring hardship and isolation. Within every experience, however, lies opportunity.
While we all share some of life's most basic experiences, our experiences can also set us apart. When that happens, we sometimes despair of ever being understood. Too often, what passes for "mental health treatment" involves the imposition of interventions that fail to take into account our experiential histories, the social and systemic contexts in which our lives have unfolded, and the relational worlds that were our first teachers and provide the fabric of our days. Yet there are also times when we delight in the coming-together that is the result of deep listening. Opportunities for transformation are all around us, whether those occur in treatment settings, through the arts, or in our encounters with others with whom we feel able to share stories and perspectives.
We are happy to announce that the 2022 ISPS-US Conference, "Opportunity Through Experience," is scheduled to be held in Sacramento, California, November 4-6, 2022.
In 2022, we will feature a special series of events that will introduce the next generation of clinicians to the act and art of discovering opportunity in extreme states through the provision of deeper listening. We fully expect this conference to occur in person, but we also plan to take advantage of our newfound electronic savvy to include an online option, allowing participants and speakers to join us from around the world.
Accommodation: Accommodation is not included as part of registration. ISPS-US has secured a block booking of rooms at the conference venue, the Embassy Suites Riverfront Promenade in Sacramento. Details will be sent to you via email as part of your order confirmation, you may also view details at: https://bit.ly/ISPShotel
In-person registration includes a catered reception on Friday, morning coffee and pastries, and AM/PM snacks.
Sessions Include:
(Preliminary selection subject to change)
Jung's Approach to the Treatment of Psychosis - Lionel Corbett, M.D.
Indigenous North American Philosophy and Approach to Extraordinary States (including Psychosis) - Lewis Mehl-Madrona, M.D., Ph.D., D.F.A.P.A.
The Birth of a Political Self: Conversations on Madness, the Social Link, and Opportunities for Transformation - Françoise Davoine, Ph.D.
Time Collapse and Transformation in Trauma and Other Extreme States, James E. Gorney, Ph.D.
On the Psychology and Pathology of Extraordinary Experiences - Denise Maratos, Ph.D., Claire Bien, M.Ed., Oryx Cohen, M.P.A.
What is Spiritual Competency for Healthcare Professionals? - David Lukoff, Ph.D.
Psychoanalysis and Psychosis - Brian Koehler, Ph.D., M.S.
The Soteria Movement: Implications for the Advance of Social and Psychological Approaches to Psychosis - Al Galves, Ph.D.
Unraveling Psychosis: Psychodynamic Treatment of Psychosis - Danielle Knafo, Ph.D.
Family Panel: Open Dialogue and Dialogic Practices - Pat Wright, M.Ed., Cindy Peterson-Dana, L.M.H.C., Ro Speight, Justin Palanci, M.D., Sandy Steingard, M.D., Leslie Nelson.
Experts by Experience Panel: Encounters with Psychiatry & Mental Health Professionals: What Helped, What Harmed, Recommendations for the Future - Sandra Cheng, M.F.A., Jennifer Hanley, D.N.P., Joshua Roberts, B.A., M.A., Laura Lee Scott.
To see the full schedule, please visit our event platform Sched.

Keynote Speakers
Celia Brown
Celia Brown is a psychiatric survivor and a long time advocate for people with psychiatric disabilities. She's a certified peer specialist and was instrumental in developing and implementing the Peer Specialist Civil Service title for the NYS Office of Mental Health.
She works in the position of Regional Advocacy Specialist for the NYS Office of Mental Health. She's a national public speaker and trainer on topics such as peer support, history of the c/s/x movement and peer specialists. Celia was a keynote speaker at the Alternatives Conference in 2019 and in 2021 virtually at PEERPOCALYPSE and Minnesota All Peer Specialist conference.
Celia is the founder of Surviving Race: The Intersection of Injustice, Disability and Human Rights Coalition. She is the board president of MindFreedom International.
Carlos Padrón
Carlos Padrón, M.A., M.Phil., L.P., is a licensed psychoanalyst with a background in philosophy and literary studies. He has been a faculty member at the Contemporary Freudian Society and the China American Psychoanalytic Alliance. Padrón was also a faculty member at IPTAR where he co-taught a class on clinical aspects of diversity. He teaches the Seminar on Psychodynamic Theory (Masters in Social Work) at the Silberman School of Social Work. Padrón participated in the documentary Psychoanalysis in El Barrio a film on working psychoanalytically with poor and working class Latinx patients in the U.S., and has given talks and published on clinical issues related to diversity, and on community psychoanalysis. Lately he published an essay in the edited volume Psychoanalysis in the Barrios (Routledge, 2019) entitled "The Political Potentiality of the Psychoanalytic Process", and the text "Pandemic Diary: 19 Fragments" for a special issue of Psychoanalytic Psychology titled "Notes from a Pandemic: A Year of COVID-19." He has a paper to be published in the Journal of Infant, Child, and Adolescent Psychotherapy titled "Other Lullabies: Attacks on Blackness, Confusion of Tongues, and the Loss of Play". He was invited with Dr. Tracy Sidesinger to give an Austen Riggs Grand Rounds Presentation entitled "Reimagining Community in the Psychoanalytic Field". Padrón has worked psychoanalytically in different settings and is currently a clinical associate of the New School Psychotherapy Program where he supervises PhD students in psychology. He is the co-founder of the New York Center for Community Psychoanalysis.
Lionel Corbett, M.D.
Dr. Lionel Corbett trained in medicine and psychiatry in England and as a Jungian Analyst at the C.G. Jung Institute of Chicago. He is a professor of depth psychology at Pacifica Graduate Institute, in Santa Barbara, California. He is the author of six books: Psyche and the sacred: The religious function of the psyche; The sacred cauldron: Psychotherapy as a spiritual practice; The soul in anguish: Psychotherapeutic approaches to suffering; Understanding Evil: A guide for psychotherapists, and The God-image: From antiquity to Jung. He is the co-editor of four volumes of collected papers: Psyche's Stories; Depth Psychology, meditations in the field; Psychology at the threshold; and Jung and aging.