ISO 9001:2015 & Risk Training

Thursday, October 8, 2015 from 7:30 AM to 12:00 PM (EDT)
Event Details
Are you currently certified under ISO 9001:2008?
If yes, there are some significant changes heading your way.

Come to our informative ISO 9001:2015 Overview and Risk Training Seminar!

This 4 hour course provides an overview of the ISO 9001:2015 quality management system standard (QMS). This course is designed for employees with a need to have an understanding of the requirements of ISO 9001:2015 and how to begin planning how to implement it within their organizations. Since 2012, all ISO management system standards are being updated against the new 10-clause High Level Structure (HLS) and common core. The new ISO 9001:2015 Standard has this new structure.  The instructor will walk through all the clauses of the ISO 9001:2015 standard and provide clear interpretations and examples.
Individual Student $195 each


Company (3 students minimum) $175 each

In addition to the structure, there are some rather sweeping changes. Gone are some iconic requirements (such as the requirements for a 'quality manual' or a 'management representative'). The new Standard emphasizes risk-based thinking beyond what we have seen in earlier versions. Less prescriptive (in some ways) – yet with stronger links to organizational strategies and goals.
After the ISO 9001:2015 Overview, the focus will be on how Risk Based Thinking may be utilized. Of the new changes, this will likely be the most significant.  The Risk Based Thinking session includes an easy and interactive simulation for "Risk" that will be applicable to many organizations. The simulation exercise will involve everyone.
Students will receive training that is interactive, fun and involves students in the learning process.
Get prepared for the changes with this excellent and affordable, preparatory workshop.
Pre-Requisite:
Participants should be knowledgeable of the ISO 9001:2008 QMS standard.
Who Should Attend:
Any interested party involved in an ISO 9001 quality management system implementation.
Course Objectives:
This workshop will enable participants to:
- Understand and plan for the changes to ISO 9001
- Develop a strategy for effective implementation of "Risk Based Thinking" at their organization
Agenda:
7:30am - 8:00am     Registration
8:00am - 9:15am     Overview of the new ISO 9001:2015 standard
9:15am - 9:45am     Introduction to Risk
9:45am - 10:00am    Break
10:00am - 11:40am  Simulation of "Risk Based Thinking"
11:40am - 12:00pm  Questions and Answers
Continental Light Breakfast Included (coffee, tea and assorted baked goods)

Scheduled Events
10/28/15     ISO 9001 & Risk Training - Ft. Lauderdale, FL
11/20/15     ISO 9001 & Risk Training - Tampa, FL
When & Where

Hilton Melbourne Rialto Place
200 Rialto Place
Melbourne, FL 32901


Thursday, October 8, 2015 from 7:30 AM to 12:00 PM (EDT)
Add to my calendar
Organizer
CVG Strategy is a consulting and training firm located in Viera, Florida.  We specialize in assisting small- to mid-sized companies with capitalizing on opportunities in enhancing business performance.  Our Lead Auditors are Exemplar Global Certified for ISO 9001:2015, ISO 13485:2016, ISO 27001:2013, AS9100D and AAR M-1003 (Rail Roads).
Training will be provided by Kevin M. Gholston who has been involved with implementing quality management systems for the past 15 years with specific experience in ITAR & Export Compliance.  He is an ECTI Certified Export Compliance Professional (ECOP) for ITAR and EAR.
Kevin Gholston is a highly respected senior executive with more than 25 years of leadership at several aerospace and defense technology companies.  In each company, Kevin has participated in multiple  Quality System and ITAR Compliance Program implementations. More recently, as CEO of a Florida manufacturer, he set a personal record of leading the company to obtaining ISO 9001 certification from beginning to end within 55 days.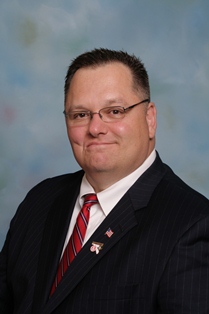 The unique experiences in various industries led to his next endeavor of forming CVG Strategy with his wife, Cindy. Today CVG Strategy is an industry leading provider of ITAR, Quality and Product Testing Training, Coaching, Mentoring and Support to clients in North America.