#ISLLoft: Joel Jr Llaban presents "Sustaining Courage for Change"
About this event
Session Description:
This workshop is open to all leaders and educators. The session will provide opportunities for courageous personal reflection and conversations with others. During the session, we will 'lean in' with self and others as we explore a range of provocations that are designed for us to challenge our assumptions, ask challenging questions, reflect upon our lived experiences, and nurture our critical consciousness, which are some of the "points of departure" as we courageously plan systemic and sustainable action. Some of the provocations include the brilliance and wisdom of bell hooks, Isabel Wilkerson, Paulo Freire, Margaret Wheatly, Zaretta Hammond, Daniel Wickner, Darnell Fine, and Audre Lorde.
We will dialogue around abstract concepts such as identities, power, privilege, oppression, historical and systemic racism, fear, vulnerability, and leadership. We will then find specificity around these abstract concepts that will have relevance and impact to adult and student learning and well being.
This session is designed as participatory, where the facilitator and the participants are co-learners, co-investigators, and co-creators of learning grounded on trust, reciprocity and partnership. Congruent to our belief that our action on DEIJ is a political act and a moral imperative, this workshop will hopefully enable us to understand "education as a practice of freedom".
Takeaways for Participants:
DEIJ is innovation. It compels us to reimagine, rethink, reflect, dismantle, interrupt, tinker, restructure power, grapple with complexities; iterate & prototype. Innovation must be restorative. (Is it harming or healing?) ...and ensure restitution, sustainability and lifelong strategic impact; to transform conditions for self, others, and the world.
Biography:
Joel Jr Llaban (he/him/his) is a Prep-12 Learning Specialist, Instructional Coach & Schoolwide DEIJ Lead in the at The International School of Kuala Lumpur. He has been working in education for 18 years as a classroom teacher with concurrent involvement and leadership in schoolwide curriculum, assessment, professional development, and strategic planning. He has previously worked at Cebu International School, The International School of Beijing, and The International School of Brussels. He also served as a department coordinator and an accreditation coordinator. He is trained in international accreditation as a team evaluator and has been involved in accreditation visits to different international schools representing NEASC and CIS. Currently, Joel serves in the newly formed CIS Board Committee on DEIJ and Anti Racism and a member of the Editorial Committee of The International Educator (TIE) Online. Joel holds a Master of Education in International Education Administration and a Certificate of International School Leadership from The Principals Training Center. He is a proud member of AIELOC and Diversity Collaborative. Follow him on Twitter @JoelJrLLABAN
#ISLLoft
On the day before the event, the link to access this virtual session will be emailed. Please note to gain access, please use the name submitted on the Eventbrite registration form.
Twitter hashtag: #ISLLoft
Learn about upcoming #ISLLoft events, click here.
If you wish to be informed and opt-in to receive updates on upcoming ISL Virtual Learning Loft events, please click here. By selecting Yes, you are agreeing to have your email address used by ISL Virtual Learning Loft, and any third-party platform they may use to produce a newsletter. We respect your privacy and can unsubscribe at any time.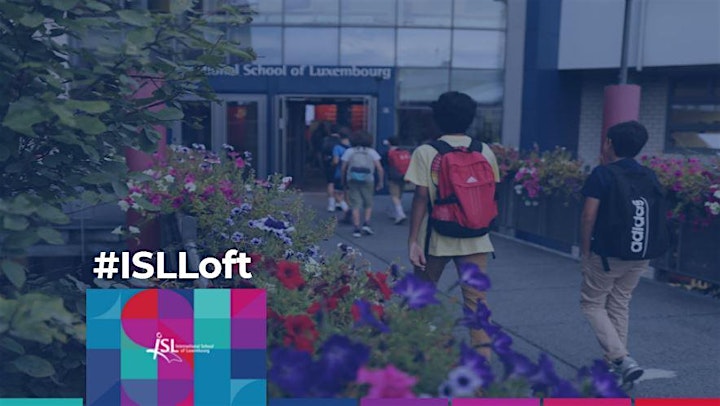 Organizer of #ISLLoft: Joel Jr Llaban presents "Sustaining Courage for Change"
The International School of Luxembourg is a member of a unique class of educational institutions that proudly include the word "international" in their name. We are a Preschool to Grade 12 school with an outstanding pedagogical approach to learning in the early years (Lower School), and a rigorous, globally conscious, university-preparatory curriculum for growing teens (Middle and High School).
As an IBO World School, we ensure our graduates are offered a preparation for life-long learning based on the highest global standards and the best-practices of international schools world-wide.
Our supportive, multi-national community collaborates to create an environment for learning that fosters not only the confidence to succeed, but also an appreciation for being situated in Luxembourg at the very heart of European culture.