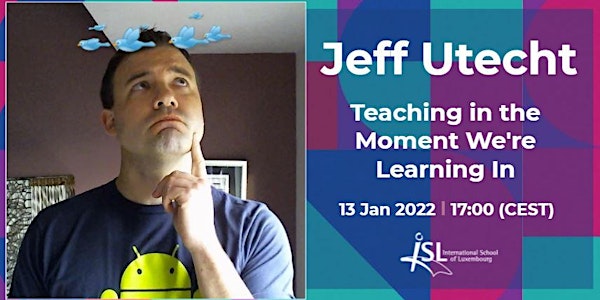 #ISLLoft: Jeff Utecht presents "Teaching in the Moment We're Learning In"
#ISLLoft: Jeff Utecht presents "Teaching in the Moment We're Learning In"
About this event
Session Objectives:
A lot has happened in the past two years. If you feel like things are accelerating your not alone and they actually are. Our schools are changing at a pace not seen in education in a very long time and with that change we must refocus on the skills students are going to need for their future not our past.
Takeaways for Participants:
Understand the changing nature of learning
Understand how the pandemic has changed what we need to focus on in schools
Understand a new meaning of what it means to be "knowledgeable"
Understand that we're moving away from a content based education system to a skill based one.
Biography:
Jeff is an educational consultant, blogger and podcaster. Jeff sits on the board of Learning2 and his latest company Shifting Schools looks to support schools and educators through the educational shift we find ourselves in.
Over the past 10 years, Jeff has worked with schools and districts both here in the United States as well as Internationally. His main focus is to provide support in redefining the Teaching and Learning culture to match the connected landscape we now live, work and play in. Technology is impacting every part of our lives and we are educating a generation that is different. They expect learning to be different, they expect learning to match the connected culture we now live in. Working together, we take a deep look at how we prepare students today for their future, not our past.
#ISLLoft
#ISLLoft:On Monday before each event, the link to access this virtual session will be emailed. Please note to gain access, please use the name submitted on the Eventbrite registration form.
If you wish to be informed and opt-in to receive updates on upcoming ISL Virtual Learning Loft events, please click here. By selecting Yes, you are agreeing to have your email address used by ISL Virtual Learning Loft, and any third-party platform they may use to produce a newsletter. We respect your privacy and can unsubscribe at any time.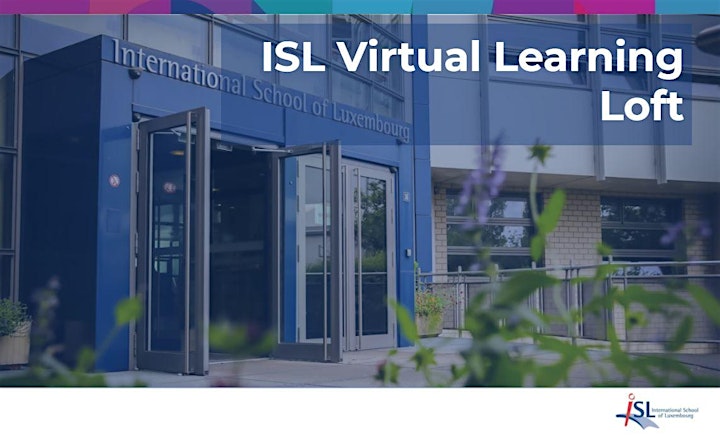 Organizer of #ISLLoft: Jeff Utecht presents "Teaching in the Moment We're Learning In"
The International School of Luxembourg is a member of a unique class of educational institutions that proudly include the word "international" in their name. We are a Preschool to Grade 12 school with an outstanding pedagogical approach to learning in the early years (Lower School), and a rigorous, globally conscious, university-preparatory curriculum for growing teens (Middle and High School).
As an IBO World School, we ensure our graduates are offered a preparation for life-long learning based on the highest global standards and the best-practices of international schools world-wide.
Our supportive, multi-national community collaborates to create an environment for learning that fosters not only the confidence to succeed, but also an appreciation for being situated in Luxembourg at the very heart of European culture.