#ISLLoft: Jeff Utecht and Tricia Friedman - Power of Portfolios to Document a Learning Journey
About this event
Session Objectives:
Engage with and customize models that have the potential to extend student learning.
Refresh and refine our thinking on what best scaffolds for reflection and connection.
Takeaways for Participants:
A workable draft of a portfolio to use for the month, week, year or a project.
A toolkit of reflection strategies.
Presenters:
Jeff Utecht
Jeff began his career in the Elementary Classroom in Washington State. In 2001, he was the recipient of a Bill and Melinda Gates Grant, the Technology Leadership Program. This started his journey into the world of connecting students and using the world as his curriculum. From 2002 – 2012 Jeff taught at International Schools moving from a classroom teacher into technology roles and administrative positions. He has authored books, worked as a consultant for technology startups, and continues to speak at schools and educational events around the globe. He was invited by the Prince of Bahrain to participate in conversations to reimagine teaching and learning in that country. In 2018, he was invited to the Global Knowledge Summit in Dubai to be part of global conversations about the future of education in this Knowledge Economy. Today, Jeff makes his home in Seattle, WA having worked with and supported over 20 1:1 deployments, both within the US and Internationally. As you can tell, Jeff brings a very global perspective to his trainings and conversations. His passion is working long-term with schools and districts in changing the teaching and learning culture to help prepare students for their future not our past. 
Tricia Friedman
Tricia is proud to be entering into her 20th year in education. She has worked as a classroom teacher, service-learning coordinator, and as an instructional coach. She's also served as a volunteer in the Peace Corps. She loves exploring and curating conversations between educators that directly lead to change in the classroom, and in the broader 'culture of learning.' As a proud queer educator, Tricia authors the Be a Better Ally newsletter and podcast to continue the dialogue about what an LGBTQ+ inclusive school might be.
Virtual Learning Loft (#ISLLoft)
#ISLLoft: On Wednesday, 20 October, the link to access this virtual session will be emailed. Please note to gain access, use the name submitted on the Eventbrite registration form.
Twitter hashtag: #ISLLoft
Learn about upcoming #ISLLoft events, click here.
The session will be recorded and posted on the ISL Youtube channel.
If you wish to be informed and opt-in to receive updates on upcoming ISL Virtual Learning Loft events, please click here. By selecting Yes, you are agreeing to have your email address used by ISL Virtual Learning Loft, and any third-party platform they may use to produce a newsletter. We respect your privacy and can unsubscribe at any time.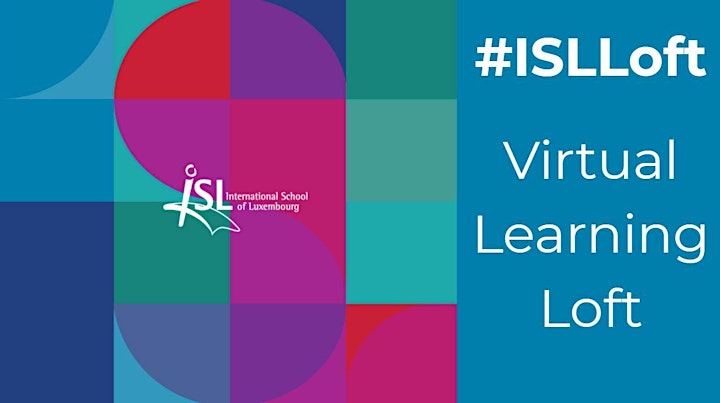 Organizer of #ISLLoft: Jeff Utecht and Tricia Friedman
The International School of Luxembourg is a member of a unique class of educational institutions that proudly include the word "international" in their name. We are a Preschool to Grade 12 school with an outstanding pedagogical approach to learning in the early years (Lower School), and a rigorous, globally conscious, university-preparatory curriculum for growing teens (Middle and High School).
As an IBO World School, we ensure our graduates are offered a preparation for life-long learning based on the highest global standards and the best-practices of international schools world-wide.
Our supportive, multi-national community collaborates to create an environment for learning that fosters not only the confidence to succeed, but also an appreciation for being situated in Luxembourg at the very heart of European culture.