Description
Well over 125 members of Milwaukee's creative community actively participated in an IOB design workshop or volunteered to plan and run one of our special events in 2016. To everyone we say cheers and thank you! This little program that could continues to grow, so now we're looking for your help to recruit even more people to our cause.
OUR mantra: DO GOOD, DRINK GOOD BEER
With the generosity of our friends at Milwaukee Brewing Co., we've organized a Brilliant Beer Bash to help widen our circle of volunteers. In addition to free beer, music, and food trucks—do we know our audience, or what?—we'll be unveiling our Mentor-Get-A-Mentor program, where volunteer referrals that turn into volunteer sign-ups for workshops result in rewards.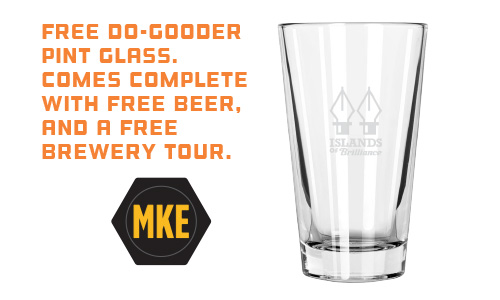 CELEBRITY BEERTENDERS
We've enlisted some A-List talent to help serve the suds throughout the night, including:
Dave Hanneken, HY
Laura Gainor, United Adworkers
Jerry Higgins, Core Creative
Members of the Rushin' Rollettes, Milwaukee Roller Derby team
Dan Augustine, EPIC Creative
The beer is free, but tip our Beertenders well! All proceeds benefit IOB!!
DJ
Bader Rutter's Johnny K. will be spinning soul, 60s mod rock, ska, rock steady and reggae from the crow's nest at the brewery.
FOOD TRUCKS
Oscar's will be serving up victuals on 2nd St. in front of the brewery!