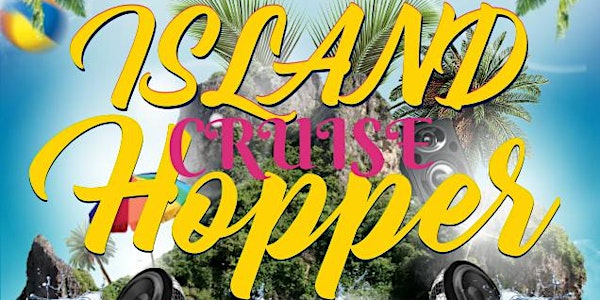 ISLAND HOPPER CRUISE- REGISTRATION ONLY!
ISLAND HOPPER CRUISE 2023!!! 5 Day Eastern Caribbean Cruise Sailing From Port Canaveral, Orlando, Florida
When and where
Location
Port Canaveral 9241 Charles M Rowland Dr Port Canaveral, FL 32920
About this event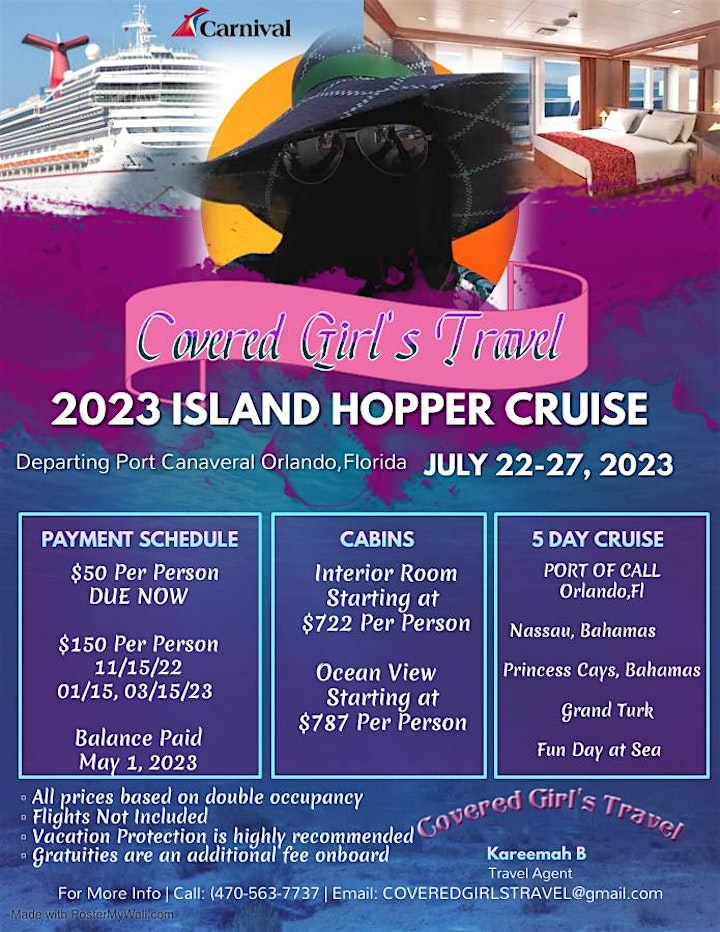 WELCOME TO THE SUMMER DRIP CRUISE!!!
ISLAND HOPPER CRUISE 2023
SATURDAY:Port Canaveral, Florida Boarding Time: 1:00pm – 3:00pm
SUNDAY:Nassau, The Bahamas
MONDAY: Princess Cays
TUESDAY:Grand Turk
WEDNESDAY: Fun Day at Sea
THURSDAY: Port Canaveral, Florida
Ticket FEE Is A NON-REFUNDABLE CRUISE REGISTRATION FEE AND SEPARATE FROM YOUR DEPOSIT.
The Ticket Type Selected is the ROOM CATEGORY you are requesting book.
The Ticket Registration Fee is REQUIRED For Each Room
After Your Register You Will Receive VIA Email A Cruise Information Packet That Contains The Specific Cruise Contract, Credit Card Authorization Form And Monthly Recurring Payment Form. This INFORMATION will be sent to the EMAIL ADDRESS used at check out ONLY!
The COMPLETE Contract packet MUST be SCANNED and Emailed back in.
You will be charged a NON-REFUNDABLE $25 Deposit Per Room At The Time Of Booking
PRICE INCLUDES:
CABIN ACCOMMODATIONS of Choice- prices are per person.
Entertainment provided by Carnival Cruise Line onboard the ship Including COMEDY SHOWS | GAME SHOWS | TRIVIA |
ALL MEALS at select restaurants including coffee, ice tea, lemonade & juice complimentary options include the main dining room, (breakfast, lunch & dinner buffet), 24 hours per day & room service ( order fee, but you can order as much food as you'd like from the room service menu)
PORT CHARGES, GOVERNMENT TAXES & FEES
PRICE DOES NOT INCLUDE:
Roundtrip flights - You will need to book flights into Orlando(MCO)
Transportation to and from the airport to cruise terminal. Taxi's are readily available at airport and cruise terminal.
Cancellation Policy:
* By applying the deposit to your reservation you acknowledged that you downloaded, read & accepted the terms and conditions. You also understand the money is non-refundable as paid and non-transferable. Travel insurance is strongly recommended.
* Please make sure you read What's Included section and Frequently Asked Questions of the booking site.
* All parties must be booked in a room for a reservation to process so for example, if you have a double room, you are not booked until your roommate also books.
* A valid passport OR original birth certificate along with a driver's license are required to board the ship. This only applies to US citizens. NON US Citizens are required to present a Passport and Green card.
* All itineraries,times, ports,, appearances, entertainment, locations, etc. are subject to change without notice.
* Due to COVID protocols sightseeing and events listed on the itinerary may be modified.
ZERO TOLERANCE DRUG POLICY
Covered Girl's Travel and Royal Carnival Cruise Line, have a zero tolerance policy regarding the use, possession, purchase or distribution of illegal controlled substances. Any violation of this policy will result in disembarkation from the vessel as well as the individuals being turned over to the local law enforcement officials for appropriate legal action. In such cases Dell Way Travel inc and Royal Caribbean Cruise Line shall not be liable.
PROTOCOLS FOR SAILINGS AS OF SEPTEMBER 6, 2022 (UPDATED 08/24/22)
Carnival is pleased to announce new guidelines effective for cruises departing on September 6, 2022 or later, which will make it easier for more guests to sail with simplified vaccination and testing guidelines. We encourage all guests to be up to date with their COVID-19 vaccines and to test withing three day prior to their cruise. However, testing is required for unvaccinated guests, or irrespective of vaccination status as specified by a destination, and on cruises of 16 nights or longer.
BOOKING
Guests are asked to update their profile on Carnival.com with their current contact information as we will be communicating through a series of emails. Please read all our correspondence and complete all requests for pre-boarding information on a timely basis.
VACCINATION STANDARDS
Vaccinated guests age 5 and older will continue to provide evidence of their vaccination status prior to embarkation. Guests who do not meet the definition of fully vaccinated, or do not provide proof of vaccination, must present the results of a negative PCR or antigen test taken within three days of embarkation (or as required by destinations on the itinerary – see below).
Guests are considered fully vaccinated if they have received their final dose of an approved COVID-19 vaccine at least 14 days prior to the sailing day (not counting embarkation day) and have proof of vaccination.
Boosters may be required for specific voyages based on duration or destination requirements.
TESTING REQUIREMENTS
Vaccinated guests (with proof of vaccination) – are not required to take a pre cruise test except on cruises of 16 nights or longer or when required by a destination.
Unvaccinated guests – guests age 5 years and older will have to present the negative results of a PCR or antigen test taken no earlier than 3 days before sailing or when required by a destination. For example: if a PCR test is required 3 days before sailing, the test may be taken as early as Wednesday for a cruise departing on Saturday.
In addition to lab administered tests, self-testing is accepted for unvaccinated guests on cruises 15 nights and shorter.
Certain destinations do not accept unsupervised pre-cruise testing, including Bermuda, Canada, Greece, or Spain. If used for visiting these destinations, self-testing must be supervised by a medical professional.
Regardless of the type of test taken, unvaccinated guests will be required to present their negative test results via VeriFLY, or as part of the embarkation process.
If the test taken is supervised by a medical professional, guests can show the negative result in the form of a printout, an email, or an app screen from the test provider.
On voyages where destinations accept self-testing, guests can provide a picture of their negative home test or present the actual negative test itself at embarkation. Guests should write their name and test date on a piece of paper, place the negative test on the paper, and take a photograph of this on a mobile device.
Guests who self-test should write their name and test date on a piece of paper, place the negative test on the paper, and take a photograph of this on a mobile device. Please be prepared to show the image if required. Guests can choose, instead, to have a viral test taken or supervised by a trained person with written evidence of result.