Location
Hamilton Girls High School
Hill Street
Hamilton, Waikato 3204
New Zealand
The Islamic Women's Council of New Zealand 31st Annual Conference July 15 to 17, 2022 Hamilton
About this event
The Islamic Women's Council of New Zealand 31st Annual Conference
July 15 to 17, 2022 (Fri 5:00 pm to Sun 1:00pm)
Hamilton
This event is hosted by Women's Organisation of the Waikato Muslim Association
Life's Mysteries
"And seek aid in steadfast patience and prayer: and this, indeed, is a hard thing for all but the humble in spirit." Qur'an 2:45
The three-day annual Islamic Women's Council of New Zealand National Conference is scheduled to start on 15th of July in the early evening and will finish midday on the 17th of July. The official opening will be on Saturday morning, with the evening prior being more casual and focused on well-being and establishing connections. The conference includes uplifting and informative workshops covering a range of topics, powerful messages from our speakers, and a selection of activities. The event is open to all New Zealand-based Muslim women ages 12 upward.
Registration Fees: (Early Bird before June 15)
$40.00 General Entry *
$35.00 Hostel Accommodation (2 nights including continental breakfast) *
Registration Fees: (After June 15)
$60.00 General Entry *
*Eventbrite online service requires a nominal additional booking fee which you will be informed of prior to payment.
Please Note: Once booked, there will be no refunds unless the entire event is canceled because of Covid-19, The non refund policy is due to logistics and down-payment requirements of the service providers.
Accommodation Options:
Hostel: On-site hostel accommodation (Sonninghill Hostel) is available to book for $35.00 extra per person. This will be shared bedding spaces/ shared bathrooms. Please note there is a limited amount of beds available. You will need to bring your own linen/bedding with you.
Note: We only have 130 beds available at the hostel, and these will be booked and paid for at the time of registration. Beds will be allocated on a "first come, first served" basis.
Self-Booked options-
Ramada Hotel: IWCNZ has partnered with the Ramada hotel which is a 10-12 minute walk away from Hamilton Girls Auditorium, or a 2-3 minute drive. There is a 10% discount when booking with Ramada. Please book through the link: www.ramadahamilton.co.nz and use the discount code: "book10"
Accommodation of your choice: You are welcome to choose your own accommodation of your choice.
Agenda of Conference:
Please note this is a tentative programme, and the full programme will be available by June 10th.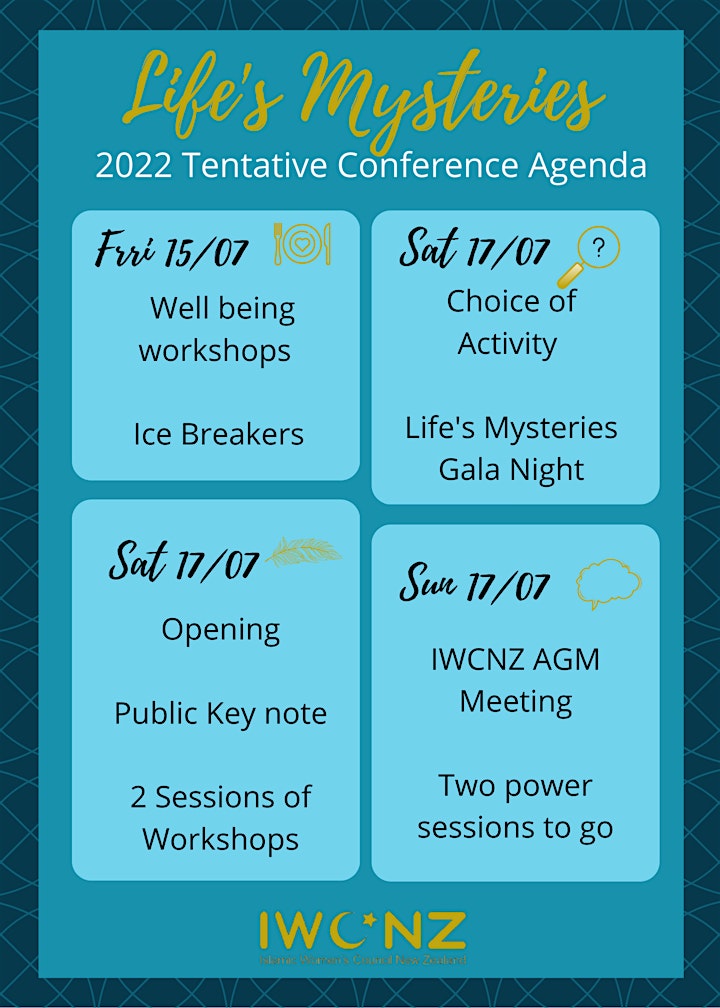 Activities to choose from:
High Tea at Willow Brook Park
Price - $35.00 per person
Enjoy a high tea with a difference at the stunning Willowbrook Park Estate! This light meal will be served in the ballroom and includes traditional club sandwiches, scones and sweet treats along with a selection of Zealong teas. There will be an opportunity for you to walk the grounds, take photos, and tour the estate.
Hinterland Paintball
Price - $30.00 per person
Hinterlands Paintball will divide you into teams where you get to hide and seek out your opponents in a natural pine gully, as well as pone your skills in the speedball round. This activity is perfect for the fit yet friendly competitors. A fern lined creek runs through the center of the course covered with many trees, ferns & barricades which makes it perfect for your "commando moments".
Self Defense Course
Price -Free
Run by female trainers from Kia Haumaru - Personal Safety Education (which is a network of trained and accredited Educators). Designed to equip women and girls with the skills and strategies to keep safe. Kia Haumaru teaches skills for avoiding, recognising, interrupting, resisting and healing from the effects of interpersonal violence.
Hamilton Gardens - Plus Photography
Price - Free
Get photos taken at Hamilton Gardens. The internationally renowned Hamilton Gardens is a unique concept that tells the 'story of gardens'. There are a range of cultures and histories shown highlighting the different types of gardens that have existed around the world over the past 4,000 years. The vibrant and immaculately maintained collections offer the ideal backdrops for our stationed photographers who will be available to take your perfect shot, should you wish.
Leap and Laser
Price - $16.00
Enjoy a combination of 1 hour of aerobic exercise rebounding at a trampoline park, letting the springs take away the impact on the joints. Paired with one hour of laser tag at megazone.
Islamic Workshop (2 hour)
Price - Free
A 2 hour workshop run by This workshop is designed to enlighten attendees with additional knowledge and sunnah of the Prophet Mohammed (saw) during the afternoon.
Please note: You are not required to choose an activity if you wish for some personal free time and/or to go back to your accommodation to rest. Also note: You may select one activity of the above as they will all be running simultaneously.
Meals during the conference:
All meals and beverages provided will be Halal. There will be a station available for coffee and tea throughout meal times.
You are most welcome to bring your own additional snacks. We highly recommend you bring a water bottle with you for the activity period.
If you have any specific dietary requirements please ensure you let us know of these details in the registration form.
Friday 15th of July
Light dinner on the Friday is being organised, please make sure to select on the registration form if you will be attending the well being and ice breakers session for catering purposes as there is no option to change the numbers on the day.
Saturday 16th of July
Morning tea
Lunch - You will be provided with a packed lunch to take away with you on your activity. If you select the Willowbrook high tea option, no packed lunch will be prepared as you will be eating at their venue.
Dinner
Sunday 17th of July
Morning tea
Packed lunch for the road will be provided for those from outside of Hamilton
For questions and inquiries please contact our Community Development Team on:
conference@iwncz.org.nz
Jazakum Allah Khair