Islamic Financial Markets Seminar
Description
BY INVITATION ONLY
For relevant business professionals from the industry only.
Delegates with corporate email addresses will be accepted.
ABOUT THE EVENT
A high-profile line-up of speakers will deliberate on the broad spectrum of horizons and opportunities in the Islamic finance industry and how to achieve the sustainable and balanced growth in this important sector.
The seminar sessions will cover the following topics:
Overview of IIFM Standards

Global Sukuk Market Trends and Developments

Trade Finance and Islamic Risk Participation Agreements

Gold in Islamic Finance and Documentation & Products Standardization

FinTech and Smart Contracts – Opportunities in Islamic Finance

Managing the Transition of Wealth across Generations via Shariah Compliant Solutions
The specialised seminar will be useful to treasury, credit, risk, legal, product structuring, compliance and related departments of financial institutions as well as regulatory and other professionals active in Islamic finance such as law and advisory firms, stock exchanges and academics.
The workshop is being held with the support of the host Labuan IBFC.
Participation to the workshop is free of charge subject to invitation and registration confirmation.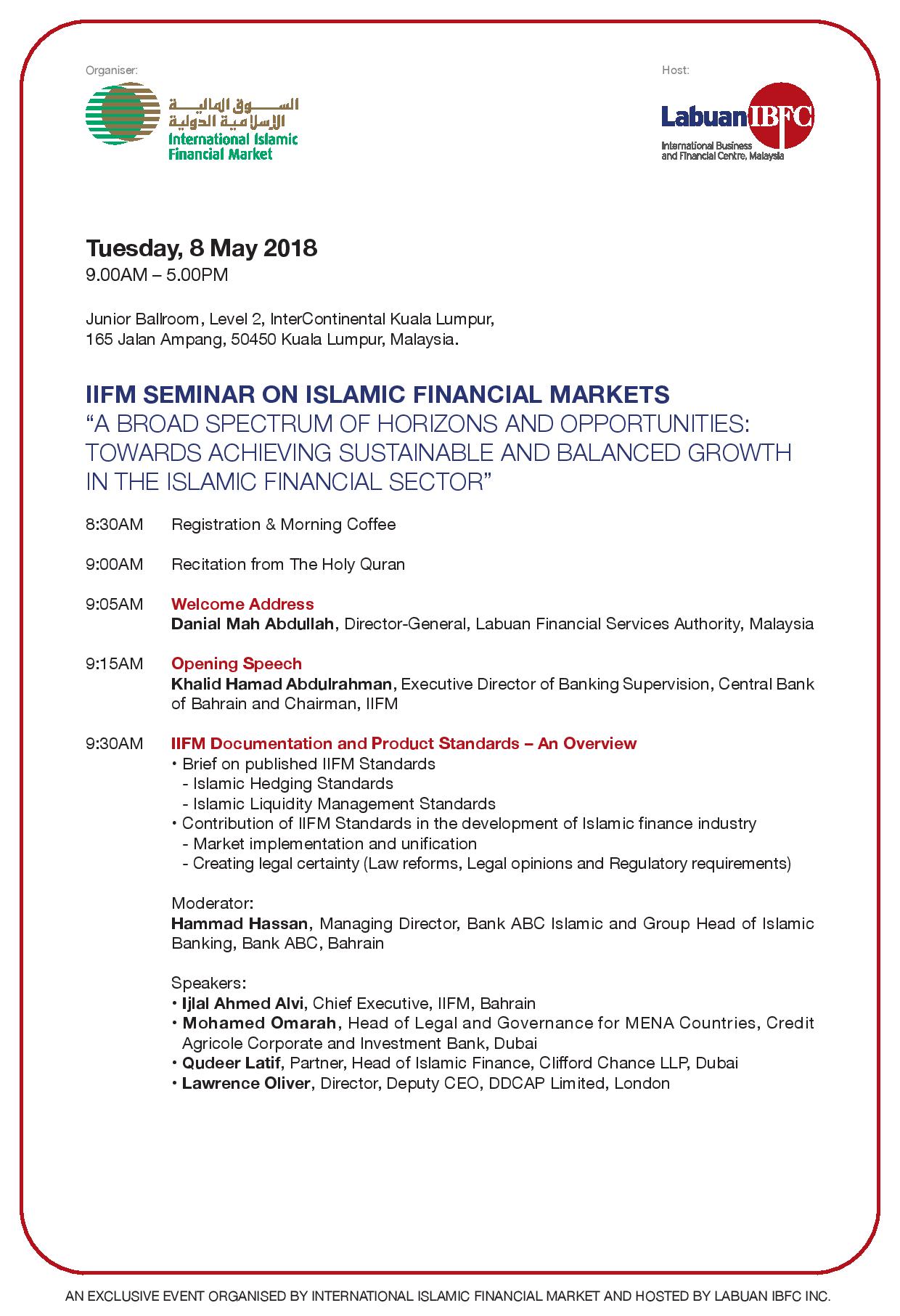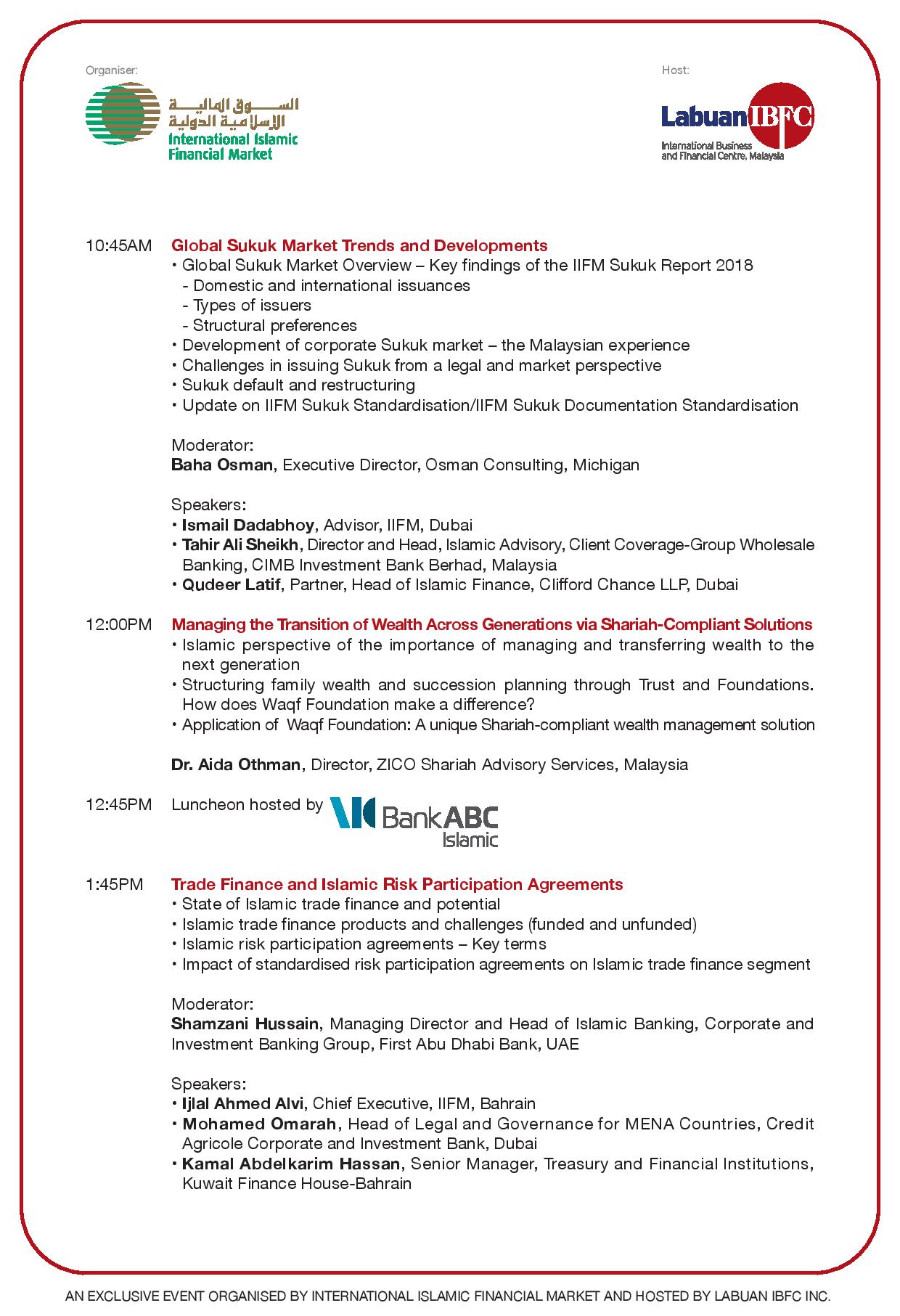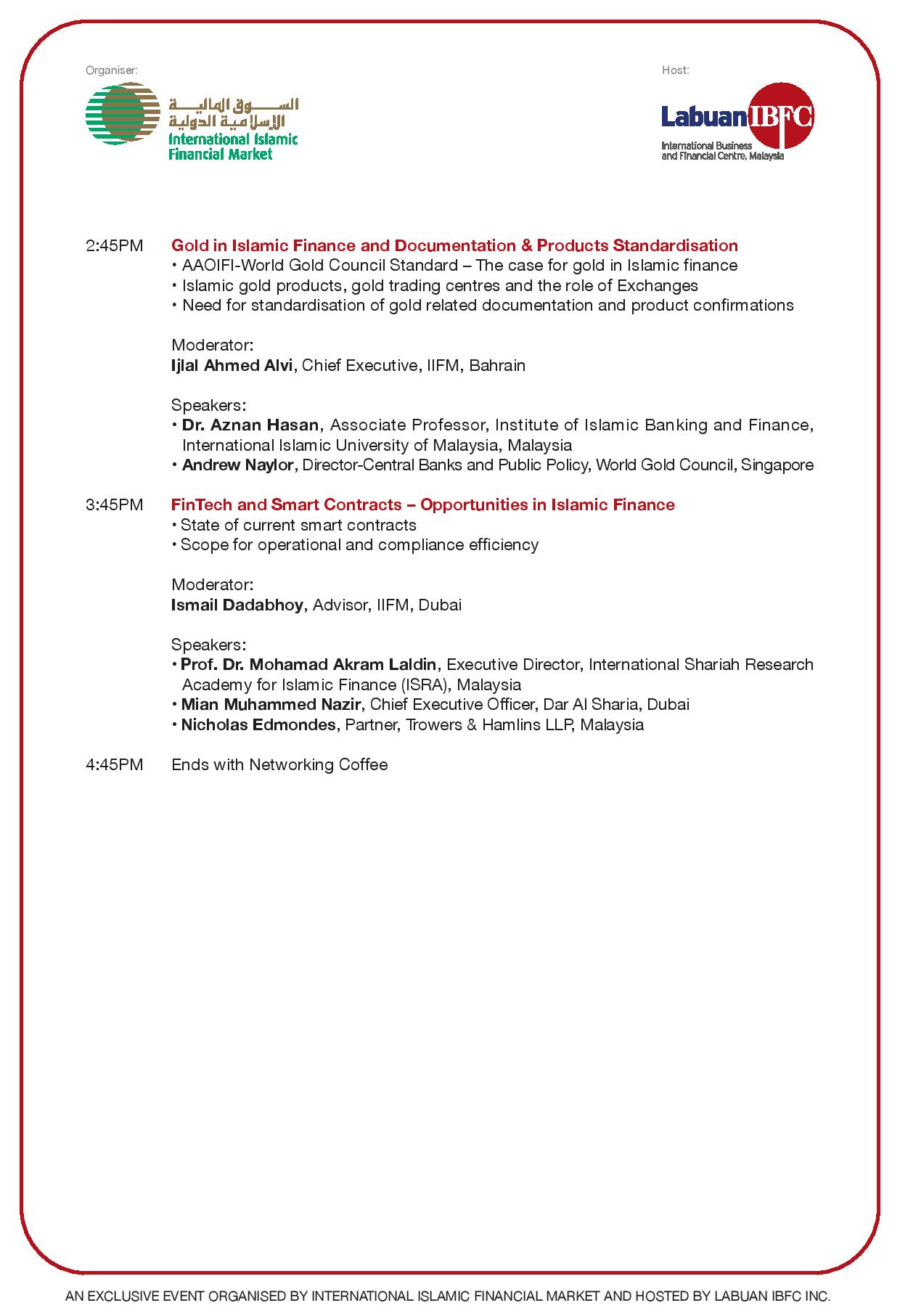 m
Organizer of Islamic Financial Markets Seminar
About International Islamic Financial Market (IIFM)
IIFM is a standard-setting body of the Islamic Financial Services Industry (IFSI) focusing on standardization of Islamic financial contracts and product templates relating to the Capital & Money Market, Corporate Finance and Trade Finance segments of the IFSI.
IIFM which is based in Manama and hosted by the Central Bank of Bahrain (CBB), was established in 2002 under the Royal Decree No (23) Year 2002 of the Kingdom of Bahrain as a neutral and non-profit infrastructure development institution, by the collective efforts of the Islamic Development Bank, Autoriti Monetari Brunei Darussalam (formerly Ministry of Finance Brunei Darussalam), Bank Indonesia, Bank Negara Malaysia (delegated to Labuan Financial Services Authority), Central Bank of Bahrain (formerly Bahrain Monetary Agency) and the Central Bank of Sudan.
Besides the founding members, IIFM is also supported by certain regulatory and government bodies such as Dubai International Financial Centre Authority, State Bank of Pakistan, The National Bank of Kazakhstan and by a number of international and regional financial institutions active in Islamic finance as well as other market players.
In advancing its mission to create a robust, transparent and efficient Islamic financial market, IIFM promotes at the global level unification, best practices and Shari'ah harmonization through introducing and developing Shari'ah compliant standard financial contracts. It also contributes in creating industry awareness by organizing specialized seminars and technical workshops in many jurisdictions as well as publishing research reports.
Information on IIFM and its activities is available on www.iifm.net
ABOUT LABUAN IBFC
ASIA PACIFIC'S MIDSHORE INTERNATIONAL BUSINESS AND FINANCIAL CENTRE
Labuan International Business and Financial Centre (Labuan IBFC), Malaysia, through its internationally recognised yet business-friendly legal framework, is the preferred international business and financial centre in the Asia Pacific region.
It offers global investors and businesses the benefits of being in a well-regulated jurisdiction, while providing for fiscal neutrality and certainty, in addition to being an ideal location for substance creation.
Labuan IBFC boasts a wide range of business structures and investment solutions catered to cross-border transactions and international business dealings. It offers services and solutions in niches such as asset leasing, risk management, commodity trading, wealth management, international business companies and Islamic financial services to global businesses looking at penetrating Asia and Asian entities aiming to go global.
Labuan IBFC operates within clear and comprehensive legal provisions, guidelines and practice notes, enforced by a single regulator, Labuan Financial Services Authority.
To keep up with everything about Labuan IBFC, follow Twitter or Facebook @LabuanIBFC. Alternatively, visit www.labuanibfc.com