Description
Islam in Latin America
featuring Ken Chitwood
Tuesday, November 7, 2017 | 2 PM | FIU Modesto A. Maidique Campus | GL 165
Too often, the so-called "Muslim world" is imagined as being bound to the Middle East and North Africa. More generous geographies of the "Muslim world" may include the African Sahel, the Balkans, and perhaps Southeast Asia. What of Latin America and the Caribbean? Could the American hemisphere also be considered part of the "Muslim world?"
This presentation views the story of Islam and Muslim communities — past and present — as part of, rather than as alien to, Latin America and the Caribbean. Instead of telling the stories in isolation from one another, Chitwood shares an overview of the historical and contemporary story of Muslims in Latin America and the Caribbean while not losing sight of hemispheric connections across the Americas. In so doing, it is an attempt to situate the story of Islam in Latin America and the Caribbean, just as he situates Latin America and the Caribbean in the narrative of the "Muslim world."
Ken Chitwood is a religion scholar at the University of Florida studying Religion in the Americas and a graduate student fellow with the Center for Global Islamic Studies. His academic work focuses on Islam in the Americas, Puerto Rican Muslims, Latina/o Muslims, hemispheric American religion, translocal religion, intersections of religion & culture, Christian-Muslim relations, global Christianity, Muslim minorities, & ethnographic methods and manifestations of religion beyond religion in a global and digital age. Additionally, he has published work on Judaism in Latin America and the Caribbean, religion and popular culture, and other associated topics.
This event is free and open to the public. For more information, please call (305) 348-2894.
Co-sponsored by: Kimberly Green Latin American and Caribbean Center | Department of Religious Studies | Middle East Studies Program Muslim World Studies Program | Western Indian Ocean Studies Initiative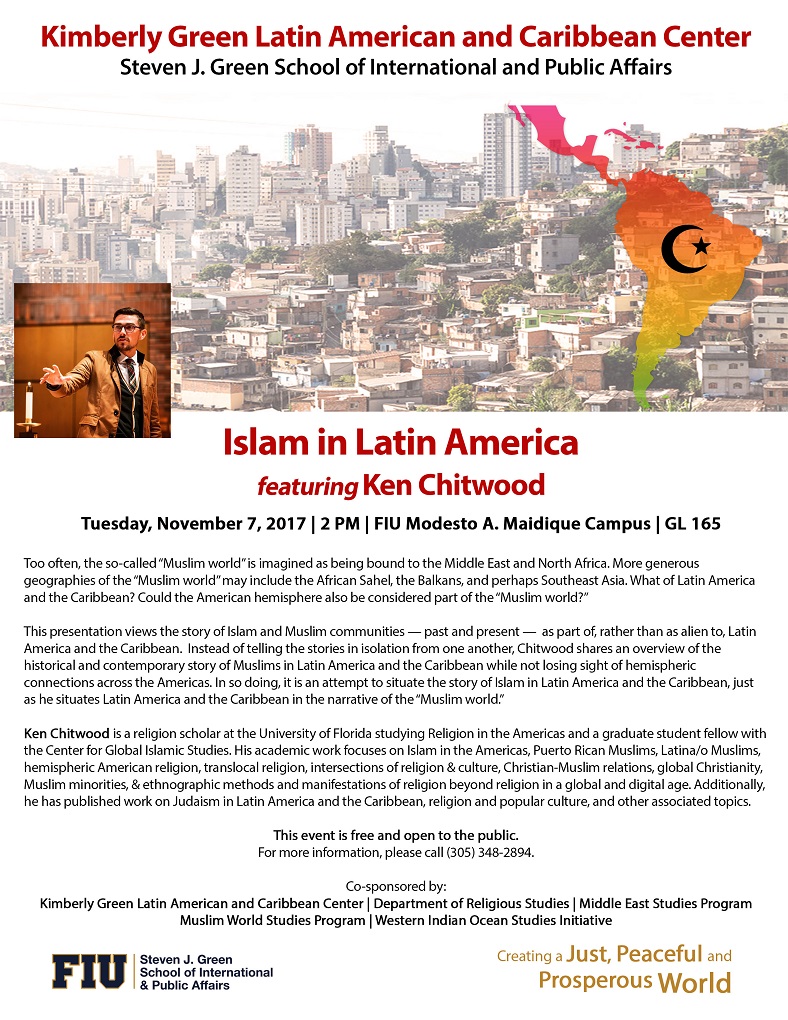 Please click here to view event flyer.
---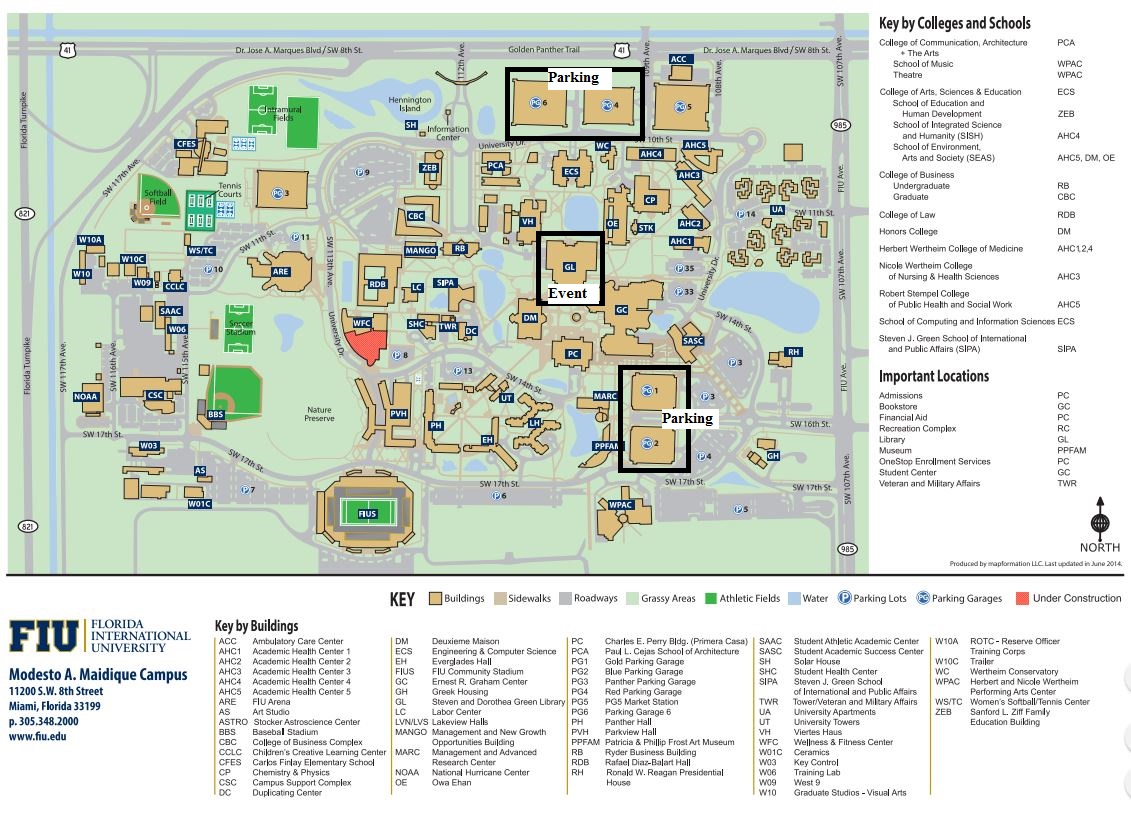 Directions:
From Miami International Airport:
Take the I-836 WEST exit from the Airport
Follow I-836 to the Florida Turnpike
Take the Florida Turnpike SOUTH exit
Follow the Florida Turnpike to the Tamiami Trail exit (SW 8th Street)
Take the SW 8th Street EAST exit
Follow SW 8th Street, FIU will appear on the right before SW 107th Avenue
From I-95 , Downtown Miami , Ft. Lauderdale , and West Palm Beach:
Take I-95 to I-836 WEST
Follow I-836 to the Florida Turnpike
Take the Florida Turnpike SOUTH exit
Follow the Florida Turnpike to the Tamiami Trail exit (SW 8th Street)
Take the SW 8th Street EAST exit
Follow SW 8th Street, FIU will appear on the right before SW 107th Avenue
From western Palm Beach / Broward County or the Florida Turnpike north:
Take the Florida Turnpike SOUTH
Follow the Florida Turnpike to the Tamiami Trail exit (SW 8th Street)
Take the SW 8th Street EAST exit
Follow SW 8th Street, FIU will appear on the right before SW 107th Avenue