'Işık ve Mekan' Atölye Çalışması

Saturday, April 16, 2011 from 1:00 PM to 6:00 PM (EEST)
Event Details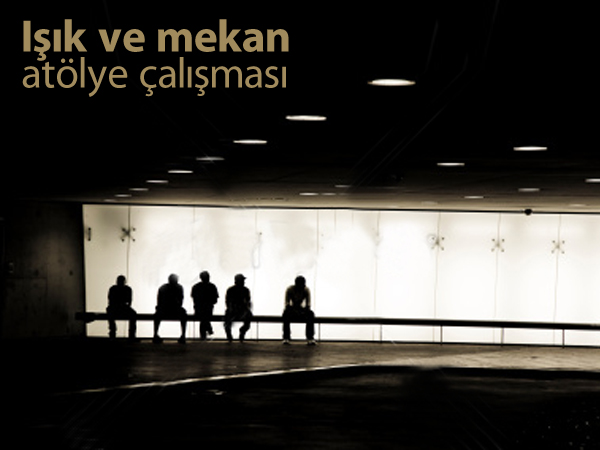 PLD Türkiye yine Türkiye'de bir ilki gerçekleştirerek 'Işık ve Mekan' Atölye Çalışması düzenliyor. İstanbul Light Fuarı sırasında gerçekleşecek atölye çalışması iki etaptan oluşuyor. 16 Nisan Cumartesi düzenlenecek konferans ve 17 Nisan Pazar günü 3 kez tekrar edilecek ve her biri 2 saat sürecek pratik seans. 
Atölye çalışması konularında deneyimli üç profesör ve aydınlatma tasarımcısı tarafından yürütülecek. 

Julle Oksanen:
Profesör, Aydınlatma Tasarımcısı, Armatür Tasarımcısı ve Yazar. Julle, Profesör Hannu Tikka ile birlikte, "Light & Space Academy, The Finnish Mobile University"'ni (Işık & Mekan Akademisi, Finlandiya Gezici Üniversitesi) kurdu. İkili beraber Amerika, Çin, Rusya, Polonya, Japonya ve İngiltere gibi ülkelerde eğitimler düzenlediler. Aynı zamanda Julle Oksanen Lighting Design tasarım ofisi kurucu ortağı olan Julle, tüm dünyada opera binası, katedral, ofis binaları gibi bir çok başarılı projeye imza attı. Aydınlatma tasarımcısı olarak 20'den fazla ödülü bulunmakta. iGuzzini, Louis Poulsen, Philips gibi markalara armatür tasarlayan Julle, 30'dan fazla kitap ve makale sahibi. Yeni kitabı üzerinde çalışıyor. 

Hannu Tikka:
Finlandiya'nın saygın mimarlık ofisi APRT ortaklarından. Tampere University of Technology Mimarlık Bölümü profesörü. Julle Oksanen ile ''Light & Space Acamedy'''i kurdu. Çalışmaları bir çok kez ödüle layık görüldü ve sergilendi. Halen eğitici kimliği yanında profesyonel olarak da mimarlık mesleğini sürdürmekte.   

Virginia Cartwright:
Oregon Üniversitesi Mimarlık Bölümü profesörü olan Cartwright, 20 yılı aşkın süredir mimaride ışık üzerine çalışıyor, araştırıyor ve eğitim veriyor. Amerika ve Finlandiya'da gün ışığı ve suni ışık üzerine bir çok üniversitede dersler verdi. Şu anda Finlandiyalı mimar Alvar Aalto'nun çalışmalarında bulunan aydınlatma tipolojileri üzerine bir araştırma yürütüyor. 
Konferans
16 Nisan Cumartesi,
13:00 - 13:45: Prof. Hannu Tikka,
 "Contemporary Architecture and Light",
14:00 - 15:00: Prof. Virginia Cartwright,
"Daylight in Architecture, Themes of Light in Master Architect's Works", 
15:15 - 16:30: Prof. Julle Oksanen,
"Poetry and The Law of The Pragmatic Truth applied in Lighting Designer's Toolbar 2011", 
16:45 - 17:15:  Atölye çalışması tanıtımı 
NOT: Konferans süresince simültane tercüme gerçekleştirilecektr.
Pratik seans:
20'er kişilik gruplar halinde ve 2 saat sürecek bu çalışmada amaç Kontrast, Renk, Gölge, Yansıma, Gün ışığı gibi aydınlatma tasarımı kavram ve temellerini tartışmak.
Katılımcılar, 8x5x3 metre boyutlarındaki kapalı bir odada gerçekleşecek seanslarda ışığı deneyimlemek ve teorik kavramları sade, pratik yöntemler ile anlama şansı yakalayacaklar. 
3 deneyimli hoca eşliğinde gerçekleşecek atölye çalışması ışığa ilgi duyan tüm profesyonellere önemli bir fırsat sunuyor. 
17 Nisan Pazar,
10:00 - 12:00: 1. seans
13:00 - 15:00: 2. seans 
16:00 - 17:00: 3. seans
NOT1: Pratik seans'a katılmak için konferansa katılmak zorunludur.
NOT2: Seans boyunca simültane çeviri olmayacaktır. 
Attendee List
Sort by:

Date

|

First Name

|

Last Name
When & Where

İstanbul Fuar Merkezi (İstanbul Light Fuarı)
DTM-İstanbul Fuar Merkezi, Yeşilköy Mh
9-10. Hall
Istanbul, Istanbul 34149
Turkey

Saturday, April 16, 2011 from 1:00 PM to 6:00 PM (EEST)
Add to my calendar
Organizer
PLD Türkiye, uluslararası PLD dergisi türkçe edisyonu olarak 2005 yılında beri sürdürdüğü yayın hayatını, 2018 yılından itibaren yayın hayatına dijital olarak devam ettirmektedir.  
Aydınlatma tasarımının bir değer olduğuna inanan PLD Türkiye, 2007 yılından mimari aydınlatma tasarımı mesleğini tanıtmak için seminer, konferans, workshop gibi etkinlikler düzenlemektedir.  
Daha fazla bilgi için:  PLD Türkiye Etkinlikleri