Description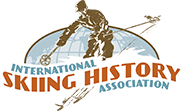 The ISHA AWARDS, first established in 1993, honor outstanding creative works of ski history. The awards are presented to book authors, journalists, filmmakers, academicians, website developers, and other media publishers. Each year, the International Skiing History Association also honors a man or woman with a lifetime achievement award, honoring a career of outstanding contribution to the sport's heritage. The ISHA Awards Ceremony and Banquet is held as part of Skiing History Week, in partnership with the U.S. Ski and Snowboard Hall of Fame.
All revenues from the annual banquet support ISHA's ongoing work: to publish six bimonthly issues of Skiing History magazine, to maintain the massive website skiinghistory.org, and to administer the ISHA Awards program.
Ticket sales for the ISHA Awards close on Wednesday, March 29, or earlier if all tickets are sold. For information please contact ISHA Operations Director Kathleen James at 802.733.1435
To book rooms at the Trapp Family Lodge, call (800) 826-7000. After you book banquet tickets, we will email a discount code entitling you to reduced-cost rooms at the lodge and several other Stowe hotels.
Purchasing a banquet ticket also entitles you to buy $35 lift tickets during Skiing History Week.
Click here to book tickets to U.S. Ski and Snowboard Hall of Fame events during Skiing History Week (April 4-9).