ISES NJ South Presents: TED Talks at Seasons 52 - Ideas Worth Spreading

Thursday, November 20, 2014 from 6:00 PM to 9:00 PM (EST)
Event Details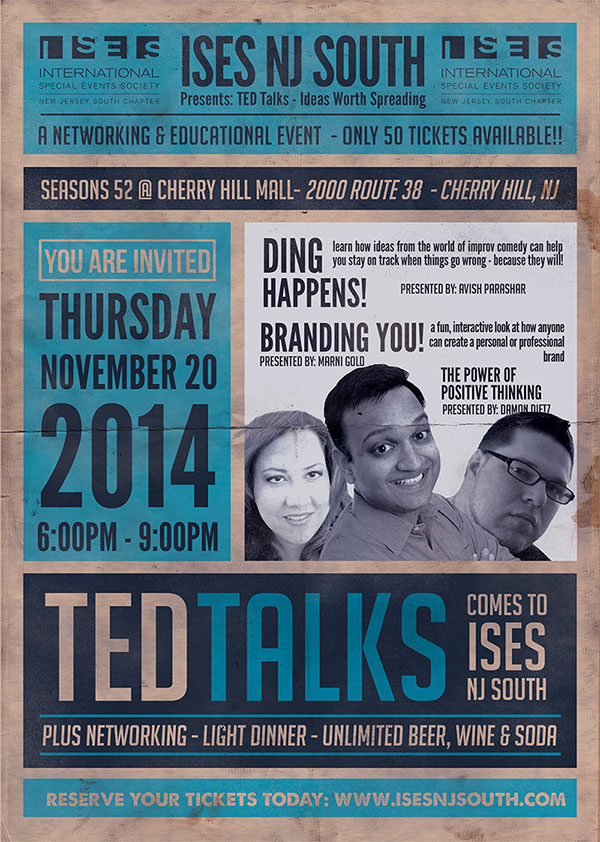 Join ISES NJ South at Seasons 52 in Cherry Hill, for a for a fun filled and unique monthly event!! The event will include light dinner, unlimited beer/wine/soda, and of course networking with other movers & shakers in the events industry. But, the twist comes in the form of the educational component. Instead of one 60 minute seminar, we will feature a TED Talks style event. This session will feature THREE DIFFERENT speakers, presenting on THREE DIFFERENT topics with each presentation not exceeding 20 minutes in length!!
WHY ARE TED TALKS ONLY 18 MINUTES?
It's long enough to be serious and short enough to hold people's attention. The 18-minute length also works much like the way Twitter forces people to be disciplined in what they write. By forcing speakers who are used to going on for 60 minutes to bring it down to 18, you get them to really think about what they want to say. What is the key point they want to communicate? It has a clarifying effect. It brings discipline. PLUS, in the case of our monthly meeting, we will be able to fit in THREE different presentations instead of just ONE.
WHO ARE THE PRESENTERS AND WHAT ARE THE TOPICS?
KEYNOTE PRESENTATION: Ding Happens! PRESENTED BY: Avish Parishar
Life is the ultimate improvisation. No matter how well you, plan things will go wrong. In this presentation, attendees will learn how ideas from the world of improv comedy can help them stay on track (and even get ahead) when things go wrong - because they will!
In this presentation, attendees will learn:
1. A simple 2-word technique that completely changes their approach to the unexpected.
2. How to be a "game changer" by innovating instead of simply working longer and harder
3. The importance of "raising the bar" on yourself and organization - and how to do it without driving yourself crazy
SECOND PRESENTATION: Branding You. PRESENTED BY: Marni Gold
Branding YOU is a fun, interactive look at how anyone can create a personal or professional brand. In this talk, Marni will take you through an exercise to create a Brand Statement and even a personal theme song! You'll learn a little about the importance of fonts and color in branding as well!
In this presentation, attendees will learn:
1. How to create a personal brand theme song
2. How to create a brand statement
3. Most importantly, how to have FUN!
OPENING PRESENTATION: The Power of Positive Thinking. PRESENTED BY: Damon Dietz
SPEAKER BIOS:
More About Avish:
Avish Parashar is an energetic and humorous speaker who uses his 20+ years of experience performing, teaching and studying improv comedy to show organizations and individuals how to deal with the unexpected quickly, effectively, and with a sense of humor. Avish is the author of "Improvise to Success!" and the Amazon best-seller, "Say 'Yes, And!'" He has also created dozens of other products on applying improv skills to business and life.
Weaving together humorous stories, jokes, audience interaction, and improv comedy games, Avish keeps the audience engaged while imparting a key lesson: Planning is Important, but Improvising is Essential! No matter how well you plan, things will go wrong, surprises will arise, and the Universe will throw you a curveball. Your success and sanity are directly related to how you respond these challenges. By the end of one of Avish's presentations you will have key tools to flow with all that life throws at you.
Avish has spoken to the very creative (actors and directors), the very un-creative (accountants), the very casual (college students), and the very business-like (sales professionals). The end result is always the same - smiles, laughs, and a new way of looking at life and business.
More About Marni:
For those of you who could take a few minutes to sit down and speak with me about my life so far, one aspect would ring loud and clear: I am an educator at heart, and I am passionate about teaching others how to use their past experiences to learn, grow, and manage a promising career and business. I believe we are all shaped through the combination of our personal and professional struggles, losses, accomplishments and overall life experiences.
I have been a voice and catalyst for raising the standards in the wedding and events industry for several years. As the industry stands today, there are no formal education standards, and I believe education is the key to making this industry the best it can be – a progressive, collaborative model rich in the shared knowledge of the many wedding professionals who work hard everyday to make weddings and events successful around the globe. I believe everyone should have a chance to thrive in the this industry, and I want to support both new and veteran professionals. I have served on the boards of several professional organizations and charities including International Special Events Society (ISES), Wish Upon A Wedding, and the American Bridal Consultants (ABC). I have also founded several networking groups, including NNJWEP, because I believe we are stronger as a team, than we could ever possibly be when working alone. Currently, I am the President Elect of the International Special Events Society (ISES) NJ North Chapter. I also founded and produced The 2012 EPIC Summit, and Women in Weddings Conference, both innovative wedding and event industry conferences held in Northern New Jersey. These event swere lauded as unique and valuable by attendees and faculty alike.
My career in the wedding and event industry started in 2008 after my own wedding. I founded CardBoxDiva.com, a custom wedding/event card box, favor box and décor company that has grown exponentially in a short time through my creative use of networking and social media marketing. I discovered, through my own wedding planning, that there was a great need for new, innovative products and services to meet the changing needs of 21st Century brides and grooms.
Prior to owning my own company, my career started as a vocalist after I attended the University of Central Florida and achieved a Bachelor Of Music Performance. I began teaching vocal performance in public schools, while earning my Masters Degree in Education from the University of Phoenix. I have traveled all throughout Europe, singing opera in England, Italy, and Germany.
When I am not moving and shaking in the events industry, you can find me loving life in Northern New Jersey, accompanied by my husband, Aaron, my adorable son, and my playful Shih Tzu named Gizmo. I am a foodie at heart, love writing poetry, and am excited to have published my first E-book, 5 Dirty Little Secrets of the Wedding Industry and will soon be publishing another book about the industry.
More About Damon:
Damon Dietz is an award winning filmmaker and has been creating luxury wedding films for his clients since he founded Absolute Media Productions in 2005. He is also an expert, speaker, and consultant to others in the events industry helping them to achieve financial success. He loves business, marketing, and he especially loves sales. He loves everything there is to being an entrepreneur.
THANK YOU TO OUR SPONSORS
Have questions about ISES NJ South Presents: TED Talks at Seasons 52 - Ideas Worth Spreading?
Contact ISES NJ South
When & Where

Seasons 52
2000 New Jersey 38
#1145
Cherry Hill, NJ 08002


Thursday, November 20, 2014 from 6:00 PM to 9:00 PM (EST)
Add to my calendar