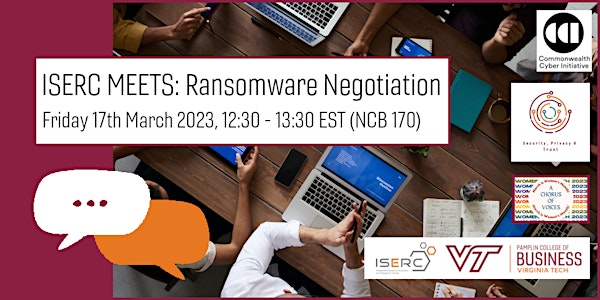 ISERC meets: ransomware negotiation (VT WoMo '23)
Can you protect your company from hackers and avoid a payout?? This is Cybersecurity 101 and a fun exercise in communication and teamwork.
By Integrated Security Education and Research Center
When and where
Date and time
Friday, March 17 · 12:30 - 1:30pm EDT
About this event
With thanks to the Security, Privacy and Trust research pillar, Pamplin College of Business for sponsoring!
This event is part of the VT Women's Month 2023 program. It is open to all - undergraduate and graduate students from any major, faculty, staff and community members.
A 'holistic' view of security takes people's behavior into account as well as technology. Come and explore a more human view of cybersecurity, as well as those who can contribute to it!
This session is a primer on cybersecurity as a topic and career route. In this workshop, attendees will work together to respond to cyber criminals holding our computers hostage (i.e., a 'ransomware incident').
This event is suitable for those with and without knowledge of cybersecurity.
This event is suitable for those with and without programming or engineering knowledge.
Hosted by the Integrated Security Education and Research Center (ISERC), Pamplin College of Business, Virginia Tech.
The game we use is copyright of The Financial Times Limited 2023. You can check it out over at https://ig.ft.com/ransomware-game.
This is a free event - attendees are invited to bring items for the period products donation drive (e.g., pads, tampons and menstrual cups) hosted by Period@VT.
Agenda
12:15 PM - 12:30 PM
Meet & greet
---
For the socialites and early birds among us. Coffee and pastries will be served ahead of this event. Bring a friend, come meet some new people... or both!
12:30 PM - 12:45 PM
Introduction
---
Cybersecurity 101 and an overview of careers in this space. We will talk about what is missing and the importance of team work and communication.
12:45 PM - 1:15 PM
Ransomware negotiation exercise
---
Our organization has been targeted by cyber criminals. Working together, in teams (legal, customer service, marketing, security and management), we will negotiate their demands!
1:15 PM - 1:30 PM
Wrap-up
---
We will wind down and reflect. This is an opportunity for attendees to express their thoughts on the exercise, cybersecurity and... life in general.