The (ISC)² Toronto Chapter proudly presents our June Chapter Meeting!
About this event
Join us for 2 fascinating sessions and a bit of networking!
Agenda:
6:00-6:05 PM: Introduction by Victoria Granova, (ISC)² Toronto Chapter
6:05-7:00 PM: Keynote Presentation: Security Awareness level-up: Making your people part of your security strategy by Ian MacMillan
7:00-7:02 PM: Mini Break
7:02-8:00 PM: Second Presentation: Panel: Ransomware & Supply Chain with Christine Smoley and Alpha Chan
8:00-8:05 PM: Closing
8:05-8:30 PM: Virtual Networking
Note re CPEs: Attendees must fill out the CPE survey that will be provided to you during the event in order to have the Chapter team submit your CPEs to (ISC)2 or to vouch for your attendance.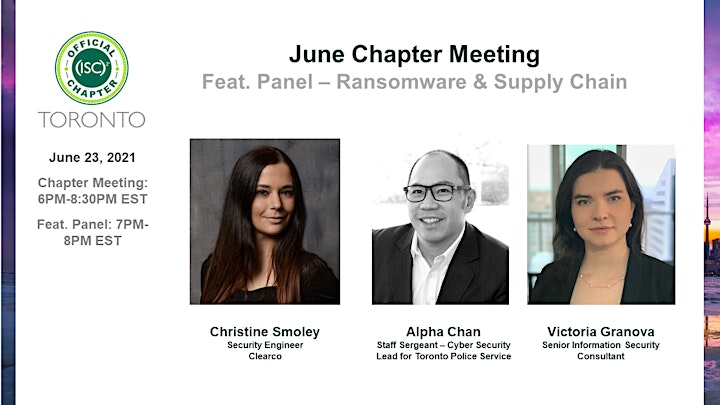 Bios:
Ian MacMillan
Chief Product Officer & Co-founder , Beauceron Security Inc.
Starting his career, Ian initially pursued work in graphic design and worked as a freelance graphic designer and for a few local businesses, creating engaging visuals and branding collateral. Not long after entering the graphic design industry, Ian made a transition that combined both his design capabilities and natural aptitude and education in software development to work in front-end software development and user experience design. Since this change, Ian has worked with a number of organizations, helping to craft highly intuitive user experience and user interface in sustainability, higher ed and IT security – notably at the University of New Brunswick in Information Technology Services (ITS), IBM Security division on their flagship SIEM product, QRadar, and most recently as a product architect and co-founder with Beauceron Security Inc. As the Chief Product Officer, Ian's focus is at the core of innovation and product experience. Ian combines industry trends, cybersecurity expertise and customer feedback to develop a product strategy that is redefining the cybersecurity awareness market and protecting some of Canada's largest brands from cyber attacks.
In his spare time, Ian is an outdoorsman and gearhead, spending his off-days exploring the outdoors and turning wrenches on projects at home.
LinkedIn: https://www.linkedin.com/in/ian-re-macmillan/
Christine Smoley
Christine is currently leading cybersecurity at Clearco after joining the company as their first security engineer. She has previously served as part of the teaching team for the Cybersecurity Bootcamp at the University of Toronto, and as part of the security engineering team at Paytm Labs. Originally from Australia, Christine advocates for non-traditional pathways into cybersecurity and tech, and herself has several academic publications in philosophy and literature.
Alpha Chan
Alpha Chan is a Cyber Security Lead and Staff Sergeant at the Toronto Police Service. He has managed and led diverse groups with a personal passion in developing teams that do awesome work. Captivated by new ideas, learning new skills and the occasional video game marathons, he derives inspiration from different perspectives to craft a better world a little bit at a time.
Victoria Granova
Victoria is the President of the (ISC)² Toronto Chapter board, where she works to create professional education opportunities and connects security groups across the GTA to advance the industry together. In industry, she is a Senior Information Security Consultant at a Big 5 Bank specializing in cybersecurity incident management and governance. Victoria also contributes as an occasional Instructor at York University in the Cybersecurity Certificate Program.
Victoria holds the CISSP, CISA and CPA designations and has an MBA from Queen's University. Victoria was awarded Top 10 under 40 by Canadian Security Magazine in 2021.
Connect with Victoria on Twitter @VictoriaGranova to find out about upcoming (ISC)² Toronto Chapter events and how you can get involved in the community.