Description
Come & Join entrepreneurs from around the world at the GRAND OPENING for the Powerteam International Success Center in Chicago, IL on October 12th from 9AM - 6PM inside the Thompson center.
Finally, a series of great workshops that are sponsored by a Venture Capital and Global Success Education firm specifically designed for Entrepreneurs and Small Business Owners! Powerteam International will be hosting 10 hands on workshops for Entrepreneurs and Business owners to inspire entrepreneurs to win in business! These workshops will be held in the Assembly hall on the Lower Level by the Food Court.
THE PROGRAM INCLUDES:
20+ Amazing Vendors from the Chicagoland & even a few nationwide Sponsors.
Several 20 Minute Workshops
VIP KEYNOTE FROM Bill Walsh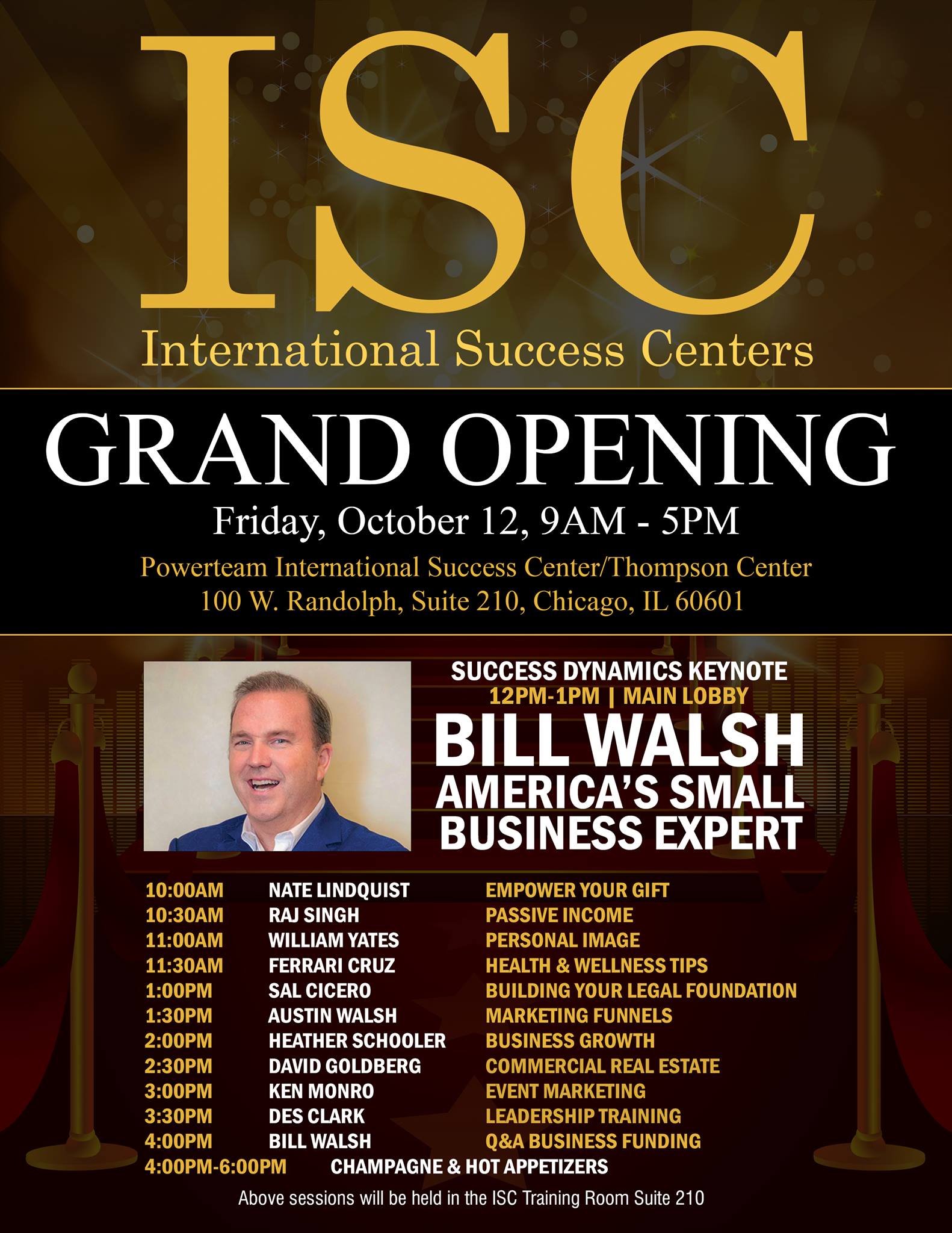 What are the Success Workshops all about.
The focus of the Success Conference/Workshops are designed to help entrepreneurs understand specifically what it takes to create massive success in today's global economy! On the day of the event, PTI will host several speakers that will share priceless information for anyone that is serious about launching or building a successful company! A number of the speakers will be sharing super content and giving away complimentary consultations during the event including a VIP session for business funding & public speaking!
"CHAMPIONS ARE BORN AT EVENTS!" Bill Walsh
When you attend this priceless one-day breakthrough conference you will learn from some of the sharpest woman entrepreneurs on the planet specifically what it takes to tap into true inspiration & how to combine it with proven business strategies to create massive success! Be open to the unlimited possibilities in the Universe! It is your time to step into your greatness!
William Walsh CEO/FOUNDER Powerteam International
SUCCESS BY DESIGN KEYNOTE:

Learn the 7 Keys to building a Million Dollar Business.

Meet amazing contacts from all over the world.

Learn how to build your Legacy plan today.

Discover the path to live a life on path & purpose

Leave with a much better plan to Build your Business.

Learn about exciting new ways to make money!

How to Breakthrough some of your biggest challenges
Bill Walsh® is the CEO/Founder of Business Coaching/Venture Capital firm Powerteam International. Bill hosts and speaks at events all over the world! His passion is to empower entrepreneurs and business owners to create massive success. He loves to help people to understand specifically what it takes to build successful companies. He is an accomplished author, speaker, radio personality and movie celebrity, He has a very successful background in finance and marketing. He has spent two decades working with start-ups to major global brands increasing sales, productivity and overall success. He is an innovator with a remarkable ability to determine and dictate success strategy to seize global market opportunities.