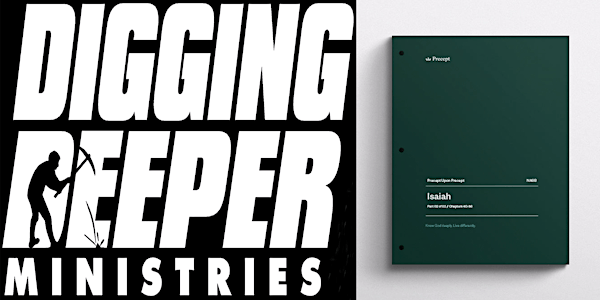 Isaiah Part 2 - PUP - Lori Proctor
Comfort My People
About this event
Topic: Isaiah Part 2 - PUP - Lori Proctor
Day: Tuesday
Date: 01/10/2023 - 05/16/2023
Time: 8:00 PM - 9:00 PM, Eastern
Leader: Lori Proctor
Leader's Email: jimlorpro@gmail.com
CLASS DESCRIPTION:
Comfort My People
In Isaiah 40-66 the Lord told Isaiah to speak kind words to Israel. He wanted to comfort His people with His words. After their punishment for sins, there will be great restoration for them. This study will give you a taste of the world's future.
Each week, you will join in your Leader's Online classroom for LIVE discussions. These LIVE discussions will help you grasp the material as you reason through the Scriptures together.
ADDITIONAL CLASS INFORMATION:
This class is for: Women Only
First Class: Orientation
Video Presentation: No videos used in this class
The Leader will be using the NASB Workbook for this class. Please order Your Workbook ASAP!
MEETING TIMES PLEASE NOTE:
This class may be hosted in a time zone outside of your time zone. Therefore, the possibility exists that the occurrence of each class may meet on a different day/time depending on the time of year. Please visit a time zone converter and check EACH CLASS MEETING DATE/TIME to verify you will be available to participate. Time zone converters such as: Time Zone Converter or World Time Buddy.
Many classes are recorded and if you can attend most of them, you may be able to get a recording from the class leader for any classes you might miss due to this issue. Please contact the class leader to verify they are offering recordings.
ORDER CONFIRMATION:
You will receive an order confirmation from EventBrite regarding your class registration AFTER you register. Then approximately 1-3 weeks before the class begins you will receive another email with more detailed class information from the class leader or class administrator. Please closely read the ENTIRE EMAIL for all necessary information you will need for this online course.
TICKETS DISPLAY MESSAGE (for after ticket sales end) Copy/Paste:
Registration has ended for this event. We hope you will visit us at DiggingDeeperMinistries.com and discover another Bible study to take part in with us.
Thank you for registering! You will hear from your Online Leader with more information soon!