Description
A revival of our beloved show, bigger, better, and with more circus!
Told through contortion, dance, circus pole, theater and music, "Isabella and the Jewel Divine" brings to life a magical and mythical tale of a young woman coming to embody her presence and power.
Friday July 14th @ 8pm
Saturday July 15th @ 8pm
Sunday July 16th @ 3pm
Friday July 21st @ 8pm
Saturday July 22nd @ 8pm

With a special presentation in Bolinas on Sunday July 23rd at 5pm at the Regenerative Design Institute, 480 Mesa Road.

Co-Created and Performed by Annie Herring, Annie Simmons, Ben Goldstein, Bethlayne Hansen, Genie Cartier, Megan, Madison Worthington, Marie Markovic, Megan Gurrentz, Marie Cartier, Michael Curran
Directed by Polina Smith.
Ages 10+, 60 minutes.
"Isabella is the intense and moving story of a young woman first inspired by her bawdy and embodied grandma but then suppressed and controlled by a series of societal authorities until she finally resolves to follow her heart. The immensely talented and versatile Crescent Moon troupe uses a rich blend of mime, song, voice, accordion, choreography, costume, magic, and gymnastics to deliver to full effect this beautifully crafted tale that had me alternately laughing, crying, and cringing as the drama spun out with graceful and seamless transitions from scene to scene and mood to mood using minimal props. It's a brilliant and memorable piece of theater with a powerful and important message to anyone wondering whether they are getting what they really want out of life and looking for inspiration. Missing it is missing out!"~Don Smith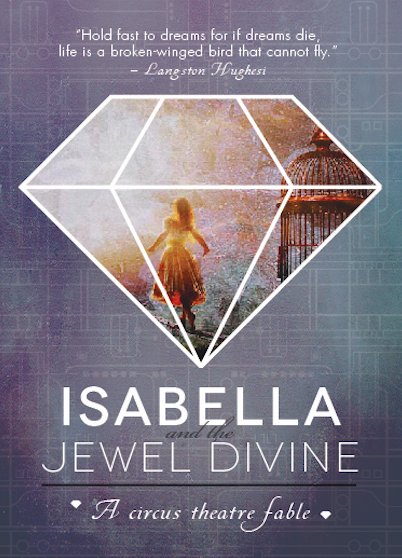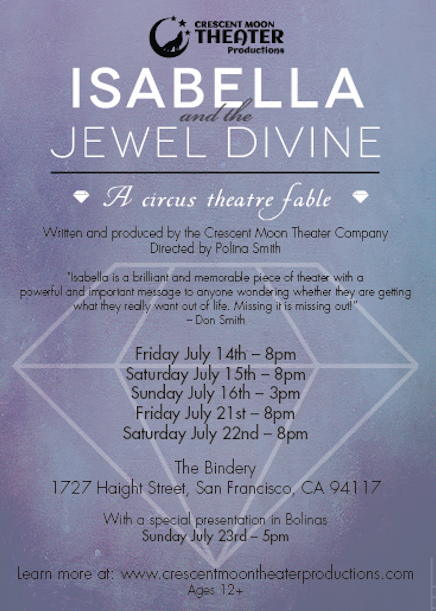 TICKETS FOR BOLINAS SHOW AVAILABLE HERE: https://www.eventbrite.com/e/isabella-the-jewel-divine-a-circus-theater-fable-tickets-35747248984
FB INVITE: https://www.facebook.com/events/1923904394547579