Isabella Kirkland at The Interval: Painting the Endangered World

Tuesday, March 22, 2016 from 6:30 PM to 8:30 PM (PDT)
Event Details
The Long Now Foundation welcomes
Isabella Kirkland (artist)
"Painting the Endangered World
 and The Life of Nudibranchia"
@ The Interval at Long Now: arrive at 6:30 to see the art of Isabella Kirkland;
her talk begins at 7:30
Join us afterwards for drinks and conversation with our speaker

Utilizing scientific acumen and techniques developed by 17th century Dutch masters, Isabella Kirkland's paintings document hundreds of species which may not survive into the future. If you have visited the website for Long Now's Revive and Restore project then you have seen her art which poignantly illustrates the importance of the genetic rescue challenge that Revive has taken on.

On a very special night at The Interval, we will have the art of Isabella Kirkland on display starting at 6:30pm, prior to her talk. You will be able to see some of her most recent artwork up close including "Nudibranchia", plus examples of three decades of her art. In her talk you'll learn details about her process, how she painstakingly researches her subjects, and how her art has evolved over the years. And she will show numerous examples of her art.

Kirkland's paintings draw attention to contemporary conundrums of humankind's relationship to nature. Modeled on the work of seventeenth-century Dutch still life painters, she paints her subjects faithfully to life and at actual size based on hours of research and observation. Her quarter-century long endeavor to document plants and animals which we are likely to lose to extinction in the decades ahead is entirely analog.

Long Now members can access a free livestream of this event online. The Studio of Edward Burtynsky is sponsoring The Interval's live audio stream in 02016. Mercury Films and Studio Burtynsky's forthcoming project Anthropocene (02017) looks at how civilization has re-engineered the world in ways that will persist into geological time. Their support enables us to stream these events for our members all over the world.

Become a member for access to live audio streams of our Seminars and Interval events.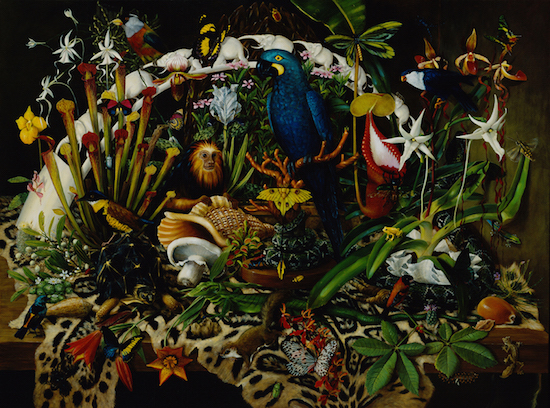 "Striving for scientific accuracy, she produces richly atmospheric pictures collectively populated by hundreds of animals."
— New York Times "Art in Review" section

Isabella Kirkland's paintings are built for longevity with the hope that the images survive long after the biota are gone, to stand as mute record to their passage. Mixing old techniques, scientific acumen, and keen observation, her paintings act as snapshots of modern attitudes towards other forms of life. Unusually, Kirkland's work has exhibited about equally between art and natural history contexts.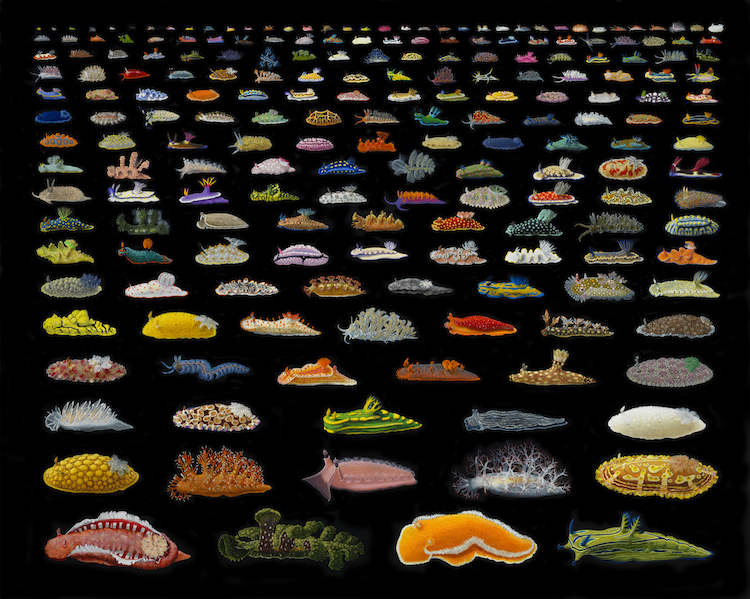 Part of her talk will be dedicated to sharing what she learned researching her "Nudibranchia" painting. This work shows 206 different nudibranchs, celebrating the wild variety of physical and behavioral traits that has evolved in this order of animals. Uniquely ubiquitous, nudibranchs inhabit every part of every ocean: from shallow reefs and mudflats to the depth of a thermal vent, from the Arctic to the equator. In all it is estimated there are between 3,000 and 6,000 species of nudibranch. But, given their profundity and how much of Earth and ocean are still unexplored, those number may be below the mark.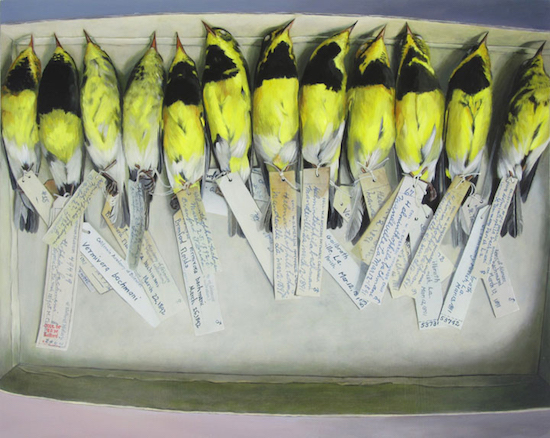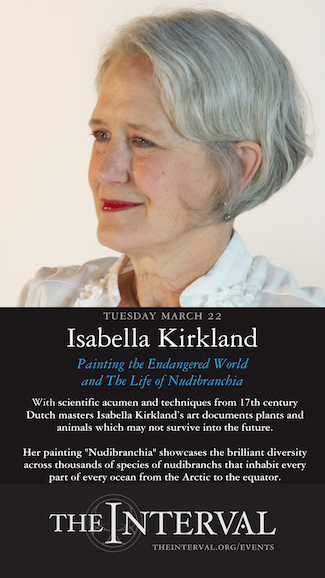 Isabella Kirkland is an artist and a Research Associate at the California Academy of Sciences. She has spent the last 20 years documenting biota in jeopardy of extinction, at life size, using the most permanent painting means possible.
The number of species she has depicted in her work has surpassed 1,000 in total; all are researched, photographed, measured, and drawn from specimens at natural history museums and herbaria around the world. Her work has been shown at the National Academy of Sciences, the Toledo Art Museum, the Field Museum, the Tucson Museum of Art, and many other institutions.

Join us to hear from an artist whose work embraces science and manifests the vitality of a biodiverse world.

Long Now members hear about Interval events first: become a member today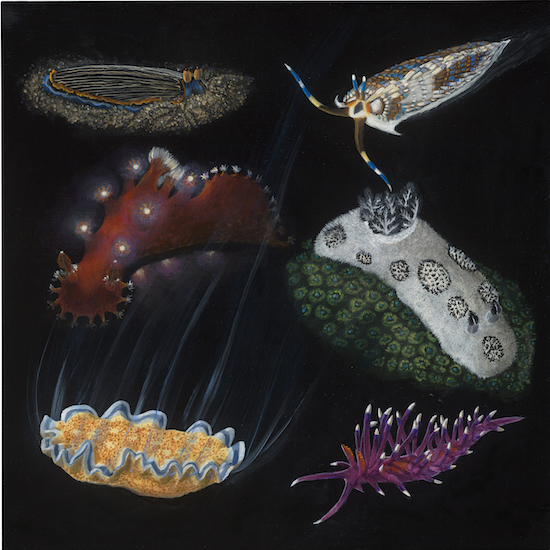 When & Where

The Interval at Long Now
Fort Mason Center
2 Marina Blvd
San Francisco, CA 94123


Tuesday, March 22, 2016 from 6:30 PM to 8:30 PM (PDT)
Add to my calendar
Organizer
The Interval at Long Now is a bar, cafe and venue for talks and other gatherings located in historic Fort Mason Center on San Francisco's north shore within site of the Golden Gate Bridge and Alcatraz. The Interval serves delicious beverages in a room full of mechanical wonders and thousands of books.
We are open daily from 10AM to midnight. Events are typically on Tuesday nights a few times a month. Tickets usually go on sale 2 weeks prior to the event. Our talks tend to sell out quickly due to our limited capacity.
Long Now members can purchase tickets before the general public.
The Interval is home to The Long Now Foundation which is dedicated to long-term thinking through projects including building a 10,000-year Clock, the monthly Seminars About Long-term Thinking (SALT), The Rosetta Project, PanLex, and Revive & Restore.