Location
Flywheel Coworking
500 West 5th Street
8th Floor
Winston-Salem, NC 27101
Do you struggle with your brand being overlooked? How do you know if your customer sees you how you see you?
About this event
Marketing Outside the Box is returning in person! This month, we will offer a HYBRID experience. Register for this workshop and get real feedback and solutions! Please read all of the below:
You must register by June 10th to fully get the benefit of this workshop
Upon registering, you will receive a brand worksheet within 24 hours
The worksheet needs to be completed and returned no later than June 12, 2022, at 11:59 PM EST to be reviewed and evaluated in time for the June 15th session
June 1st and June 8th are dedicated to completing the worksheet so there will be no meetings on those dates
However, coaches are available to help you with the worksheet on both dates
All details on how to contact a coach will be included on the worksheet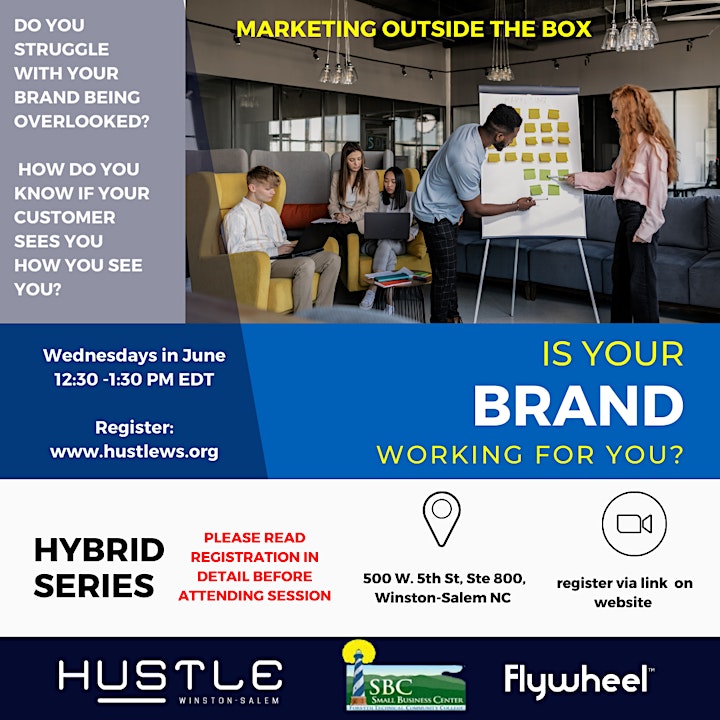 You might be surprised to learn that, when surveyed, a large number of entrepreneurs list marketing- rather than funding- as their number one need. That is why we offer our weekly Marketing Outside the Box series!
Marketing Outside the Box Series: Do you want to make more money with your business? Are you willing to think outside the box? In this unique lunchtime series, we explore innovative and radical ideas for marketing your business. Each week, we introduce you to a new cutting-edge (but proven) marketing strategy or technology to help you attract, retain, and increase revenue from customers. Bring your own bag (or box) lunch to enjoy while you learn!