Description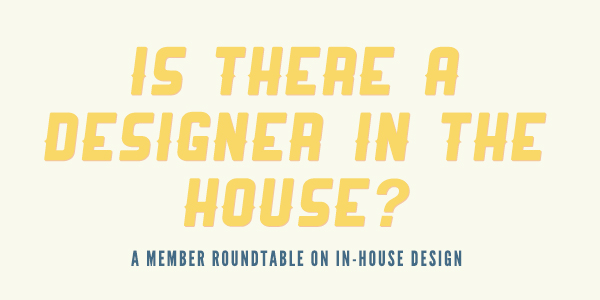 Are you an in-house designer? Have tips or experiences worth passing on? Want to connect with other in-house creatives? Pull up a chair at our second AIGA West Michigan Member Roundtable of the year, and join a lively discussion on the ups, downs, hows, and whys of in-house design with Marty Lenger of Gordon Food Service, Sofia Svensson-Huang, Senior Manager, Art Direction, Herman Miller, moderated by Kate Hunt.
$5.00 gets you a seat at the table and food and drink is being generously given by Haworth. We also want to hear how AIGA West Michigan can support you as an in house designer.
Space is limited to just 15 people, so RSVP now to reserve your spot!
Thank you to Haworth for sponsoring this Roundtable

__________________
Roundtables: What are they all about?
AIGA West Michigan Roundtables are a new series of casual discussions meant to give our members a more active voice in our local chapter. Each event is focused on a specific topic related to design--often suggested by one of our members. We've reached out to a few people in our chapter to help lead these discussions, but we encourage anyone else with an interest or experience in these subjects to reach out to us.
Every event will be different, but whatever the subject and group of people, we hope you'll come away with a few takeaways: More connections in the community. More awareness of what your creative peers are doing. And more knowledge that is relevant to your discipline.
We'll be posting what we learn online so our own members, other chapters, and the national board of directors, can share in these insights, too. These discussions can help shape the future of AIGA in our community as well as at the national level.
We look forward to talking together!
Organizer of Is There a Designer in the House? A Member Roundtable on In-House Design
AIGA West Michigan is a group of designers volunteering to create a collaboration of experience, like voice, and resources with all national AIGA chapters. The success of this group is dependent upon the great participation of both members and sponsors.
As a local chapter, the purpose and mission is to advance design as a professional craft, a strategic business tool, and a vital cultural force. Creating a place where design can be discovered, discussed, understood, and appreciated, as well as a place to become inspired.
AIGA is an organization that supports the interests of design professionals, educators, and students consisting of a membership of over 23,000 and works on national activities and local programs with 70 chapters.
Founded in 1914 as the American Institute of Graphic Arts, AIGA remains the oldest and largest professional membership organization for design and is now known simply as "AIGA, the professional association for design.
AIGA West Michigan es un grupo de diseñadores voluntarios para crear una colaboración de experiencia, como voz y recursos con todos los capítulos nacionales de AIGA. El éxito de este grupo depende de la gran participación de miembros y patrocinadores.
Como un capítulo local, el propósito y la misión es avanzar el diseño como un arte profesional, una herramienta estratégica de negocios y una fuerza cultural vital. Crear un lugar donde el diseño puede ser descubierto, discutido, comprendido y apreciado, así como un lugar para inspirarse.
AIGA es una organización que apoya los intereses de los profesionales del diseño, los educadores y los estudiantes con una membresía de más de 23.000 y trabaja en actividades nacionales y programas locales con 70 capítulos.
Fundada en 1914 como el Instituto Americano de Artes Gráficas, AIGA sigue siendo la más antigua y más grande organización de membresía profesional para el diseño y ahora se conoce simplemente como "AIGA, la asociación profesional para el diseño.